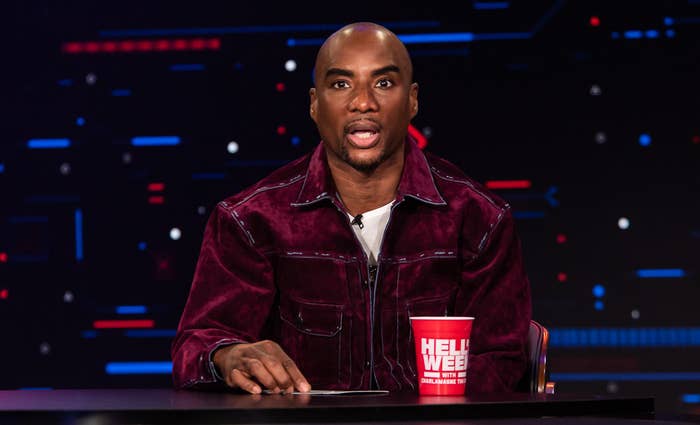 Charlamagne tha God is just getting started.
The radio personality, whose real name is Lenard McKelvey, has been in the media game for more than two decades but has continued to elevate himself and his career by taking on new challenges along the way. Most recently, he took on a late-night talk show host role on Comedy Central's Hell of a Week With Charlamagne tha God.
On Hell of a Week, he shares his unfiltered opinions on politics, the week's biggest cultural news, and conducts the type of celebrity interviews he is notorious for. The variety news show follows a similar format to his 2021 show Tha God's Honest Truth With Lenard 'Charlamagne' McKelvey, which was also produced by Stephen Colbert. Charlamagne has a full writers' room, a production crew, and a team of panelists he collaborates with weekly, but the hosting responsibilities fall solely on him. The radio host's deadpan and frank delivery when asking questions and having conversations has gotten him into trouble in the past, but this era of celebrity podcast hosts has brought forth a new level of appreciation for those like him who aren't afraid to ask hard-hitting questions. He speaks freely on the radio, but he says working with other writers and comedians challenges him to view and approach things differently.  
Aside from his new TV hosting duties, Charlamagne has also launched The Black Effect Podcast Network, the Short Black Handsome Productions company with Kevin Hart, and his Black Privilege Publishing imprint with Simon & Schuster—all with the purpose of helping others succeed. "I like seeing who that next person is and giving that person an opportunity to express themselves. That's what I like to do," Charlamagne tells Complex. "Anything that I'm doing now if it's just about me, it's not big enough." 
He's taking that same mentality as his popular Power 105.1 morning show The Breakfast Club is on the verge of a major transformation. Co-host Angela Yee's upcoming departure means Charlamagne and DJ Envy will continue sharing co-hosting duties, and while Charlamagne knows the value of Yee's presence on the show, he's looking forward to the changes. "Angela Yee is irreplaceable and you could never replace that piece we've made history with. We've all made history together," Charlamagne says. "Some people say we might be one the most impactful radio shows of all time. But you can never replace her. It's just, to me, the natural evolution of a radio show." 

Charlemagne hopped on a Zoom call with Complex and he opened up about his new gig at Comedy Central, The Breakfast Club, his thoughts on Kanye West, the state of hip-hop media, who should host The Daily Show, and more. Read our interview with the radio host, lightly edited for length and clarity, below.