It has been a summer full of thrills and action at the box office and Idris Elba's latest film, Beast, might be one of the most anxiety-inducing ones yet.  
The actor is starring in the heart-pounding new thriller as Dr. Nate Daniels, a father who takes his two teenage daughters to South Africa only to find themselves being hunted by a massive rogue lion. Dr. Samuels is recently widowed and had high hopes that the trip would be a healing experience for him and his daughters' strained relationship after their mother's tragic passing.
The trip quickly becomes a fight for survival for the already grieving family once they find themselves being stalked by a lion seeking revenge after blood-thirsty poachers killed his pride and the beast now sees humans as his enemies. Dr. Samuels' protector instincts have to kick in to ensure that he and his daughters make it out of the ordeal alive.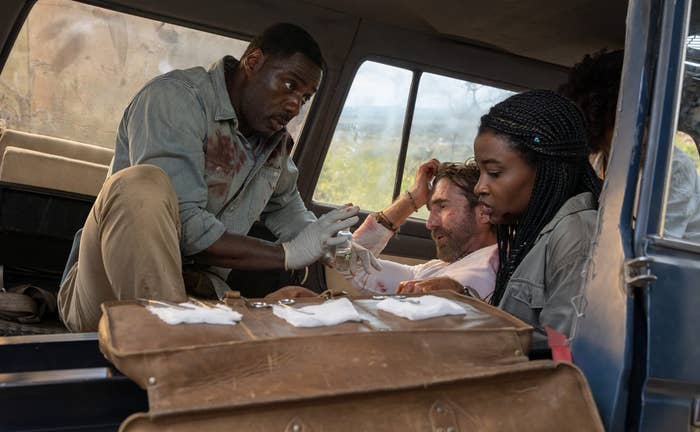 "I come from an era where these sort of films were the norm, like high-anxiety, 'Run, chase, run, chase, look out, look behind you!' This was an opportunity for me to make a film like that. I've done thrillers before, but this was the first time it involved this cat-and-mouse aspect to it. I was really intrigued by the family dynamic, the daughters, the nature of grief, this doctor who's essentially someone that's composed and tries not to panic, found himself doing just that," Elba tells Complex about the survival thriller directed by Baltasar Kormákur. "I just love the script. I love Baltasar, the director. I wanted to work with him. He's made some really incredible survivor movies, and I just wanted to get his take on what this might be like."
The film was produced by Will Packer and features performances by Iyana Halley (The Hate U Give, This is Us) as Dr. Samuels' 18-year-old daughter, Meredith, and Leah Sava Jeffries (Rel, Empire) as his 13-year-old, Norah. Check out this exclusive Beast featurette above starring Elba and Packer talking about the making of the film, and watch the film when it hits theaters on Friday, Aug. 19.