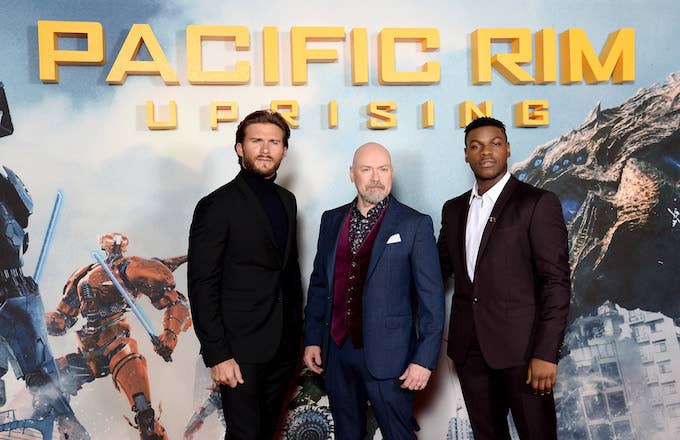 Black Panther has deservedly broken a series of box office records since its release a little over a month ago. One that's particularly impressive: Black Panther has spent five consecutive weekends at the top of the U.S. box office, making more than a billion dollars in ticket sales worldwide and beating out other high-profile films likeTomb Raider and A Wrinkle in Time. This coming weekend would mark the sixth that everyone's favorite Marvel movie would sit on the box office throne, but there's going to be serious competition.
John Boyega's Pacific Rim Uprising, the sequel to 2013's Pacific Rim, premieres at this Friday, March 23. Variety estimates that the movie is looking to cash in at about $22-$29 million in domestic earnings. This would likely be enough to unseat Black Panther, which made $27 million last week.
Pacific Rim Uprising, made for a reported $150 million, co-written and directed by Steven S. DeKnight and starring John Boyega, Scott Eastwood, Jing Tian, Cailee Spaeny, and more, is set 10 years after its predecessor, Pacific Rim. The original, directed by Guillermo del Toro and starring Idris Elba, Rinko Kikuchi, Charlie Day, Charlie Hunnam, and Robert Kazinsky opened in July 2013 to $37 million and went on to gross $411 million at the worldwide box office. 
Although Pacific Rim Uprising is estimated to make less on its opening weekend, the sequel, which sees a new generation of Jaeger pilots coming together to save humanity, has seen plenty of hype leading up to its release. Should it top the box office, it'll be 26-year-old Boyega's second time pulling the feat in three months.
Black Panther is projected to make somewhere between $15-18 million this weekend, assuming it stays on the same general trajectory that it has enjoyed for the past six weeks. Last week's $27 million was the first time a movie has been No. 1 at the box office for five weekends in a row since Avatar in 2009. Still, these estimates signal very exciting news for Black Panther fans who want to see the film break even more records than it already has: even though a relatively smaller weekend might mean the flick gets knocked off the top spot, it's just $18 million away from passing 2012's The Avengers as the highest-grossing superhero movie of all-time domestically. 
"Going six for six is a rare feat indeed, but it would be unwise to underestimate [Black Panther's] nine lives at the box office," Paul Dergarabedian, senior analyst at comScore, told Variety. "But Pacific Rim has the brand recognition and the epic scale that could propel it to the top of the charts this weekend."