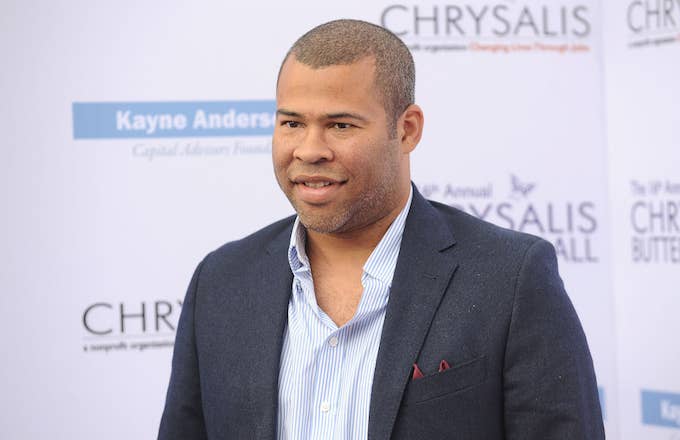 Get Out, a horror movie about what happens when a black man meets his white girlfriend's parents for the first time, is, without a doubt, one of the best movies released this year. It has achieved a coveted, near-perfect 99% 'certified fresh' Rotten Tomatoes score and broken all kinds of records, but it has also inspired conversations and debates about the nuanced and bold ways the movie tackles the issue of race in American culture. We would indeed have expected nothing less from Jordan Peele's directorial debut. With that said, however, that Peele would be giving lectures about the movie int he same year of its release was slightly less predictable. But that's exactly what happened yesterday at UCLA.
UCLA offers a class inspired by Get Out, titled Sunken Place: Racism, Survival, and Black Horror Aesthetic, taught by Tananarive Due. During yesterday's class, though, the professor had a surprise so major it trumped any jump scare or twist ending: she snuck Jordan Peele himself into class.
In a perfectly constructed surprise reveal, Due screened a scene from Get Out and asked her class a question about what the scene could mean. Unbeknownst to them, Peele had sneaked into the classroom and sat in the back row. When Due asked the question, Peele answered his hand, and the crowd went wild. He then went to the front of the class to answer more questions and speak about Get Out, and Due confirmed what anyone who has watched Peele's intelligent work already suspected: he is an excellent lecturer.
Me: "What do you think the director was trying to say about the coveting of black bodies?"
*@JordanPeele raises hand*
Me: "You in the back."
In her thread, Due revealed at least one major thing that Peele spoke about during the class. In Get Out, the Sunken Place is a place where the protagonist Chris's (Daniel Kaluuya) unwittingly mind goes to when he is hypnotized by his girlfriend's mother. But that's only the boring, literal explanation. The Sunken Place is clearly a complex and dynamic metaphorical scenario for race relations in America, and has come to mean different things in different interpretations. But last night at UCLA Peele pinned down one possible interpretation of the Sunken Place: the prison industrial complex, that keeps the lives of so many African-Americans.
All in all, it looks like the UCLA students weren't the only ones who had a good time in class that day.