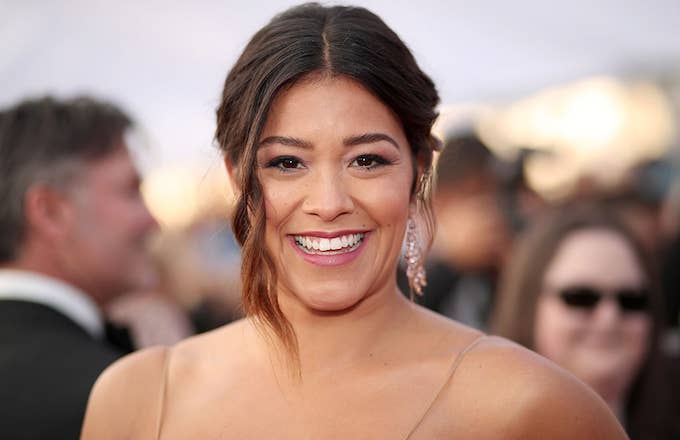 A few years ago, Oscar season was overtaken by the #OscarsSoWhite campaign, which sought to raise awareness to the glaring lack of diversity in the ceremony—and, by extension, in Hollywood as a whole. This year, although the nominees include a refreshing and historic amount of diverse stories, actors, and directors, not all races feel seen. After all, if Asians of Latinx stories and performances are still being neglected, then there is still a problem with diversity.
And that's the point that Gina Rodriguez, star of Jane the Virgin, makes in an essay she wrote for Varietytoday, in which she talks about how it feels to be a Latina actress in a year when there were no Latinx (or Asian) performers nominated in any of the four acting categories at the Oscars.
How I feel about the

#Oscars

this morning and the lack of Latinos..."The only thing that separates women of color from anyone else is opportunity" -Viola Davis (Thank you

@RealGDT

and

@pixarcoco

for being our visibility)
To our beautiful community, let's unite and use one of our greatest strengths, our buying power to finally be heard. They say were a risk - so let's prove them wrong. It's up to us to create the Latino presence on screen that reflects our world. It's time to take back our power.

https://t.co/uVHU0IFv11
"The fact that Latinos are not seen on screen is devastating," Rodriguez wrote. She argues that Latinos are "prominent and loyal" consumers who makes up "one of the largest demographics at the box office every opening weekend." A New York Times report found that Latinos make up 23 percent of all frequent movie goers, even despite only making up 18 percent of America's population.
But the discrepancy between audiences and what they're watching is stark: in the past decade, only 3 percent of speaking characters in movies were played by Latinos, which helps explain the lack of Latinos who win awards like the Oscars. The last Hispanic to be nominated for an acting Oscar was Demián Bichir who was nominated for Best Actor in 2011; similarly, the last Hispanic actress to win for her performance was Penélope Cruz, who won in 2009. 
Rodriguez acknowledges the progress made by performers before her, like Silvio Horta, George Lopez, Gloria Calderon Kellett and Jennie Urman Snyder, but admits there is still "a long journey ahead."
"To be seen and heard is a simple human need," Rodriguez wrote. "To be invisible in a world of loud voices is heartbreaking and dehumanizing. The under-representation of Latinos in Hollywood both on and off screen is not just a feeling; it's a sad reality."
Rodriguez noted that the latest film she was involved in, Miss Bala, has a female Latino lead, even more Latino talent throughout the cast, the movie was shot in Mexico, and even the crew was 95 percent Latino. She applauds Sony, the distributor of Miss Bala, for leading the way, but also states that the movie not be "the exception to the rule."
"It's important we celebrate, employ and represent all Latinos from European to Afro-Latinos, because it is our responsibility as an industry to give this entire generation positive representation so that no one feels invisible," she continued.
The lack of full diversity in the film industry is evident. One small glimmer of hope may come, however, from television. This year at least three new projects have been announced, all focused on Latino stories: Freeform is rebooting Party of Five with a family of Mexican-American immigrants; Fox is developing an adaptation of Diane Guerrero's memoir In the Country We Love into a show about a young woman who remains in the U.S. after her family is deported to Colombia; Netflix and Sony are working on One Day at a Time, this time with a Cuban-American family at the center.