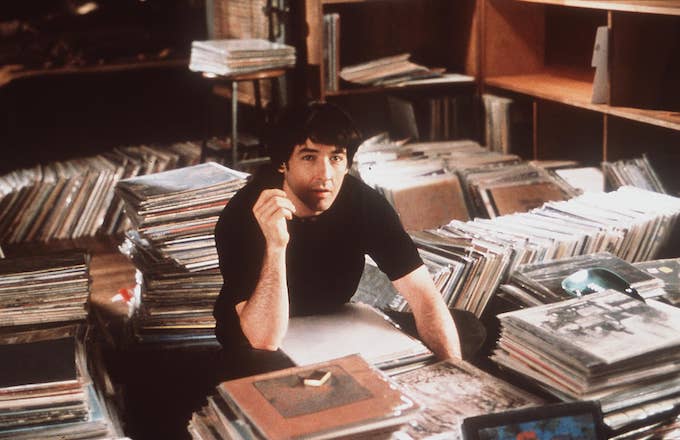 A High Fidelity-inspired TV series with a female lead could be in the works at Disney as one of its original projects for its streaming service, according to Deadline.
The all-time 2000 classic romantic comedy, based off Nick Hornby's 1995 novel of the same name, starred an annoyingly hipster John Cusack as the owner of a record store in Chicago. The coming-of-age movie consists of the protagonist, who is obsessed with the music scene, analyzing his own haphazard love life and past flames.
Disney's rebooted version will be a departure from the book and the movie, but would also reportedly have a female lead who talks straight to the camera about her past relationships, so it sounds like the romcom's general spirit will stay intact. The project is still in early development and comes from writers Veronica West and Sarah Kucserka.
The original High Fidelity was rated R, but the reimagined story for the streaming platform would be capped at PG-13 and "intended for family co-viewing." This move is expected for those who know Disney, but it's also in keeping with Disney's specific plans for their upcoming streaming service, which will reportedly be "family-friendly" and is not expected to feature R-rated movies or series, per Deadline.
Disney has other original content projects in production already. These include a High School Musical reboot, as well as Star Wars, Marvel, and Monsters Inc. series. The platform is expected to launch in fall 2019.
Disney's decision to create their own Netflix and Hulu streaming competitor means that all Disney content on existing streaming platforms will be removed by the time of its launch—that includes all Marvel and Star Wars movies, which will no longer be housed on Netflix. In addition, Netflix original shows produced alongside Marvel (that's Luke Cage, Daredevil, Iron Fist, Jessica Jones, The Defenders, The Punisher) will also be pulled from the platform when Disney's new service launches.
Disney's deal to buy 21st Century Fox, which still hadn't been entirely finalized, will also bring even more content to its new streaming service.
Deadline reports that Disney's goal is to produce four to five original movies and five TV series in the first year of its streaming service. Each series could cost anywhere between $25 million to $100 million for a 10-episode run.