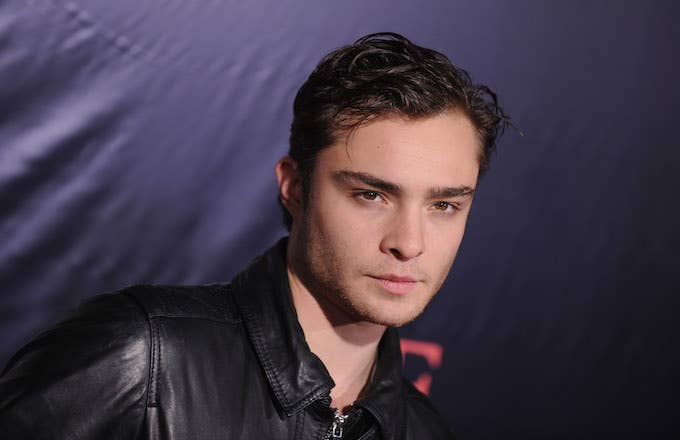 Former Gossip Girl star Ed Westwick has been removed from an upcoming BBC drama following two separate accusations of rape. His role has been given to another actor, and his scenes will be re-shot later in January.
Back in November, actresses Kristina Cohen and Aurélie Wynn accused Westwick of raping them in unrelated but similar circumstances. In both cases, Westwick maintained his innocence. Following Cohen's allegations, Westwick said they never met and had "never forced [himself] in any manner on a woman." After Wynn came forward with her own story, Westwick released a slightly longer statement calling the allegations "unverified and provably untrue."
Nevertheless, Westwick has lost his role in the BBC miniseries adaptation of Agatha Christie's Ordeal by Innocence, and has been replaced by British actor Christian Cooke, the Telegraph reports. His part in the BBC/Netflix comedy White Gold has also been put in jeopardy.
The co-producers of Ordeal by Innocence, Mammoth Screen and Agatha Christie Limited, said in a statement:
"British actor Christian Cooke has been cast in the role of Mickey Argyll in Ordeal By Innocence and will join other cast members including Bill Nighy, Anna Chancellor, Matthew Goode, Eleanor Tomlinson, Anthony Boyle, Luke Treadaway, Morven Christie, Crystal Clarke, Ella Purnell and Alice Eve on location in Scotland."
The news of Westwick's replacement comes after the BBC decided to reschedule the premiere of the show, pulling it from its original Christmas slot. The BBC said in a statement, "These are serious allegations which Ed Westwick has strenuously denied. The BBC is not making any judgment but until these matters are resolved we will not include Ordeal by Innocence in the schedules."
The BBC, which is working with a private production company to distribute White Gold in the U.K., also announced that Westwick had paused filming for the show's second season as a result of the rape allegations. Per Variety, the BBC sold the streaming rights of White Gold to Netflix, and the sale included a second season of the show, but there is yet no update on how the show will continue.
"The independent production company making White Gold has informed us that Ed Westwick has paused from filming while he deals with these allegations," the BBC's statement read.