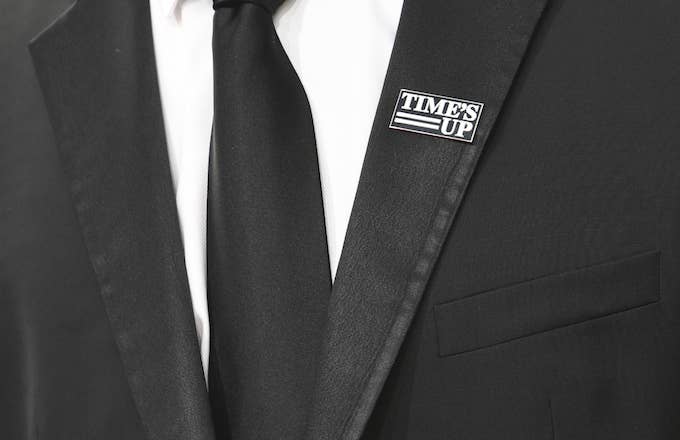 Catt Sadler, former E! News host, made the bold decision to leave E! News after she found out that her salary was half that of her male counterparts.
Her decision, announced in early February, came just days before the Golden Globe ceremony, where celebrities (and particularly women) were fired up to speak out against the systemic sexism and discriminatory power structures of Hollywood that repeatedly make things harder for women in the industry. Many celebrities, including Debra Messing and Eva Longoria, spoke out during their red-carpet interviews—which were filmed by and aired on E!—in support of Sadler. However, today, a producer who worked for E! during the Golden Globes show is suing the channel, claiming she was fired for airing the celebrity criticisms of the channel and their treatment of Sadler.
The producer, Aileen Gram-Moreno, told the New York Timesthat she was fired for allowing Eva Longoria to criticize the network and support Catt Sadler. She filed a complaint with the Equal Employment Opportunity Commission on Thursday. She claims she was unfairly terminated and replaced by a man.
Gram-Moreno says she "helped get E! off the ground in 1990" and has worked as a part-time producer for the channel's red-carpet shows for the past 12 years. She says that she had received instructions to flag any interviews in which celebrities mentioned of Sadler, Time's Up or #MeToo before they went on the air. As the Times explains, many of E!'s red-carpet interviews are filmed simultaneously, so some are not shown live and are instead "prerecorded" and run slightly later.
Once Messing made her remarks about Sadler, E! executives allegedly became concerned that other celebrities would follow suit. Gram-Moreno claims that as a result, she was assigned more interviews before airing "in an effort to weed out mentions" of Sadler.
"They said, if there's any mention of Catt in the preshow, make sure you flag it," Gram-Moreno on Thursday. "You're censoring celebrities; it's just not a good idea in my humble opinion. But it wasn't my decision."
However, Gram-Moreno claims there were too many prerecorded interviews to thoroughly review them all, and she was unable to listen to Longoria's interview all the way through, when she says towards the end, "We stand with you, Catt." Gram-Moreno was "devastated about the mistake," and apologized to her executive producer via text, who said it was probably unavoidable. But five days later, Gram-Moreno said she was fired from all upcoming shows she had already been booked for, including the Screen Actors Guild Awards, the Grammys, and the Oscars.
"The executive producer said it was because [I] let the Catt mention get on air," Ms. Gram-Moreno revealed.
Adam Stotsky, president of E! Entertainment, disagrees with Gram-Moreno's version of events. He said there was no effort to censor celebrities; after all, Messing and Longoria's clips, plus another one by Sarah Jessica Parker, would not have been broadcast. Stotsky also points to an interview with Natalie Portman, who also spoke to E! of her support for Sadler, that was published online.
"If we were trying to censor, which is her primary thesis here, we certainly wouldn't have done that," Mr. Stotsky said.
However, Stotsky does concede that the network did want to know about any mentions of Sadler, and Messing's comments led them to believe there would be more.
"We don't agree with Debra Messing's assertion," he said. "We're not in the business of being a megaphone for an inaccurate story."
An E! spokeswoman, Sarah Goldstein, said, "For the past decade Aileen Gram-Moreno was a freelancer who worked an average of 20 days per year solely for our red-carpet coverage."
"After the Golden Globes," Ms. Goldstein added, "she was asked not to return due to job performance issues. Ms. Gram-Moreno filed her legal claim after her request for a financial settlement was turned down."
This news comes days after reports that some celebrities were considering avoiding Ryan Seacrest, E!'s celebrity golden boy, during the Oscars red carpet this weekend due to the recent sexual assault and harassment allegations made against him by a former E! News stylist.