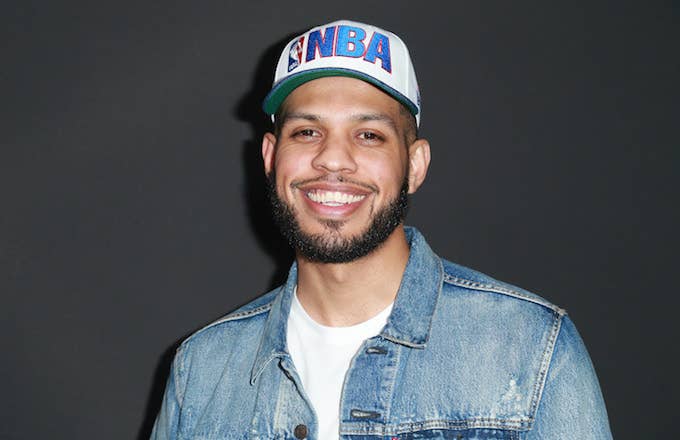 We were all so busy waiting for the new season ofInsecure to drop that we didn't realize Insecure was around us all along. Let me explain: if you've seen Season 2, you'll remember Dro, Molly's boo who insists he's in a very chill open marriage, and Tasha, the girl from the bank who Lawrence, um, spends time with after breaking up with Issa. No one expected this crazy plot twist, though: Sarunas J. Jackson, who plays Dro, is actually in a relationship with DomiNque Perry, who plays Tasha. Not just that, but the couple just had a baby together. 
Perry recently posted a photo of her newborn daughter, Zen. Perry had never mentioned or alluded to who the father was, so fans congratulated her on the newest addition to the family and moved right along with their lives. 
Until, of course, Jackson posed a photo of Zen to his Twitter account. Jackson captioned the photo "NWTS," a likely nod to Drake's Nothing Was The Same. Jackson probably means that now he is a father, his life will never be the same, but for devoted Insecure fans who were out of the Perry/Jackson loop, the phrase is also apt, because we're all shook. 
So, we know the Insecure cast was close—close enough that at least one baby has been born as a result—but it could have gone another direction. If you're a keen fan of the show, you'll remember an interview with The Shade Files back in February, Perry joked that she initially tried to shoot her shot with Jay Ellis, a.k.a. Lawrence. 
"It was my second day of filming and I always thought Jay Ellis was so fine," she said. "One day I said, 'You know what? I'm going to shoot my shot,'" Perry said. "I remember just staring at him and giving him the googly eyes and he kind of looked at me and was like, 'Why are you looking like that? Are you OK?' When he said that, I picked up my face off of the floor. I never shooted my shot with Jay Ellis ever again."
To be totally clear, Perry was joking around, but it just goes to show that everyone on the show is good friends, and it's not their fault that they're also all incredibly good looking. 
Come onnnnn really?!! Lol like seriously! Whole great interview and they pull something That was a JOKE. To make me look bad.

pic.twitter.com/03nshrZJzc