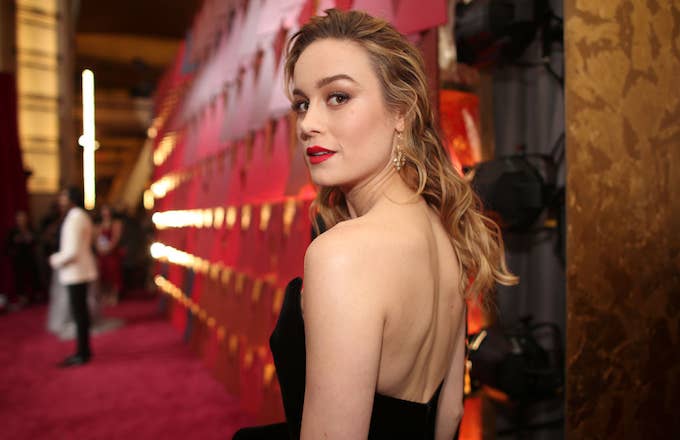 Marvel has been tight-lipped about its upcoming movie, Captain Marvel. Although it will be the 21st entry into the Marvel Cinematic Universe, it is set to be the first female-led movie for Marvel, and after DC's success last year with Wonder Woman, they've got big shoes to fill.
We do know that the movie will be a prequel to all the other movies in the MCU, and will be set in the '90s. Oscar-winning actress Brie Larson is set to star, and She's Gotta Have It star DeWanda Wise has recently signed on in a co-starring role. The movie will also star Jude Law, Samuel L. Jackson, and Ben Mendelsohn and directed by Anna Boden and Ryan Fleck. Until today, fans were kept in the dark regarding any other details. But paparazzi have caught Brie Larson in full Captain Marvel costume, so now we know a little bit more about how this highly anticipated movie will look. Larson is currently shooting in Atlanta, where she will play Carol Danvers, an Air Force pilot who becomes a superhero after her DNA is fused with alien DNA.
The set photos of Captain Marvel show us a costume that looks like a reference to the original Kree (alien) uniform of the first Captain Marvel (the male Mar-Vell) in Marvel Comics.

pic.twitter.com/xmR3ccJ3Uw
It looks like particular suit Larson is wearing is an original Free alien uniform that the first Captain Marvel, Mar-Vell, who was a man, wore in the comics. Many people on Twitter believe the suit is an initial version and that eventually, Larson's Captain Marvel will get her own colors. It's an idea that makes some sense particularly due to the fact that the movie is set in the '90s. Alternatively, some people are guessing that the green color of the suit might be there for CGI purposes.
Larson will also appear as Captain Marvel in the still untitled fourth Avengers movie set for release in May of 2019.