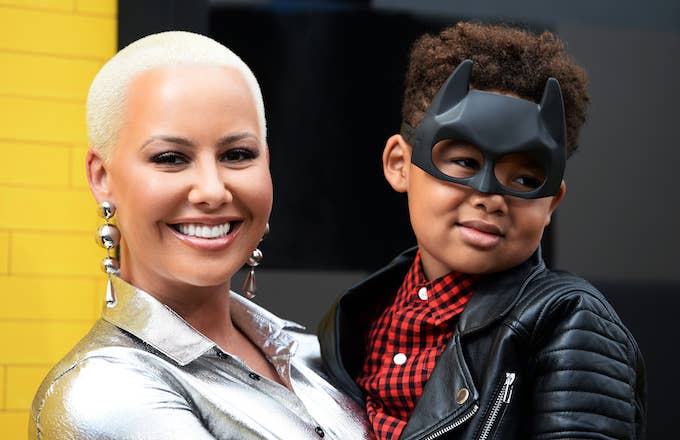 Earlier today, Amber Rose shared two heartwarming videos of her and Wiz Khalifa's son, Bash, receiving a gift from Taylor Swift that included tickets to an upcoming concert. Bash is a big fan of Swift, and that's why it was so adorable that Rose shared the videos: his mom was demonstrably supportive of his taste and wanted to share her son's joy with her fans.
However, because this is the internet we're talking about here, this isn't exactly an uplifting story about a mom's devotion to her son and the happy reactions of said mom's fans.
Instead, Rose received enough negative comments on her posts that she had to take to Instagram Stories to stand up for her son and provide some perspective on what it means when random people online make fun of a literal child for just being himself.
The majority of the nasty responses to Rose's posts centered around the fact that Bash is a Taylor Swift fan, which is somehow indicative of Bash's "manliness" or his sexuality. "Shout out to all of the hyper masculine men and ignorant dumb ass women that will call a five-year-old gay for liking Taylor Swift," Rose wrote. She went on to argue that this line of thinking is precisely what is wrong with society nowadays, since it's ridiculous to believe that enjoying a certain type of music will "make you 'pick' your sexuality."
What's worse is that this isn't even the first time people with nothing better to do on the internet have called Rose's son gay. When he was even younger—just three years old—Rose shared a photo of Bash wearing one of her wigs, and Rose had to defend him against the "ignorant f*cks" who thought that meant her son was gay.
Rose kept going, and clearly she knows exactly how to raise her child. She shared that Bash "just got accepted into the most prestigious private school in Los Angeles" and that she and Wiz Khalifa raise him to "be himself." They recently threw him an amazing Suicide Squad-themed birthday party, and the fact that his parents went to those lengths to make their son happy pretty much proves Rose's point. 
"We let him be passionate about whatever his little heart desires," Rose continued. "Let's do better for the next generation, people. Grow the f*ck up and teach your kids to love and not hate."
Rose also twisted the knife just a little bit further with a final diss that honestly no one can argue with: "He also has more money in his bank account than any of your trolls could even imagine."
Hopefully internet trolls learn something from Rose's statements and think twice the next time they take advantage of the anonymity of social media to share bigoted and offensive comments on social media. Well, we can only hope. One thing we can be certain of, though, is that Rose will continue to be the badass, strong woman and mother that she is.