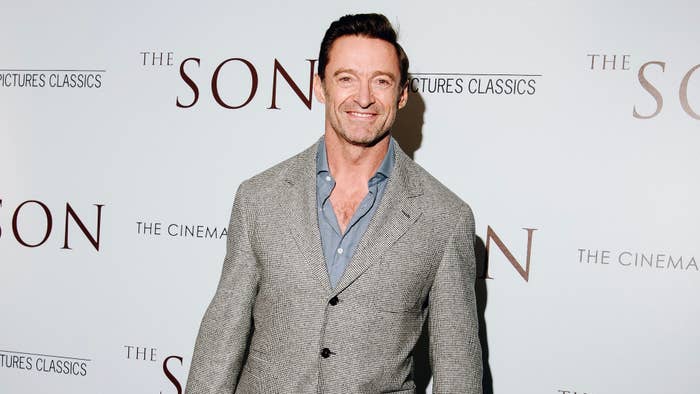 Hugh Jackman is clearly dedicated to his craft. 
During an appearance on this week's episode of Who's Talking to Chris Wallace?, the Australian actor spoke about his much-anticipated MCU debut in Deadpool 3. The film, which stars Ryan Reynolds as the titular antihero, will find Jackman reprising his role as James "Logan" Howlett/Wolverine. The actor took on the character in Bryan Singer's X-Men film,which premiered more than two decades ago.
Though the sequel will mark Jackman's 10th time playing the iconic comic book character, he admitted he will spend about half a year preparing for the gig and returning to Wolverine-level shape.
"I've learned you can't rush it. I've learned that it takes time," he said about the physical transformation. "So we have six months from when I finish [The Music Man] to when I started filming. And I'm not doing any other work. I'm going to be with my family and train. That's going to be my job for six months."
He continued: "And I'm really fit right now. There's one thing that about eight shows a week being on Broadway singing and dancing is I'm fit. So I'm healthy. I have a good place to start. And apologies chickens. Run a mile. Start running now because I'm coming for you."
Reynolds confirmed Jackman's Deadpool 3 role back in September, after months of growing speculation. 
"Hey everyone, we're extremely sad to have missed D23, but we've been working very hard on the next Deadpool film for a good long while now," Reynolds said in a video shared on social media. "I've had to really search my soul on this one. His first appearance in the MCU obviously needs to feel special. We need to stay true to the character, find new depth, motivation, meaning. Every Deadpool needs to stand out and stand apart. It's been an incredible challenge that has forced me to reach down deep inside. And I…I have nothing. Yeah, just completely empty up here. And terrifying. But we did have one idea."
Jackman then entered the frame.
"Hey, Hugh, you want to play Wolverine one more time?" Reynolds asked.
"Yeah, sure, Ryan," Hugh replied.
Deadpool 3 will be directed by Shawn Levy and is scheduled to his theaters on Nov. 8, 2024.