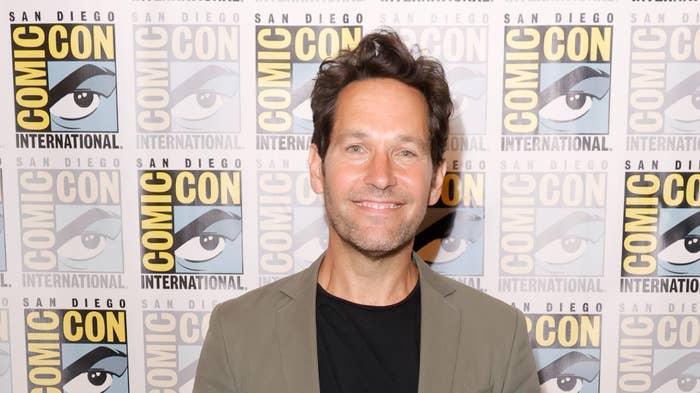 As the theatrical release of Ant-Man and the Wasp: Quantumania draws near, Paul Rudd looks back at the moment that forever changed him: joining the Marvel Cinematic Universe. 
"My agent set up a meeting with Marvel Studios president Kevin Feige," Rudd told Ross McCammon in his interview for Men's Health. "Marvel was pretty new. They weren't even part of Disney." (The company acquired Marvel Entertainment for $4 billion in 2009.)
"It would've been like somebody saying, 'How would you feel about doing Dancing with the Stars?' A superhero franchise was never on my radar," he continued. "I never really thought I was the type of actor that they would offer any of those parts to. But when this idea came around, I was excited about doing something that was so out of left field, and I knew that if it was that I was going to be joining a superhero franchise, most people would say, 'What the fuck?'"
During his 2020 discussion with fellow MCU star Chris Evans as part of Variety's Actors on Actors at Home series, Rudd admitted there was some apprehension toward the decision to cast him as Ant-Man, let alone a superhero. 
"I'm not the first guy that people would think of when it comes to playing a big superhero," Rudd said at the time. "I wanted to try and make a character, a superhero, who was kind of a regular person." 
Despite his best intentions on portraying Scott Lang as a "regular person," the 53-year-old actor has put in a considerable amount of work that has proven to be beneficial for the look of the character, but also his personal life. Rudd told Men's Health that prior to Ant-Man, he would have never gotten in his cardio before eating breakfast.  
"If I'm in this suit, running around playing who's supposed to be a superhero, I just feel better," Rudd said of the dedication to his physical fitness. "And I feel less like an impostor."