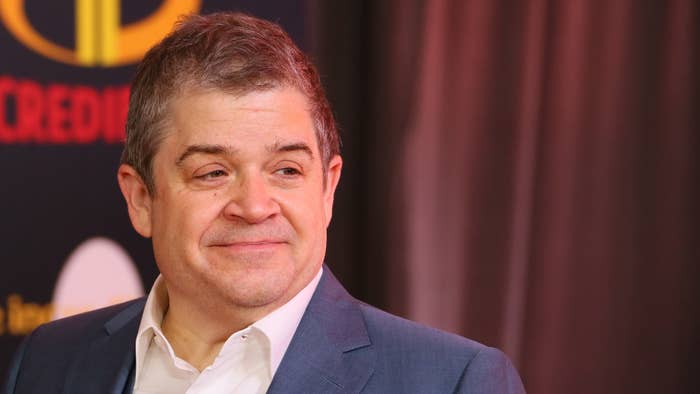 Patton Oswalt took to Instagram Sunday to discuss the response to a series of photos he posted of himself and Dave Chappelle. 
Oswalt posted the photos after Chappelle texted his old friend to come perform at his Seattle show on New Year's Eve. "Why not? I waved good-bye to this hell-year with a genius that I started comedy with 34 years ago," Oswalt captioned his photos with Chappelle. "He works an arena like he's talking to one person and charming their skin off. Anyway, I ended the year with a real friend and a deep laugh. can't ask for much more."
But after people criticized Oswalt for posing with Chappelle, Oswalt hopped back on Instagram to apologize and address the backlash.
"I saw a friend I hadn't seen in a long time this New Year's Eve. We've known each other since we're teens. He's a fellow comedian, the funniest I've ever met. I wanted to post a pic & an IG story about it — so I did," wrote Oswalt, who was performing at McCaw Hall in Seattle on New Year's Eve. 
Oswalt mentioned that he and Chappelle, who was performing at Seattle's Climate Pledge Arena that same night, have known each other for 34 years. "We've done bad & good gigs, open mikes & TV tapings," he continued. "But we also 100% disagree about transgender rights & representation." 
Chappelle has been criticized for his take on transgender rights in his latest Netflix special, The Closer, where he proclaimed to be "team TERF," an acronym for trans-exclusionary radical feminists. It's a term given to someone who refuses to fully acknowledge a trans person's gender and sex. Chappelle's remarks in his stand-up were in reference to ongoing pushback from J.K. Rowling, who argues that "if sex isn't real, the lived reality of women globally is erased."
"TERF is an acronym. It stands for trans-exclusionary radical feminists, and this is a real thing. This is a group of women that hate transgender, they don't hate transgender women but they look at trans women the way we Blacks might look at blackface. It offends them," Chappelle said, adding, "I am a feminist, that's right…I'm team TERF. I agree, I agree man. Gender is a fact. You have to look at it from a woman's perspective."
His comments angered the trans community and its allies, some of which could be found inside Netflix headquarters. The issue was only made worse by CEO Ted Sarandos, who defended the comedian's right to deliver a potentially dangerous rhetoric on two separate occasions before acknowledging that he "screwed up the internal communication," hours before the company's employees were set to stage a walkout. 
As this was all going on, Chappelle has exhibited defiant behavior, claiming to be among those in the non-existent realm of "being canceled," acting dismissive towards any opinion that opposes his own, and delivering more jokes targeted at the trans community, even though he vowed to never do so after The Closer. 
"I support trans peoples' rights — ANYONE'S rights — to live safely in the world as their fullest selves. For all the things he's helped ME evolve on, I'll always disagree with where he stands NOW on transgender issues," Oswalt wrote. "But I also don't believe a seeker like him is done evolving, learning. You know someone that long, see the struggles and changes, it's impossible to cut them off. Impossible not to be hopeful and open and cheer them on."
Oswalt added, "I'm an LGBTQ ally. I'm a loyal friend. There's friction in those traits that I need to reconcile myself, and not let cause feels of betrayal in ANYONE else. And I'm sorry, truly sorry, that I didn't consider the hurt this would cause. Or the DEPTH of that hurt." 
Read his message in its entirety below.