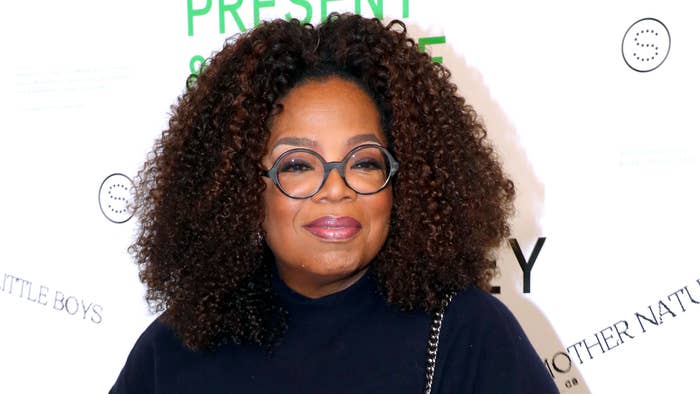 Oprah Winfrey admitted that she doesn't have many friends, and would consider only three people to be her closest pals. 
Oprah appeared on the Making Space with Hoda Kotb podcast ​​​​with Maria Shriver, one of her closest friends, whom she met 42 years ago while striking up a conversation one early morning in the bathroom of a Baltimore television station where they both worked, well before she "became Oprah." 
"I forever think that that was, like, a divine moment that happened because she was one of my true, grounded friendships that carried me through my entire career," Winfrey said, per NBC News.
"So, I don't have a lot of friends," she continued. "Everybody knows Gayle (King). There's Gayle, there's Maria, there's Bob (Greene). And that's— that's about it, you know?"
Even though there are millions of people around the world who would want to be her best friend, Oprah explained she has only started to expand her circle, saying, "I never really expanded that circle until recently. You know, I had become friends with a couple of people in my later adult life in the past five years."
Shriver described her connection with Oprah as "deep, simple, low-maintenance, trustful, loyal, constant, consistent, honest, tried, and true."  
Winfrey and King spoke about their 45-year friendship on Oprah Daily earlier this year, with the former talk show host revealing what has made their bond strong for so long. "Surround yourself with someone who is as happy for your happiness as you are for your happiness," she said, perET. "You need friends that are happy in their own lives so that they can actually be authentically happy for you."
Oprah first met Greene, a personal trainer, in 1993 when she was struggling with her weight, which was impacting other aspects of her life, like making her have trouble maintaining eye contact. Winfrey said she initially thought he was judging her, as she had been doing the same. However, Greene pushed her to get what she wanted out of her life, which turned out to be happiness. 
Their conversations regarding the pursuit of happiness forced her to reassess other aspects of her life, including the direction of her talk show, and the people she wanted to surround herself with.