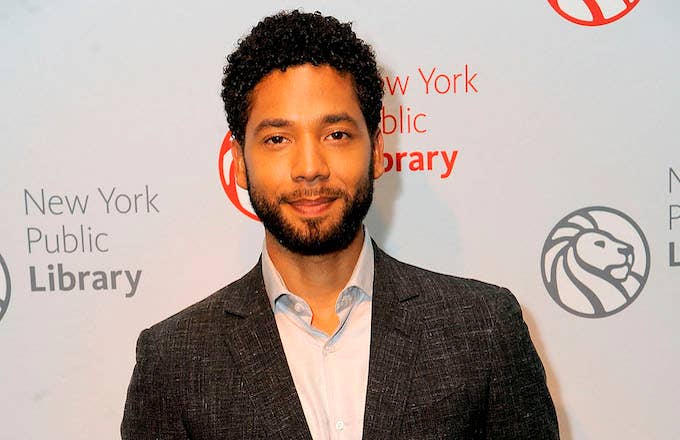 TMZ has obtained a snippet of the Drop the Mic episode with Jussie Smollett, which was pulled in response to his recent arrest for allegedly filing a false police report. The clip features Smollett calling his opponent Orange Is the New Black actress Danielle Brooks "the worst orange person since Donald Trump." Click here to check it out. 
The irony in the Trump line is that Smollett's bar would have probably never caught the president's attention. Earlier today, however, The Donald directed a tweet at the Empire actor over his original claim that he was attacked last month by two white men in ski masks who said, "This is MAGA country," a reference to Trump's long-running presidential slogan "Make America Great Again."
Smollett was formally charged Wednesday with disorderly conduct for allegedly filing a false police report. In a press conference Thursday, Chicago Police Superintendent Eddie Johnson alleged that Smollett conducted a "publicity stunt" because he was "dissatisfied with his salary." Smollett has already been released on $100,000 bond.
Smollett is expected back in court on March 14. If convicted, he faces up to three years in prison. Since Jussie's Drop the Mic episode has been scrapped, the battle between Clay Aiken and Ian Ziering may never see the light of day as well. An entire nation mourns this lost footage.