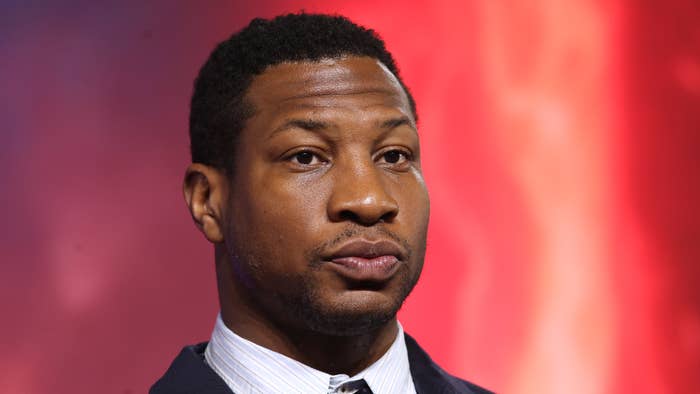 UPDATED 4/19/23, 7:18 a.m. ET:Jonathan Majors has now been reported to have been dropped from a number of upcoming projects, including the film adaptation of Walter Mosley's The Man in My Basement.
Per a report from Deadline, Majors' has been dropped from the Protagonist Pictures production, which was originally slated to see Majors taking the lead and executive producing through his Tall Street Productions. Majors is also reportedly no longer involved with a Texas Rangers Major League Baseball advertising campaign and a previously unannounced (and estate-approved) Otis Redding biopic.
As for other Majors-connected projects on the horizon, there were no updates on their current status at the time of this writing. Next month, the actor is expected to make a court appearance following word that he was facing assault charges.
See original story below.
Jonathan Majors and talent manager Entertainment 360 have agreed to part ways, as reported by Deadline. 
Majors was charged with several counts of assault and harassment late last month in connection to an alleged physical altercation in New York City with a woman believed to be his girlfriend.
According to documents from the Manhattan District Attorney's office, the Ant-Man and the Wasp: Quantumania star allegedly "[struck] her about the face with an open hand, causing substantial pain and a laceration behind her ear," in addition to grabbing her hand and neck, "causing bruising and substantial pain."
His attorney Priya Chaudhry shared screenshots of an alleged text exchange between Majors and the woman involved in the incident. She allegedly wrote that his arrest was due to enforcing protocol since "they saw the injuries on me and they knew we had a fight." The woman also wrote in the alleged texts that "they assured me that you won't be charged."
Deadline reports the PR firm The Lede Company severed ties with Majors last month. The U.S. Army also halted its "Be All You Can Be" campaign involving the 33-year-old actor. 
"The U.S. Army is aware of the arrest of Jonathan Majors, and we are deeply concerned by the allegations surrounding his arrest," Laura DeFrancisco, public affairs chief for the Army Enterprise Marketing Office, said in a statement. "While Mr. Majors is innocent until proven guilty, prudence dictates that we pull our ads until the investigation into these allegations is complete."