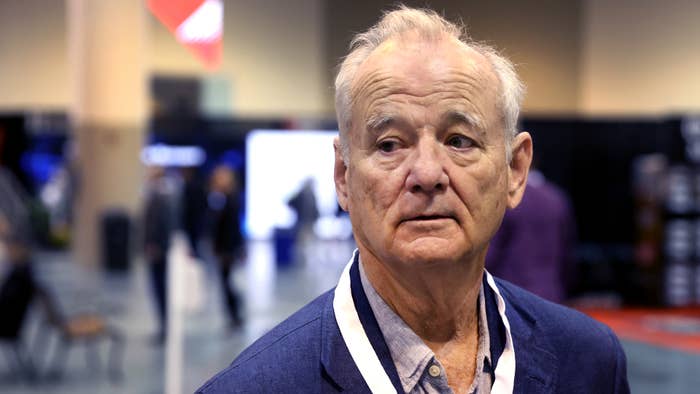 Searchlight Pictures announced late last month that production on Aziz Ansari's feature directorial debut Being Mortal had been suspended following a complaint over alleged inappropriate behavior by Bill Murray. On Saturday, Murray explained what went down.
While attending the annual Berkshire Hathaway shareholders meeting, Murray spoke with CNBC's Becky Quick about what he described as a "difference of opinion" with an unidentified actress on set, saying, "I did something I thought was funny and it wasn't taken that way." 
Murray wouldn't get into what he did or who was involved, but mentioned that he spent this past week thinking about what he had done. 
"As of now we are talking and we are trying to make peace with each other," he said. "We are both professionals, we like each others' work, we like each other I think and if we can't really get along and trust each other there's no point in going further working together or making the movie as well. It's been quite an education for me." 
Murray expressed optimism about making peace with the woman involved in the complaint, stating he intends on proving he can learn from his mistakes and hopes that he can work again with the person. "I think it's a sad dog that can't learn anymore," he said. "That's a really sad puppy that can't learn anymore. I don't want to be that sad dog and I have no intention of it."
"What would make me the happiest would be to put my boots on and for both of us to go back into work and be able to trust each other and work at the work that we've both spent a lot of time developing the skill of," he continued. 
After news of the situation first broke, Keke Palmer, who stars in the film alongside Seth Rogen,  took to Instagram where she posted about unprofessional behavior. 
"It's not always about how good you are at the actual job… It's about how you show up to the job. Are you on time? Do you have a good attitude? Are you efficient? Are you flexible? Are you calm under fire? Do you represent yourself and the employer well? Are you a good communicator?" Palmer wrote.

"These are the things people sometimes don't think matters, especially those who work in fields that come natural to them. It can double your rate in any field if you create an enjoyable EXPERIENCE for the client. And it can lower your rate when people don't like the experience of working with you, no matter the outcome of the actual task," she added. 

Being Mortal, which was reportedly halfway done when production was halted, was previously scheduled for a 2023 release. If production does continue, it remains to be seen if Murray will stay on the cast.