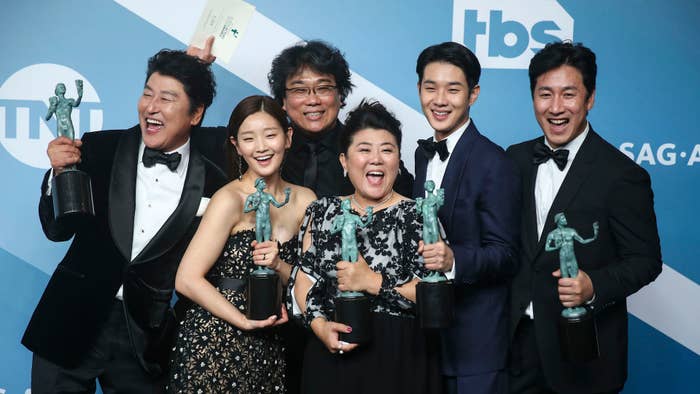 On Sunday, we're going to find out if the Academy will award Parasite with Best Picture, a feat that has never been accomplished before by a non-English language film at the Oscars. However, if one member of the 8,469-member voting body clues us into a majority of the group's overall thinking, then it's clear that we sadly have a long way to go before that historic day comes. 
Speaking on condition of anonymity with The Hollywood Reporter, a female voter from the Academy's actors branch gave her honest feedback on how she filled out her ballot, and when discussing her thought process behind choosing three films ahead of Parasite for the night's biggest award, her response was jaw-dropping.
"Parasite is beautifully done, but it didn't hold up the second time, and I don't think foreign films should be nominated with the regular films," she wrote. 
The comments, unsurprisingly, didn't sit will with many on social media.
If these voters were leaning towards casting their vote for "regular film," like, say, 1917, then they should also be aware of something.
Her belief that the Bong Joon-ho-directed film doesn't hold up after a second viewing is a reasonable even if incorrect criticism, but everything else about her statement is downright offensive. This voter also explains that her reason for voting for Quentin Tarantino in the Best Director category was because the Once Upon a Time in Hollywood filmmaker "should be honored for a great American movie." She doesn't even hide her intentions with her push for Tarantino, adding, "I want an American director to win." 
While we can only hope that this mindset is an outlier among the Academy's voting body, that most likely isn't the case...for now. The Academy has been diligent in its efforts in creating a more diverse body of voters. According to THR, 39 percent of its new voters are not from the United States. "Film is not just the United States, it's a global industry," Lorenza Muñoz, the Academy's head of member relations and awards, said. "We want to make sure we're engaging with our members who are in these countries."
The slow transition towards a more diversified Academy will hopefully lead to a body of voters that are no longer adverse to watching movies with subtitles. 
"Once you overcome the one-inch tall barrier of subtitles, you will be introduced to so many more amazing films,"Bong Joon-ho said when accepting his award for best foreign-language film at the Golden Globes last month. "Just being nominated along with fellow, amazing international filmmakers was a huge honor. I think we use only one language: the cinema."