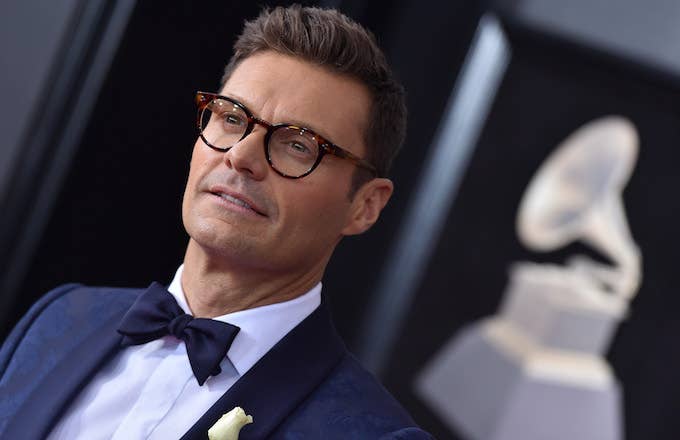 Ryan Seacrest has come forth to deny any wrongdoing following sexual assault allegations brought forth by his former stylist, Suzie Hardy.
The longtime TV and radio host spoke out to clear his name in a lengthy statement provided to BuzzFeed. "This person who has accused me of horrible things offered, on multiple occasions, to withdraw her claims if I paid her millions of dollars. I refused. I have worked extremely hard to achieve my success and I don't take my opportunities for granted," he writes. "I don't want to accuse anyone of not telling the truth but in this case, I have no choice but to again deny the claims against me, remind people that I was recused of any wrongdoing, and put the matter to rest."
Seacrest is also getting the full backing of the two television networks that employ him. An E! spokesperson told BuzzFeed that an "extremely comprehensive and thorough" investigation was conducted and that there was "insufficient evidence" supporting Hardy's claims. An ABC spokesperson also confirmed that Seacrest will remain in the host's chair for Live with Kelly and Ryan, and will host the American Idol reboot premiering on March 11.
This comes just a day after Hardy spoke to Variety exclusively about her dealings with Seacrest. The stylist says that in 2013, she was terminated by E! two weeks after alerting the HR department about incidents where Seacrest allegedly grabbed her buttocks and private parts. Hardy's legal team reached out to E! in November 2017 amid the #MeToo movement and was told her claim would be looked into, but she says it was clear they had slanted the investigation to favor Seacrest.
Seacrest's statement also takes Variety to task for their "salacious story," claiming they did not reach out to him for comment prior to its publishing.
What remains to be seen is how this controversy will play out at the Oscars, where Seacrest is slated to be on red carpet duties. The #MeToo movement will no doubt be on full display, as it has been all awards season, so there's a possibility for things to go from zero to awkward real quick.