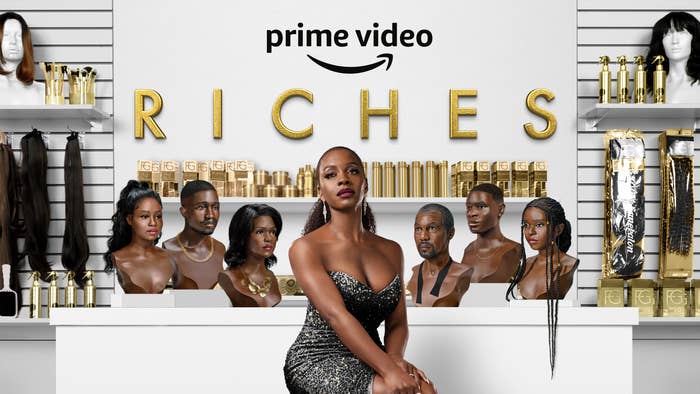 Research from McKinsey and Company says that Black owned brands in the beauty sector raise a median amount of $13 million in revenue. This is compared to the $20 million that non-Black brands raise. According to that same research, the revenue of those Black owned brands is 89 times higher than non-Black beauty brands.

How to Get Away With Murder writer Abby Ajayi is bringing to Prime Video, Riches, her new drama about family and the beauty and hair wealth gap. The title alone speaks volumes.

Riches stars Deborah Ayorinde (Prime Video Them) as Nina Richards, a young, gifted, and Black financial analyst who, together with her brother Emmanuel Imani as Simon Richards, take on their father's children and wife in a financial stakeholder's tug of war amid a backdrop of bundles and beauty balm.

"By 2024, the buying power of the U.S. Black population is set to reach $1.8 trillion," according to Nielsen.  

Influencer Ari Fletcher recently launched her beauty brand Remedy by Ari and sold out within three hours. Aside from lips, colors, and palettes, the influencer also carries a popular lip scrub that seeks to aid customers in getting fuller moisturized lips—similar to the look that's made Fletcher a household name.

"REMEDY BY ARI is my definition of beauty, and personal remedy to beat bad days. I am so excited to share this with the world," per a release from Fletcher's camp. "The key to self-confidence is to feel good, and when you look good, you feel good."

The Prime Video 6-episode season kicks off when the patriarch and founder of a major beauty and hair brand drops dead. His first two children from a separate marriage are left controlling shares. His family in London, England—including his three children and wife, are not happy.

"With 54% of Black people in the U.S. currently under the age of 35 (compared to 46% of the total population), these are relatively young and dynamic consumers who are likely to be engaged by new beauty trends and innovations," according to Nielsen.

A majority of Fletcher's audience including her 5.7 million followers on Instagram are under the age of 35.

In a study conducted by Nielsen, "38% of Black women say they will pay more for hair care products from Black-owned brands."

To date, Black brands make up 2.5 percent of revenue in the beauty industry. Despite this number, Blacks account for 11.1 percent of total beauty spending.

At its core, Ajayi says Riches is about family. But Black ownership, colorism, representation in direct opposition with the above numbers all make it to the nuanced writing that captivates the audience from episode one and concludes with the season finale.

"The Black population in the U.S. is expected to grow by 21% between 2022-2045 while the Non-Hispanic White population is likely to decrease by 18%" per Nielsen.

Riches also stars Sarah Niles as Claudia Richards, Brendan Coyle as Gideon Havelock, Hermione Norris as Maureen Dawson, Adeyinka Akinrinade as Alesha Richards, Ola Orebiyi, and C.J. Beckford as Andre Scott-Clarke.

All 6 episodes debuted on Dec. 2 and are streaming now on Prime Video.