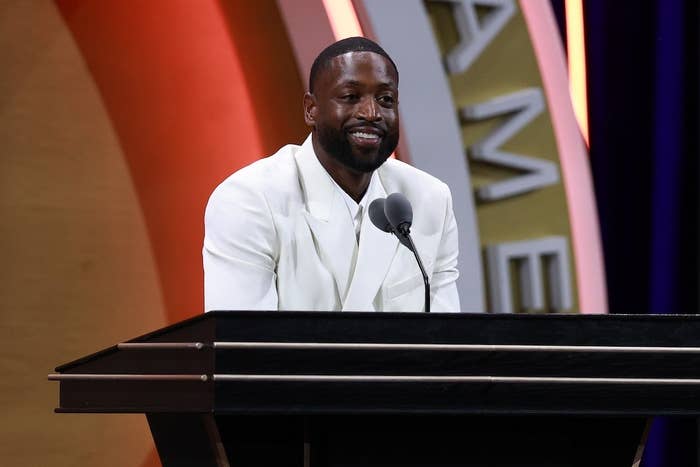 Former Miami Heat star Dwyane Wade is showing love to actor-comedian Marlon Wayans.
Earlier this month, Wayans stopped by The Breakfast Club, where he opened up about his upcoming comedy special being a dedication to his son, Kai, 23, who is trans. Wade, whose daughter Zaya, 16, came out as trans in 2020, related to Wayans in a chat with Variety during the GQ Men of the Year party on Thursday.
"I think unconditional love allows us to step in and listen and learn of what we do not know and what we were not taught, especially in the Black community," Wade said. "I salute Marlon for speaking out and speaking up about this experience with his child just the same way as I've done. We're just the voices that are speaking for our kids right now before they get an opportunity to grab that microphone and speak for themselves. I salute him."
He continued, "This is his experience and what he's dealing with. He's coming out selling it from his point of view. It's great for fathers especially to speak on them from their point of view and how they had to handle it and deal with it."
Wade and his wife, actress Gabrielle Union, have frequently publicized their support for Zaya, notably during the 54th NAACP Image Awards in February, where the couple gave a 5-minute speech dedicated to Zaya and justice for the Black trans community. The two were accepting the President's Award for their activism, philanthropy and humanitarian work.
"Zaya, you've made me a better human just simply by being who you were born to be: our baby girl, Zaya Wade," Wade said in the speech, speaking directly to his eldest daughter. "So baby, thank you for showing the world what courage looks like. I'm proud that I was chosen to stand in place as your father."
Zaya has taken the modeling world by storm as of late, speaking to ELLE and Harper's Bazaar about their career, and starring in Miu Miu's Fall/Winter campaign, also hitting the runway for the clothing line.
Separately, Wayans shared with The Breakfast Club earlier this month that his son's coming out has been a "painful" process, where he occasionally uses incorrect pronouns for Kai. "They let me… they know. They know I love her and they see me trying and that I'm happy. It just fucks me up when I say 'they,' I'm like, there's two of you? But I gotta respect their wishes," Wayans said.