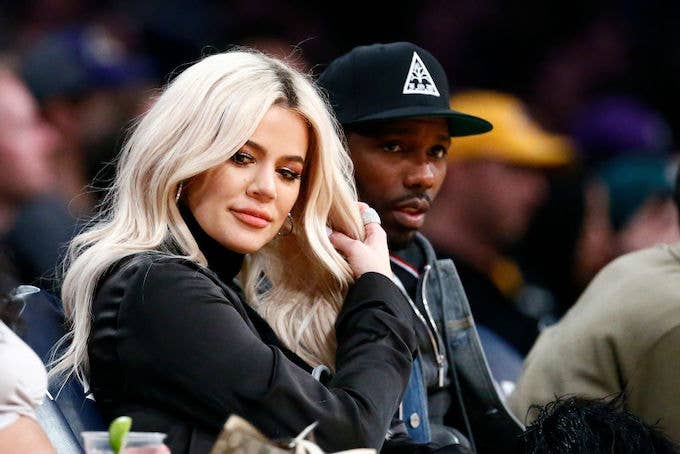 In the latest episode of Keeping Up with the Kardashians, Khloé opened up about her relationship with ex-boyfriend Tristan Thompson, who was accused of cheating on the reality star throughout the course of their relationship. 
Days before Khloé gave birth to their daughter True, Thompson was recorded getting close to an unidentified woman in a New York City club. Months later, the NBA star was caught hooking up with two women in a Washington D.C. bar. During this week's episode, Khloé explains how she managed to deal with her own demons after Tristan's first public display of disloyalty, and how one spiritual interaction with a healer made her second guess her decision to take him back. 
"Ever since what happened with Tristan and I, nobody knows I fight an inner battle with myself in regards to what is the best thing to do for my relationship and for me," she explains. "Meeting with all these different healers, I'm realizing that I'm suppressing a lot of my emotions. Now, it's time to think about all that stuff."
"It's hard to overcome cheating," she continued. "It's hard to gain the trust back. You wonder: Will it ever be the same, will you ever really get back to where you were prior to this whole cheating scandal? So I'm really just trying to reevaluate what's important to me and hopefully make the right decision."
Thompson's most notable tryst occurred earlier this year with Kardashian family friend Jordyn Woods. The scandal consumed pop culture news for several weeks, and saw a multitude of individuals at the center of the fallout. Although affairs like these are often painful, Khloé's sister Kourtney told Ellen DeGeneres on her eponymous talk-show that the 34-year-old is doing well now that the dust of the infidelity has settled. 
"She's very strong and I just feel like she's in a really good place," Kourtney explained. "I think she's just, 'This is what's happening right now.' I think she's really good at dealing with her emotions. I think moments like this really bring our family closer together and you realize how important family is."
Most recently, Thompson and Kardashian both attended their daughter True's first birthday party, and a source told People that while everything remained amicable, the two didn't spend much time interacting with one another. 
"Khloé seemed a bit nervous about having him there, but there was never a question if he would be invited. It's super important to Khloé that True spends as much time with Tristan as possible. Khloé wants True to have a great relationship with Tristan," the source explained. "Khloé and Tristan posed for some pictures together with True, but otherwise had very little interaction."