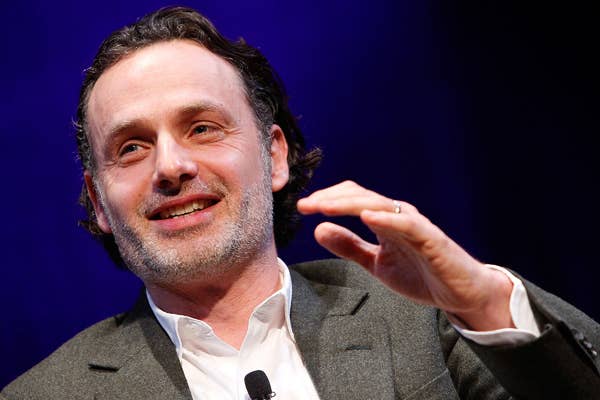 Andrew Lincoln, who played Rick Grimes throughout the nine seasons of The Walking Dead, has signed on to continue portraying his character in multiple feature-length movies based on the iconic TV show. In a series of AMC Studios Original Films, written by The Walking Dead chief content officer Scott Gimple, Grimes' story will continue to unfold. The production of the first installment is slated to begin in 2019.
At the end of Sunday's episode, Grimes was badly injured, though not dead, after blowing up an onslaught of zombies headed towards his friends and family. After being picked up in a helicopter by Jadis/Anne, played by Pollyanna McIntosh, he was flown away to an undisclosed location. 
When speaking to the end of Grimes' role on the show, and his feature-length film horizon, Gimple's elevator pitch gave fans some insight as to what to expect. "These films are going to be big evolutions of what we've been doing on the show, with the scope and scale of features. We're starting with the first part of the continuing story of Rick Grimes, and there is much more on the way, featuring yet-unseen worlds of 'The Walking Dead' and faces from the show's past, as well as new characters we hope to become favorites, told by TWD veterans and emerging voices. We want to break new ground with different, distinct stories, all part of the same world that's captured our imagination for nearly a decade of the Dead."
Lincoln and Gimple have been reportedly discussing the possibility of the TV movies since season four of the AMC series. 
In a press release, Andrew Lincoln explained his transition from the television series to the feature-length projects. "It's not the beginning of the end, it's the end of the beginning. And I like the idea that we get to tell a bigger story, maybe with a sort of wider vista. And I've always been interested in what's going on out there, you know, whether or not there is contact with the wider world. I want to know the meta of it all. And I suppose to be able to kind of touch upon that in a contained story for me is a very exciting proposition ... Maybe it's the start of a bigger story."