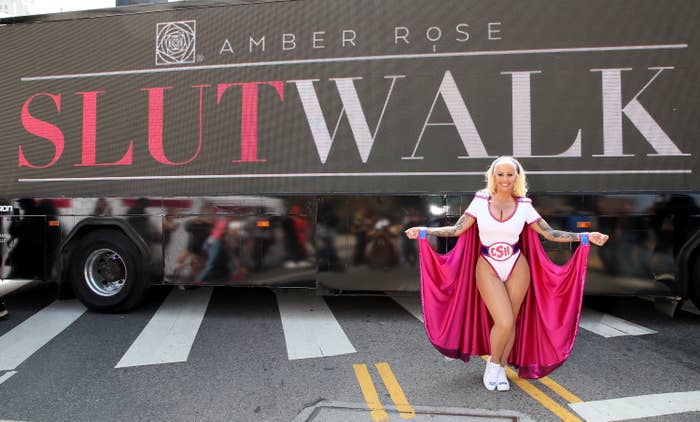 Amber Rose, the entertainer, entrepreneur, model and activist, rolled out her third annual SlutWalk in Los Angeles on Oct. 1st. The event is centered around bringing awareness to rape culture and slut shaming. 
It consists of a mile-long mandatory slut walk, which Rose explained was, "You must walk, you have to walk ... You have to do the protest first and then you enjoy the festivities from like 12 to 5." Rather than having the purpose behind the event's creation take the backseat while attendees party, Rose assured that the event's message is front and center. TMZ is streaming the walk live, which you can watch below: 
In a classic Amber Rose manner, SlutWalk participants showed up ready to protest anyone sexist enough to call them out for their style choices. 
Rose even brought her boo 21 Savage to the rally, where he was seen holding a sign promoting the event. 
Rose, who started the event in September 2015, did so after facing years of slut shaming. Her relationships with Wiz Khalifa and Kanye West brought about a media circus that often depicted her as nothing more than a fame-fueled sex symbol. Rose clapped back by using the insults people launched at her and creating an event that speaks to the incredibly offensive way people sexualize women. She has been heralded in her efforts to bring awareness to rape culture in the United States, and for empowering countless women.