On a SlutWalk of No Shame With Amber Rose
Quiet down slut-shamers: a bad bitch is talking (and walking). Complex Original
Image via Complex Original Somewhere in West Hollywood, I'm searching for my gray lace thong in the bed of a dude who, prior to last night, I knew only from the internet. I was looking forward to a quick blunt and some pancakes but now I have to be showered, dressed, and in Burbank in an hour. It's 8:15 a.m. when I find out, after much back and forth, that Amber Rose has agreed to let me trail her for the days leading up to her SlutWalk, a protest and day of events for the eradication of victim-blaming and support of sexual assault and abuse survivors that Rose is holding in Downtown Los Angeles this weekend. But if anyone is going to be understanding that I'm late for her interview because I'm on a walk of (no) shame, it's Amber Rose. 
After all, Rose has in recent years acquired the label of the baddest bitch in America and a reluctant role model for sluts (a.k.a. women who, like men labeled simply "men," enjoy having sex). The 31-year-old South Philly native went from supporting her family off stripping at age 15 to becoming a relatively unknown video model. In 2008, she became Kanye West's girlfriend and muse. After their breakup in 2010, she continued to expand her career, jumping into being a successful model, an author (Her memoir/self-help book, How to Be a Bad Bitch, drops later this month) and a B-Movie actress. And she's a mother—to her son, Sebastian, with her estranged husband Wiz Khalifa, who courted her shortly after West. If anyone knows what the burden of slut-shaming is like, it's Amber Rose. At at each turn, in what many would characterize as a meteoric ascent to fame and fortune, Rose has been met with epithets and ugliness. From her first foray into public life—on West's arm—she has been branded by gossip bloggers and social media pundits as everything from whore to slut to gold digger. More recently, accusations have turned to that of bad mother and bad role model.
Which begs the question, why you mad? Is it her candid admission to being a teenaged stripper? Is it her long-term relationships with famous men like Kanye West and Wiz Khalifa? Is it the litany of other celebrity men she's been linked to via unsubstantiated rumors in the media? Or is it simply that she's demonstrated on social media an unabashed pride in her body and its ability to seduce and titillate—all while being someone's mother?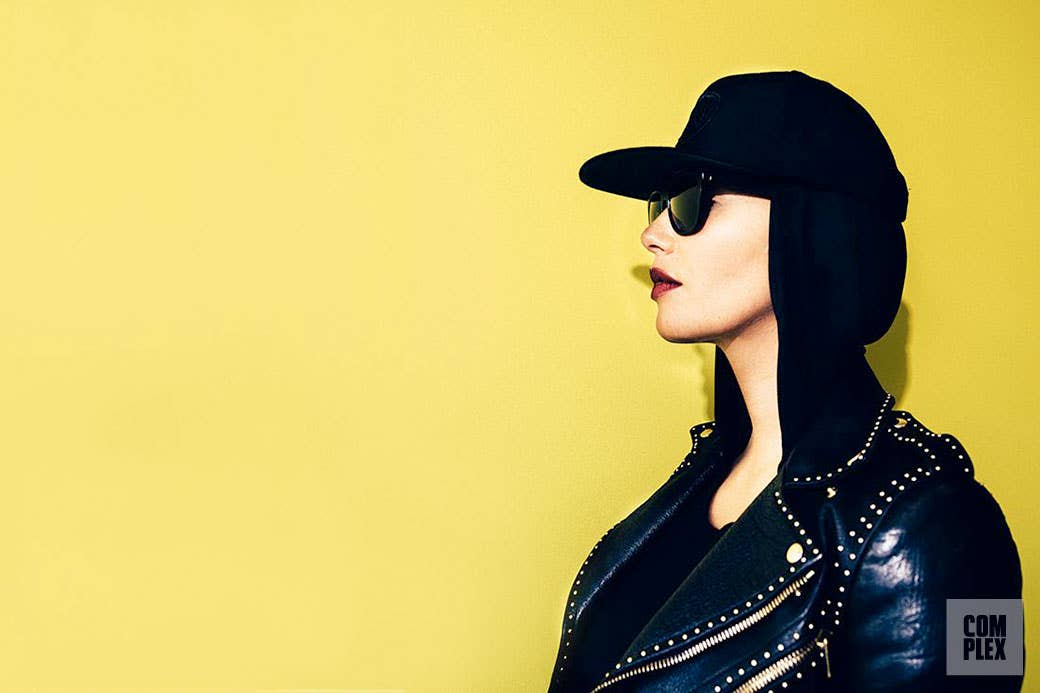 "Amber Rose has been victimized by sexism in a very public way since she was introduced to the world via her relationship with Kanye West," says Jamilah Lemieux, a culture critic and senior editor at Ebony. "I think she's a great person to speak up about the ways we punish women for being decidedly sexual. It seems like a lot of the guys who thought she was hot when she was 'just' Kanye's boo are now appalled at the idea that she wants to be appreciated for her looks and respected at the same time."
This irony is not lost on Rose. In fact, it is the impetus for this weekend's event. The phenomenon of SlutWalks, protests against slut-shaming, sexual double standards, and victim blaming, began in 2011 in Toronto. The brainchild of Heather Jarvis and Sonya JF Barnett, the SlutWalk came to fruition to fight sexual violence after a Toronto police officer suggested that "women should avoid dressing like sluts in order not to be victimized" after a slew of rapes were reported on York University's campus. 
"When the story hit and the word 'slut' was being used by someone purportedly to teach about safety, it was a big sting," says Barnett. "I hadn't heard the word in a while and its use was a bit of a shock. I had naively thought, 'Who the hell uses that word anymore?' I figured I was in a position to make a stink, and the other co-founder was just as passionate about taking a stand, so we banded together."
Rose was inspired by an Instagram post of a woman in pasties—with "Still Not Asking For It" written across her chest—to throw her own SlutWalk in Los Angeles—part protest, part fundraiser, part celebration. "I think what's interesting to me is that this event in particular and all of the attention it's getting is another wave of excitement," says SlutWalk founder Jarvis. "For me, the first two years after were just surreal. Within the first six months about 100 other cities were planning events. I always try to express the sentiment that it's absolutely amazing to see this kind of ground up, grassroots activism. It's also incredibly heartbreaking to know that sexual violence, victim blaming, and slut-shaming are this universal."
Which brings us to October 1, 2015. This weekend is the first of what Rose hopes will become an annual event, which has so far raised over $55,000 for the Amber Rose Foundation and "organizations of women who have been subject to slut-shaming, a lack of implication of double standards, sexual assault, and even rape." This is how Rose hopes to promote her mission to empower all women and fight gender inequality. It's all donation-based, and if anything, I overheard that Rose reportedly lost some money throwing the event.
"I post a picture of me and my son and people go in and
say, 'Does your son know his mother is a whore?'"
—Amber rose
"I never really thought about feminism, it wasn't even a thought until I started noticing things that weren't quite right," says Rose. "I would post a picture of me and my son and the people will go in and say, 'Does your son know his mother is a whore?'"
After my walk of no shame to Burbank, I almost miss the kick off of Rose's radio tour at Real 92.3 with Big Boy. Thankfully, Amber and her team are running behind schedule too, so I arrive at the radio station just as the interview is beginning. Inside and outside of the studio is her 11-person crew (it grows over the day). While she's on the air, I listen in from outside of the studio with a photographer, and eat some cheesecake. Big Boy's interview is over an hour long—the door occasionally creaks open at opportune times for some of Amber's best quotes of the day:
"If my body was shaped a different way, maybe I wouldn't be slut shamed." 
"I ain't supposed to be a role model for shit." 
"I deserve love." 
Outside of Big Boy's studio, there are two photos of Amber and her ex-husband Wiz Khalifa, who she references as her best friend in the interview, in a collage on the wall of guests from 2013. There are currently seven videographers and production assistants working with Amber on a forthcoming documentary around the SlutWalk. There's one manager, her attorney—both of whom are decked out in SlutWalk-themed shirts. One reads, "Former Slut-Shamer" and the other, "Men of Quality Respect Equality." There's her publicist, another manager, and her assistant, Isaiah. 
Big Boy and his crew pose for photos with Amber, and from there, she leads the way—photographers filming her every step. She's wearing all black—jeans, t-shirt, hood, and fitted cap—bouncing around in Jordan 11 Breds and huge black sunglasses as she hops in her pink Jeep with Isaiah and her two managers and heads to Power 106's The Cruz Show. It's a short interview; we learn she doesn't want a reality show, but she did star on an episode of black-ish. She can't get the @AmberRose handle on Twitter because its owner blocked her after being attacked by her rabid fan base—the Rosebuds. And then during a game of "Bye Felicia," she gushes about how much she loves Burger King fries but refuses to talk Kardashians or rappers. That weekend, a press release given to the SlutWalk attendees specifically states "No questions about Kanye West or Kim Kardashian." 
She hands out shirts to the crew—"Slut? Only When I Want To Be," "If I'm a Whore Then So Is Your Mother,"—then we head out. There's two more stops for today, two days before the SlutWalk: Young Hollywood and a phoner, plus a management meeting at her house in the Hollywood Hills to do a full run through of the event. During the Young Hollywood interview, she talks about how Bash is going through his terrible twos. She's got her SlutWalk knowledge down to a T, she emphasizes that she's not making a penny off of the event—"It's all donations"—and she declares she's going to shut down Downtown Los Angeles that day. She speeds off down Doheny Drive in her pink Jeep. Meanwhile, Big Boy just started teasing his interview with her for the next day.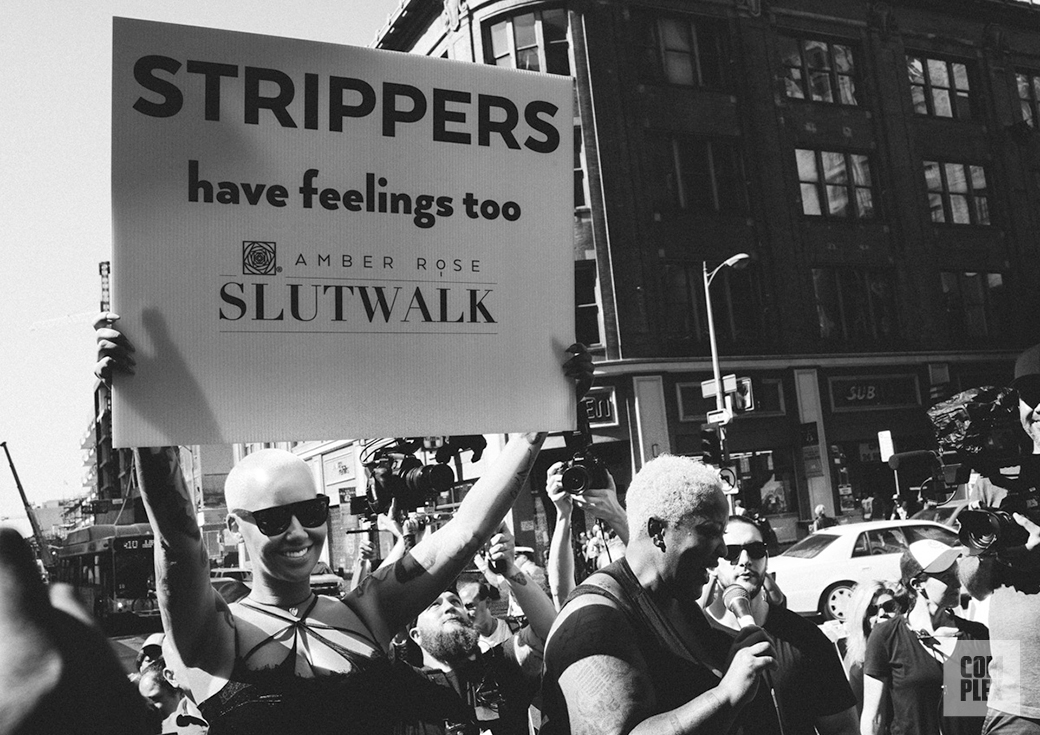 Amber announced her plans to make the SlutWalk a reality after what, from the outside, seemed like a pretty tough year. She filed for divorce three years after marrying Pittsburgh rapper Wiz Khalifa, rumors of infidelity plagued their relationship for weeks afterwards, all culminating with a comment from her close friend, and Hot 97 VJ Peter Rosenberg. He alleged she caught Wiz in bed with twins.
Over the next few months, she got into a Twitter spat with Khloe Kardashian after Rose made comments on Power 105.1's "The Breakfast Club" about Kylie Jenner's relationship with now 25-year-old rapper Tyga. Kylie was 17 at the time. "She's a baby, she needs to go to bed at 7 o'clock and relax," Amber said. "That's ridiculous. He [Tyga] should be ashamed of himself. He has a beautiful woman and a baby and left that for a 16-year-old who just turned 17." Khloe tweeted quoting Rose herself: "I was a stripper since I was 15 years old," Amber Rose told Foxx. Please don't worry about my sister who has a career & her shit together at ONLY 17  people who live in glass houses shouldn't throw stone." Amber responded: "I'm happy u brought up the fact that I was a stripper at 15. I'll be that lil whore to support my family like ur older sister is a whore 2 support hers. We're even." A few weeks later, Kanye West spoke with The Breakfast Club and made a very obvious jab after Amber saying, "It's very hard for a woman to want to be with someone that's with Amber Rose...I had to take 30 showers before I got with Kim."
Over the next few months, Amber made her response to years of being victimized by sexism and slut-shaming very clear. Her Instagram was flooded with stunning photos of her and her famous curves to shut down any notion that being a mom doesn't mean you can't show off your body. She arrived at the MTV VMAs arm in arm with her best friend, model Blac Chyna, in outfits covered in derogatory words: Slut. Whore. Gold Digger. Stripper.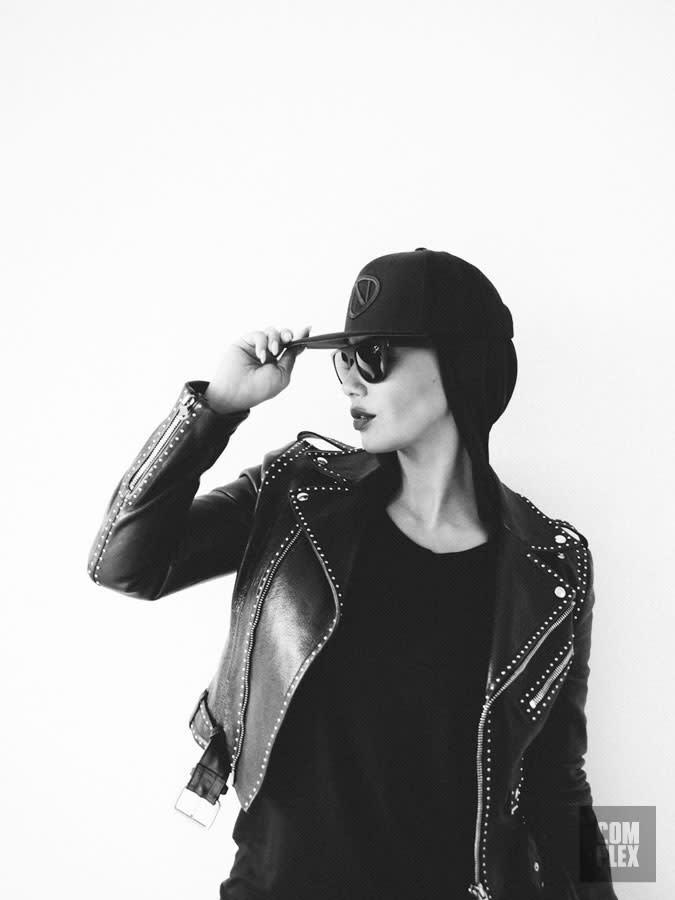 Then came a Funny or Die skit about owning the notion of a 'walk of shame.' Amber's mission became clear: this was more than an Instagram hashtag, this was a mission to empower all women and fight gender inequality. Throughout her press days leading up to the event, she also encouraged the male feminists who were there to support and promote women in their lives to attend her SlutWalk. With over 15,000 registered walkers, her SlutWalk went from #HoesBeWinnin to national chatter.
The night before the SlutWalk, I meet Amber at the City Club in L.A.'s Financial District, in a conference room overlooking the city on the 51st floor. She walks in, tosses off her heels, and we chat for a little less than 30 minutes.
Almost one year ago, she started researching what the event actually meant. "I thought, 'This is almost everything that I've ever been through or deal with every single day. I should have my own SlutWalk," she says. After that, she and her team got the ball rolling. Now, the night before the event, there are over 15,000 registered walkers. But her history with feminism wasn't always as strong as it seems now. "I was a slut-shamer. I was disgusting," she says. "I came down on women all the time if I felt insecure. I feel like every woman has done that because it's what society teaches us to do." Maybe it was the thousands of Instagram comments, or being thrust into the spotlight upon falling in love with Kanye, but Rose started to change and when she announced her filing divorce from Wiz, things went even more downhill. Rose says she sat in her house and cried for six months every day after announcing their separation. "I missed [Wiz] every day, I still miss him," she says.  "At the same time, I have a son who can't see me in the house crying everyday. I had to get up, I had to get my life together. I really saw what double standards were because my husband would be out doing any and everything and he was getting praise. I was like, 'Fuck, maybe I should start dating.' And I'm the biggest disgusting whore. I got slut-shamed for everything."
We touch on other couples who have seen similar circumstances. Take Ciara and Future, for instance. Once Ciara moved on from Future and began dating Russell Wilson, she, rightfully, brought her son around a man she's now in love with. "She was raising his kids, and now she has a new boyfriend who loves her baby, and she's 'the disgusting whore who's bringing her kids around everybody.'" Amber says. "And it's one guy who she loves." It's no secret that sexism and slut-shaming is rampant in the music industry—just ask the hundreds of people on Twitter who shamed the SlutWalk or, the next day, flooded my mentions calling me a "whore," telling me ISIS should have targeted the event, or, better yet, that I "have STDs and suck dick." My favorite was, "enjoy your cats at age 35 when your sexual market value plummets to zero." Sexual. Market. Value. It's important to note that later during the SlutWalk, I overhear cops shutting down specific entrances to Pershing Square after rumors of a gun threat.
But perhaps what becomes the most interesting—and disheartening—part of our interview is finding out that no female celebrities besides Nicki Minaj and Rose's close friends, DJ Duffey and Blac Chyna, supported the SlutWalk. Minaj donated $5,000 to the event in early August. "Most of the women I reached out to either didn't respond or were asking for a lot of money to come like it was a fucking club appearance," Rose says. "Maybe they're uncomfortable. Maybe their team says, 'That's a little too controversial for you, you're trying to steer your career a different way.' Instead of really just living their lives for themselves. I've been there so I'm not going to judge them but hopefully next year they'll understand what that is."
We end the conversation on a positive note, even though it's heartbreaking how the lack of support from the entertainment industry has affected an event she's put her heart and soul into—and personal finances, too. I ask her about how she plans to explain to her son, Bash, about slut-shaming and what she's going through. "He's going to know that mommy is taking all the flack," she says. "Mommy has to do that because it's important to me. He's fucking two years old. People are like, 'Your son is looking at your Instagram.' He's not looking at my Instagram! My son loves when I twerk. He says, 'Mommy shake your booty' and he bawls on the floor laughing. I twerk for my son all the time. I walk and twerk and shake my butt and he loves it but he's a baby! It's funny to him that my butt jiggles and I'm his mom! It's not sexual."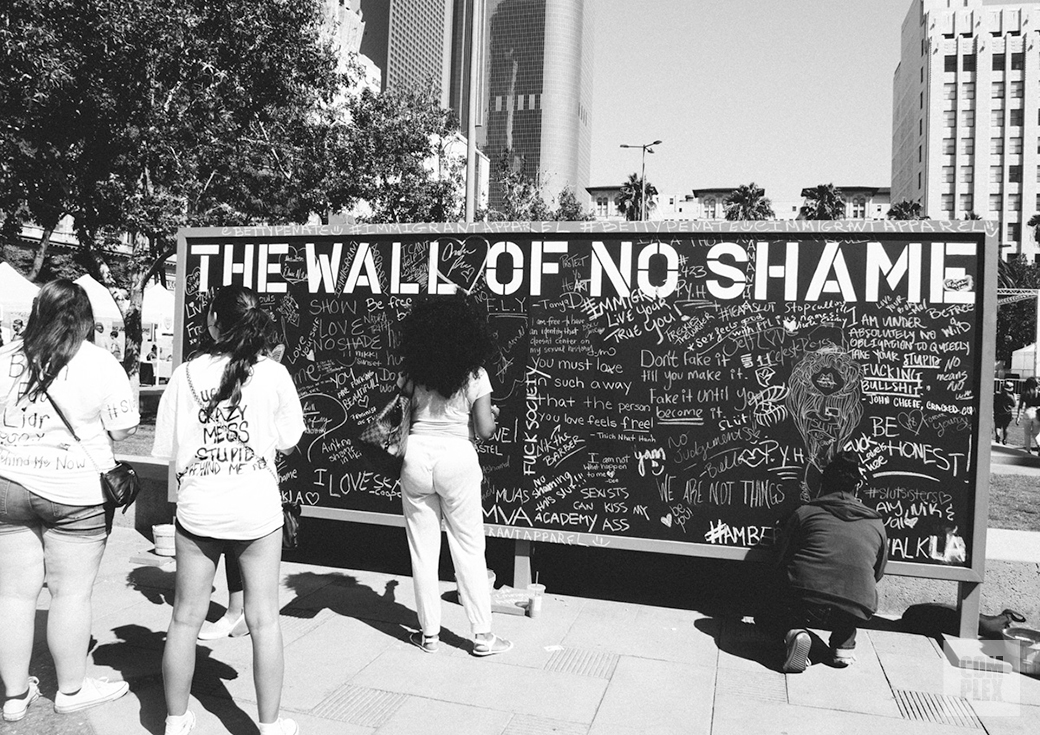 That night, I head downstairs to the lobby of The Line where I'm staying. Over a glass of red wine, I scroll down my Twitter timeline and see a piece written by Aimee Cliff for The Fader pop up. It's about Kesha and I break into tears. If there's one person I hope is at the SlutWalk, it's Kesha. Kesha, who is currently swamped in legal battles with her former producer Dr. Luke, has alleged that the industry veteran emotionally, physically, and sexually abused her throughout their working relationship. And now she's being countersued for defamation but is held—by Sony Records—into a contract that prevents her from creating music with anyone else. The kicker reads, "The industry was happy to profit from Kesha's empowering voice—until they were ones on her list. Now, as long as she's unable to release music and Dr. Luke continues to be prolific, pop is missing one of its strongest fighters." And maybe that's when it all kicked in. This wasn't just my experience or Amber's or my best friend who's going through an abusive aftermath, too. There are thousands of women who have been there too. Maybe by this time next year, Kesha will be making new music and Amber will have half the amount of shaming comments on her Instagram, and the list goes on. Kendrick's "Control" verse quietly creeps in on the speakers. I still can't believe Lamar didn't include Nicki Minaj. Instead of "Jermaine Cole, Big K.R.I.T., Wale, Pusha T, Meek Millz, A$AP Rocky, Drake," I argue with the bartender about how he should've included a woman. He agrees. Maybe I'm nervous—or maybe L.A. just feels so lonely in comparison to NYC—so I call that one night stand, and inevitably, make myself late for the SlutWalk.
"i loved [wiz] so much and gave him a beautiful son, and to be told i was nothing but
a stripper—it hurt."
—Amber Rose
It's the day of the SlutWalk and what would be my grandfather's 77th birthday. When I was in 5th grade, a boy in my after school science class grabbed my neck after I made a nasty comment. He was suspended but I was told to be nicer. I felt guilty. My grandfather found out and told me he was going to "cook him up with some fava beans for lunch." Over a decade later, I had my throat grabbed again—sparked by another nasty comment and a fight at the end of an abusive relationship. When I was sitting in the hospital getting my chin stitched up, I cheered myself up by thinking of fava beans. This time, I don't blame myself. I think about my grandfather as I head downtown to Pershing Square for the SlutWalk. I make a sign that says: "I'M A HUMAN BEING." I think of the Nicki Minaj pickle juice speech and regret not bringing it up to Amber during our interview.
I flew out to Los Angeles for this because, like Amber, I've faced my fair share of shame, abuse, and pain. So, when we all meet at the corner of 7th and S. Olive St, I'm overcome with emotion. To my left, Amber's mom is holding a "Fuck Yo 30 Showers" sign, a direct ether to Kanye's previous comments. Plenty of women are holding signs that read, "He got away with it." I meander over to the 7/11 to get a pack of Marlboro Lights. It's going to be a long day. In the 7/11 two girls—Elle McCracken, 24, and Samantha Dyer, 24,—come in to grab something to drink. An older man at an ATM asks them where their bras are—they're in shorts and pasties. They explain they're at a SlutWalk for female empowerment. He encourages them to pull down their panties. "I'm here for exactly what just happened to me," McCracken says. "We just went to get a drink, a guy started asking me why I wasn't wearing a bra, and then he asked me why don't I pull my panties off. I said, "Oh. I will in front of you!" The women next to him said, 'Oh my god. What did she just say?' It's just a double standard."
We march down a few blocks back to Pershing Square with Amber, who's dressed in a black lace dress, thigh highs, and black combat boots. Once the crowd convenes, Nicki Minaj's "Fly" rings across the speakers. There are booths with sex toys, others with Planned Parenthood information, one for Say It With a Condom, lingerie and more. Frenchie Davis, the 2003 American Idol contestant who was kicked off the show after her nude photos were leaked online, is hosting the event. There was a fashion show, a speaker's panel, a twerk off, and DJ Duffey behind the boards. There's a headlining performance from Marsha Ambrosius, and a surprise set by Nico & Vinz, "Amber's favorite group."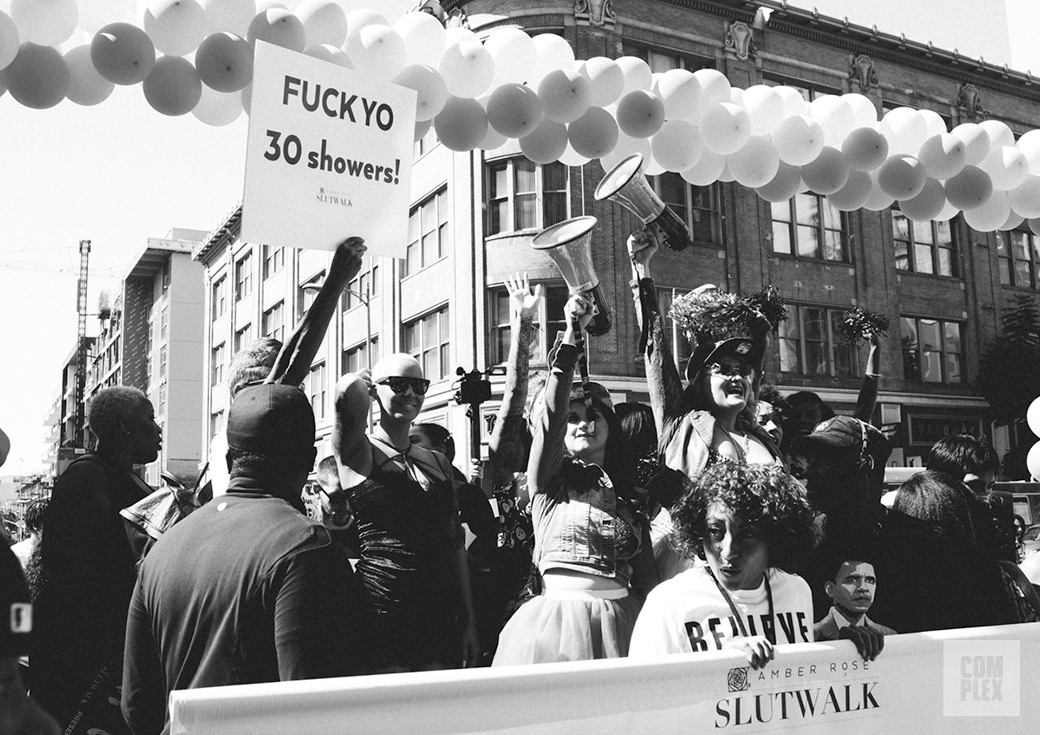 Maybe the SlutWalk didn't bring out the full number of registered walkers as it should have. Maybe social media didn't get the idea that calling this a SlutWalk is to de-stigmatize a word so frequently used against women that they, for once, are trying to reclaim its meaning through a lens of empowerment. For as many women as there were proudly running around in the deadass hot weather in pasties, there were plenty of mothers, professors, sisters, friends, men. Then we flock to the stage for Amber's short speech about her experience getting slut-shamed as a teenager. While male rap Twitter rages on about how women who don't want to be called "sluts" are at a "SlutWalk," there are now hundreds of us "sluts" standing in silence as Amber does the bravest thing she's possibly done in her career: She forgives Kanye and Wiz for their slut-shaming comments. And it was when she addressed Wiz's lyrics on Juicy J's "For Everybody" that she broke into tears.
"[Wiz] came out with this song that really hurt me, because all I did was ever love him. I loved him so much and gave him a beautiful son, and to be told that I was nothing but a stripper—it hurt." She breaks down in tears and her mom, Dottie, runs to the stage to give her a tissue. As I'm standing with her crew, people start to chant her name. Shortly thereafter, Marsha Ambrosius takes the stage to perform. 
At that time, it would've been magical for all 15,000 registered walkers to miraculously appear while she stood on stage and sobbed, but that never happened. What if Nicki Minaj and Kesha came out? But Kesha is going through legal battles and Nicki was at Fashion Week in Milan. There was barely any celebrity support there for Amber. Blac Chyna was working but Benji and Isaiah held it down, and Orange Is the New Black's Matt McGorry—who co-starred with Rose in her viral Funny or Die video—showed up. Where were all the women in the entertainment industry? There was Marsha and Frenchie, there was a panel of speakers—Bonnie Rotten, Crystal Renay, Heather Jarvis, Jasmin Williams—among others.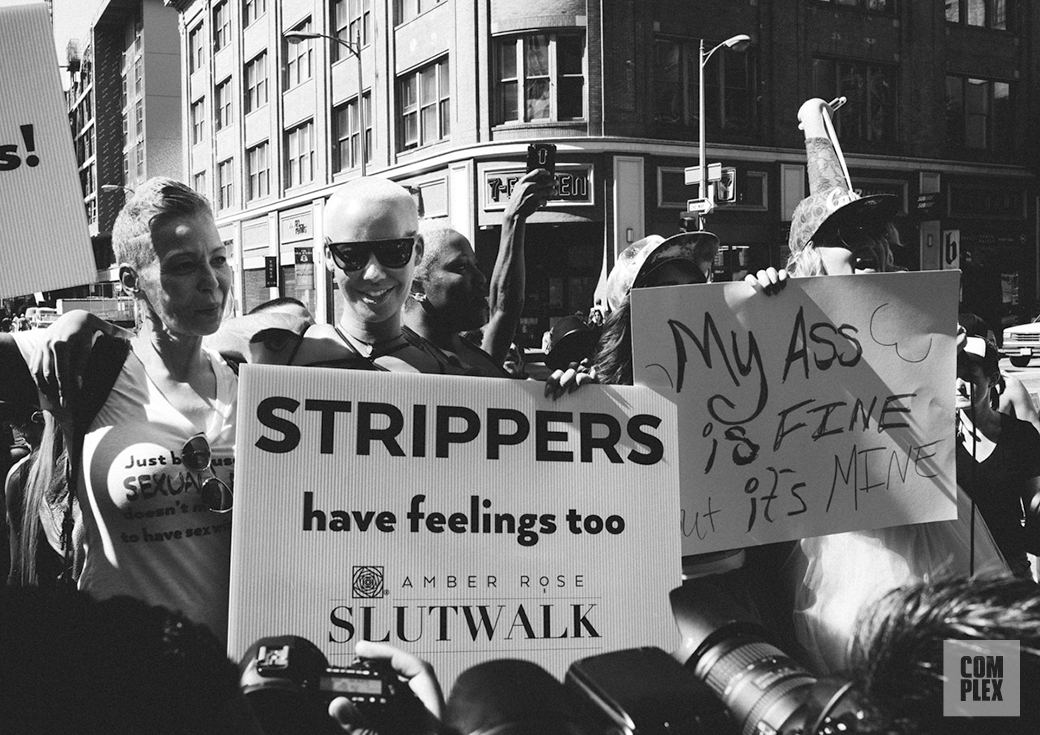 Where were all the celebrities who pose with her at events? Or those Amber's posed with at fashion shows or posted to Instagram? Where are all the women who are constantly preaching about sexism in an industry that they know as well as Rose? You can do nothing but educate other women. You can't pressure a woman to fit into your feminist ideals. You can't tell another woman how to support other women. But there was possibly one string of tied events that resonated with me. When you're coming out of an abusive relationship, sexual assault or slut-shaming or anything of the sort, what will surprise you isn't who doesn't stick by your side—because not everyone will. What will surprise you is who does. Sometimes you find it in one or two close friends, and other times you wake up and have thousands of people by your side. But if the SlutWalk is what has to happen in the meantime, it's a step in the right direction. 
So while everyone watched Marsha's performance, I watched Amber—next to her two best friends and assistants, her mom, and her team—and she looked happy. This was a success, no matter how scaled down it ended up being. Amber ends her speech at her first annual SlutWalk with one quote that strikes a chord in the crowd's heart. Women are crying, her team is holding hands. "And even though I'm out here crying," she says, "I want to be the strong person that you guys can look up to."