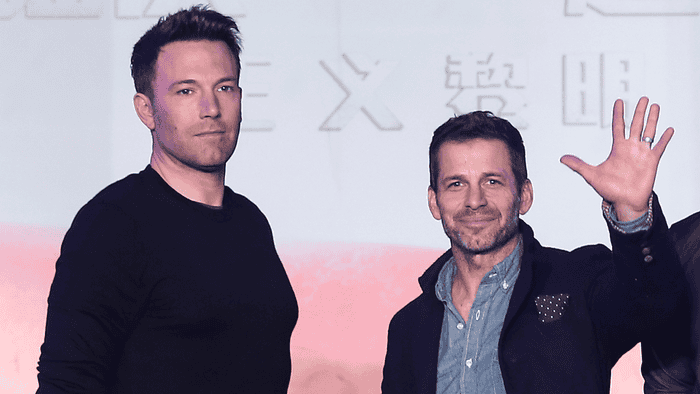 Last November Ben Affleck, along with Justice League co-stars Gal Gadot and Ray Fisher, poured gasoline on the #ReleaseTheSnyderCut movement by tweeting that exact sentiment out with no further clutter. That made it very difficult to misunderstand what he meant.
As a refresher, the "Release the Snyder Cut" campaign seeks to push Warner Bros. into doing a wide-release of Zack Snyder's fabled (but probably real) version of the lucrative but disappointing 2017 blockbuster that combined DC's best known superheroes. 
Now, 3+ months after the former Batman actor tweeted that out (see: last Friday), he was fulfilling an obligation to promote his new movie, The Way Back, when he explained his reasoning for posting that thought onto social media. 
That subject came up after Cinema Blend thanked him for showing support in favor of releasing the Snyder Cut. Cinema Blend stressed that they weren't even looking to get a comment about the subject when they went into their interview with Affleck, and that they were merely thanking him for his backing of the movement.
But from there Affleck volunteered his support, while making it "clear that he wanted to weigh in." 
"I didn't know about it. Zack was like, 'Hey, they are doing this thing.' And I said, 'Zack, I love you, and I support you. However I can help you.' I do think that movie, you know, having two directors is a very weird thing," Affleck explained. "And for Justice League, the director had a family tragedy. … and so you have a kind of cow's body with a horse's head a little bit with two directors a lot of times, for better or for worse. I do think Zack's cut should be available."
As Affleck mentions in the quote, the film has a "kind of cow's body with a horse's head," because director Joss Whedon had to come in to film the movie (complete with significant reshoots) because Snyder had to exit late in production on account of a family tragedy. 
In December of 2019, Snyder appeared to confirm the existence of the cut after going on social media site Vero, where he showed film canisters labeled "Z.S. JL Director's Cut, Running Time 214." He overlayed that visual with the words "Is it real? Does it exist? Of course it does."
Just four months before that, Jason Momoa (who you know played Aquaman in the movie) said he saw the cut and it's "sick."