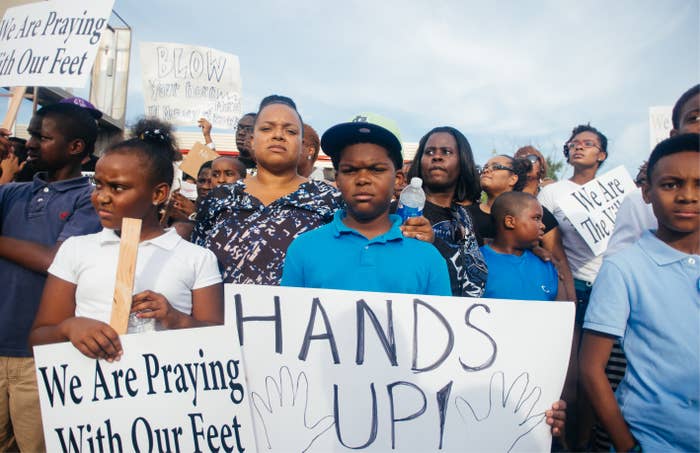 After the deaths of Michael Brown and Eric Garner and Freddie Gray, the nation's attention was brought to the streets—of Ferguson, but also of New York City and Baltimore and other places, where people were organizing to protest the prevalence of police violence in America. Critics of the demonstrations spoke out in the media, calling the protests (at worst) inconvenient and (at best) suggesting that there might a better way to seek change. But a year after Brown's death, the violence against unarmedblackmenandwomen has not let up, and neither has the conversation—we are still talking about criminal justice reform and #BlackLivesMatter, and politicians are realizing they have no choice but to listen. And we have the protests in Ferguson to thank for that, says the Huffington Post. 
Today, the Huffington Post published a longform piece titled "The Ferguson Protests Worked," which makes the argument that peaceful demonstrations, civil unrest, and the militarization of the police in a small suburb of St. Louis, Mo. helped sparked a national conversation about racial bias in policing in America. The piece highlights the history of racism in Missouri's municipal courts—a history that continued up until the point officer Darren Wilson shot and killed 18-year-old Brown. The protests—and the highly militarized way in which the police responded—were so loud and so unusual for the time, that they couldn't help but start a domino effect.
"What's sad is that it often takes a tragedy," professor of journalism Sarah Oates told the Huffington Post. "What happened in Ferguson wasn't unusual — which is awful, but true. The response was unusual, and the depth and breadth of the protests were unusual."
After the protests, investigations were launched and when the results confirmed what millions of black Americans already know, small steps toward larger reforms were made—like the 40 state measures to improve Ferguson's police department, or President Obama's executive order for more body cameras and police training, or local campaigns to take down the Confederate flag.
St. Louis County Police Chief Jon Belmar explained to the Huffington Post that these demonstrations were a legitimate way to call attention to police abuse and ask for change—and while they might look different from other, more affluent communities' ways of organizing, they were no less necessary:
Of course, the Huffington Post piece does not pretend like all our work is done—and points out that activists and even President Obama don't make that claim, either. But as we gear up for another presidential election, it's good to know that movement for criminal justice reform is just beginning, and that those who wish to run for office can no longer say they've never heard of #BlackLivesMatter.
[via the Huffington Post]