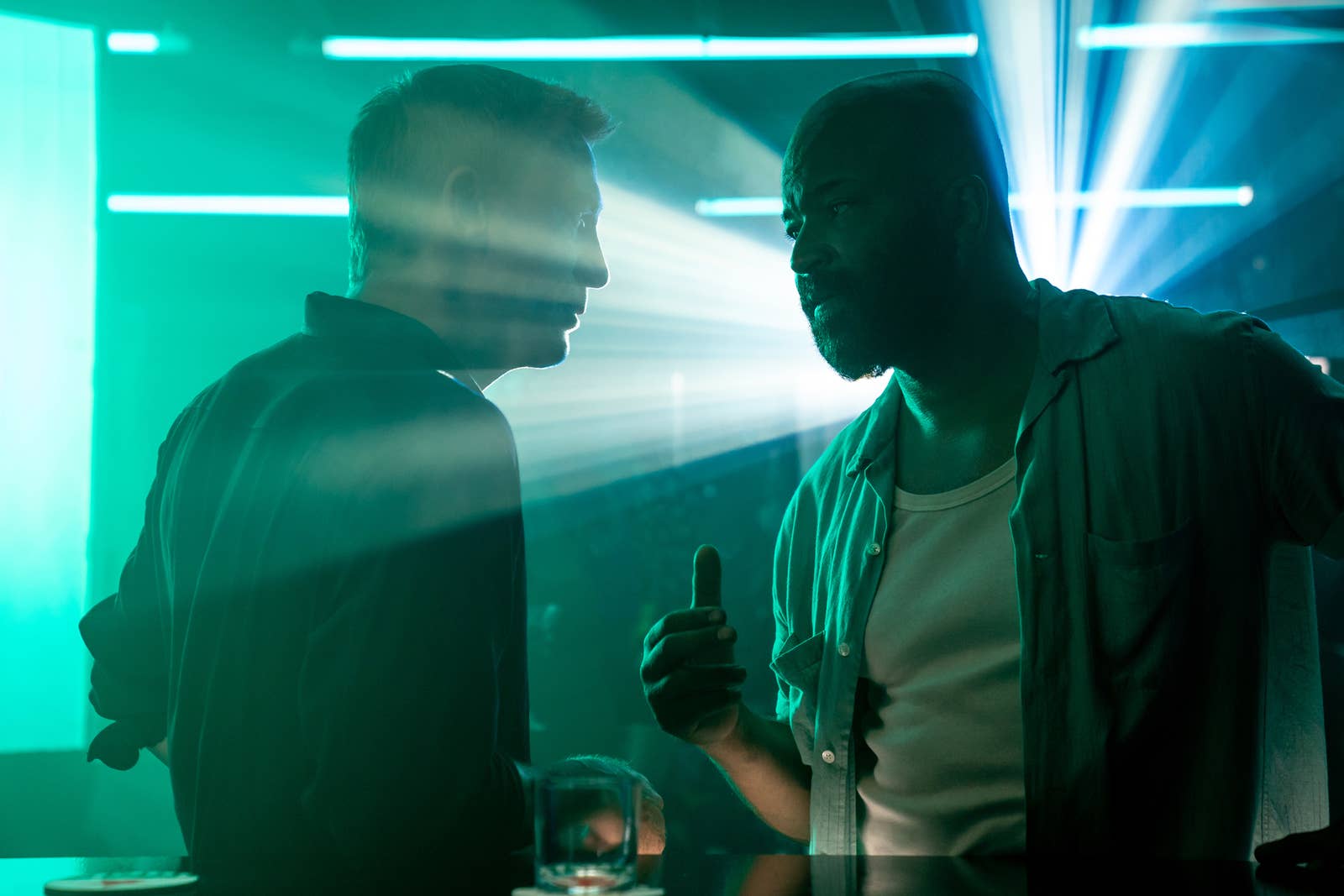 Daniel Craig's days are numbered. By the end of the week, the 51-year-old actor's 15 year-tenure as James Bond will come to an end—at least from a production standpoint. But first, reshoots.
Outside, Craig is dressed to the nines in a tuxedo and heavily armed, the sounds of gunfire intermittently ring out as he strolls down a street made to resemble Havana, Cuba, where the inciting incident of No Time To Die, Craig's last adventure as 007 and the 25th(!) entry in the franchise, takes place. In actuality, we're 17 miles west of London, on a lot at the famed Pinewood Studios, where Bond movies have filmed for the duration of the franchise. It's a dreary, late-October Tuesday evening, and the energy on-set is bustling. For Craig, the end comes at the beginning. He's just filmed the essential gun barrel sequence, the shot in every Bond film that cues up the opening credits, but director Cary Fukunaga is adamant that exterior shooting wrap tonight before a week's worth of forecasted rain rolls in. Craig's co-stars Ana de Armas and Lashana Lynch huddle up in parkas between takes. Costume designer Suttirat Anne Larlarb admits she's only just completed some of the wardrobe the day prior. But if Fukunaga and his crew are feeling down to the wire, they certainly aren't showing it.
This is Craig's fifth turn as the British spy, but many of the components around him represent a much-needed change of pace, a diversity in front of and behind the camera. Just don't call it a knee-jerk reaction.
"We've always had international casts, and different ethnicities," Michael G. Wilson says in a closed room adjacent to set. "So it's nothing new. I think because people now are more sensitive to it, they want to see it, and when they see it, they point it out. [Our cast is] in keeping with the times—but I think we've always been a little ahead of the times." "Look at Live And Let Die," his half-sister Barbara Broccoli adds. "It was one of the first interracial relationships of Bond, with Gloria Henry. That movie was actually, I think, banned in the South, if you can believe it, in '74." [Ed note: actually '73]. 
Broccoli and Wilson have been the stewards of the Bond franchise since inheriting it from their father Albert "Cubby" Broccoli in the mid-90s, circa Goldeneye, and tending to the family business is a legacy they do not take lightly. As the tectonic plates of Hollywood have undergone dozens of dramatic shifts and re-orgs over the past 25 years since Cubby gave them twin keys to the kingdom, their Eon Productions has maintained creative control over the franchise with unprecedented aplomb. Over the years they've had to trust their instincts and make decisions both conservative and radical to keep the character alive and vital. Fifteen years later it can be hard to recall just how wild Craig's casting was at the time—the less said about the fandom freaking out at Bond being blond, the better, but regardless his bruiser aesthetic was in stark contrast to the debonair vibe Pierce Brosnan had just finished upholding. The tone hit a reset as well, with Broccoli and Wilson doing away with mad scientist villains and invisible cars, likely in response to the mid-aughts clamor for Bourne-style gritty actioners.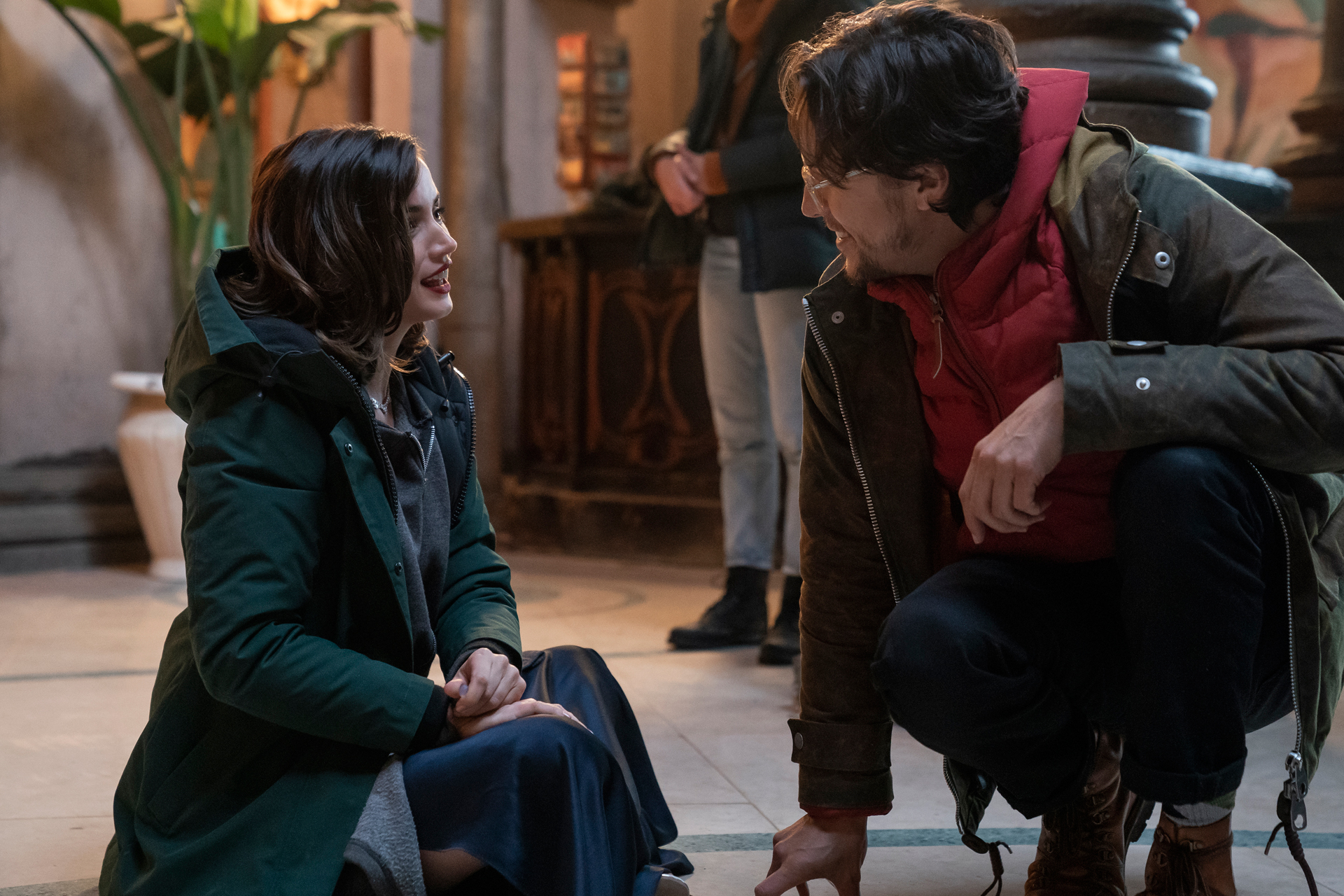 They also know when creative differences become irreconcilable: before Fukunaga, Bond 25 was set to be directed by Danny Boyle from a script co-written with his longtime collaborator John Hodge. When Boyle walked away, Broccoli and Wilson found themselves—after considering shutting down production—turning to Fukunaga, an early contender for the gig who had been previously committed.
But even as they lured Craig back into the fold for one last go-round, effectively delaying the huge undertaking of resetting the franchise all over again—in the press rounds for his previous film Craig, having sustained a serious on-set injury, famously said he'd rather "slash his wrists" than return for a fifth installment—the stakes are still quite high. Bond 25 has to be a compelling standalone action movie that both maintains the franchise's relevance (in an ever-crowded landscape of blockbuster IP) and validates its endurance. It has to be a worthy finale for Craig, an especially tall order considering the tepid reaction to his last entry, SPECTRE—Craig's run as the beloved British spy has spawned two entries most would agree are top five at least in the Bond filmography; both of those films were followed by sequels that, for reasons both understandable and intangible, failed to elicit the same level of acclaim. And it's arriving in a climate that may have the least use for a troubled, womanizing white male spy than any of the past six decades prior. Audiences have been more vocal about the need for representation across all spectrums, and the very visage of James Bond ends up as a poster child for the debate. Why can't 007 be Idris Elba, just as British and arguably more handsome than the last six Bonds combined? Forget the Bond Girl archetype, one of cinema's most enduring femme fatales—why not Girl Bond, as Priyanka Chopraonce posed to this magazine as she prepared to do her own stunts on her ABC spy series.
If SPECTRE felt too same-y, the new energy behind the camera all but promises No Time to Die will be, for better or worse, something new. Fukunaga has directed projects like Netflix's Maniac and Beasts of No Nation (coincidentally, starring Elba) but his most seminal work to date was on HBO's True Detective, where he won an Emmy for directing the entirety of Season 1 with a visual, at times poetic flair that many critics credited as elevating the story beyond a deceptively shallow script. Several of the department heads on various crews from costumes to weapons have worked on Bond films dating back to Dalton even, but they all speak highly of Fukunaga's freshman energy and seem proud to be in service of his vision. The vehicle crew especially says they were spoiled, with No Time featuring not one but two insane car chase sequences. Not much is known about the mysterious villain Safin, played by Rami Malek (whom Broccoli hails as "exceptional") but an early peek at the wardrobe offered hints, primarily the foreboding Japanese No Mask his character dons for his arctic introduction scene. (In another area of the set, a similar No Mask sat in a prop wooden box, horribly scarred and disfigured. Hmm.) That, coupled with a return for Christoph Waltz's Blofeld and hints of a dark secret harbored by Bond love interest Madeline Swann, returning from SPECTRE, add up to quite the emotional finale for Craig's 007.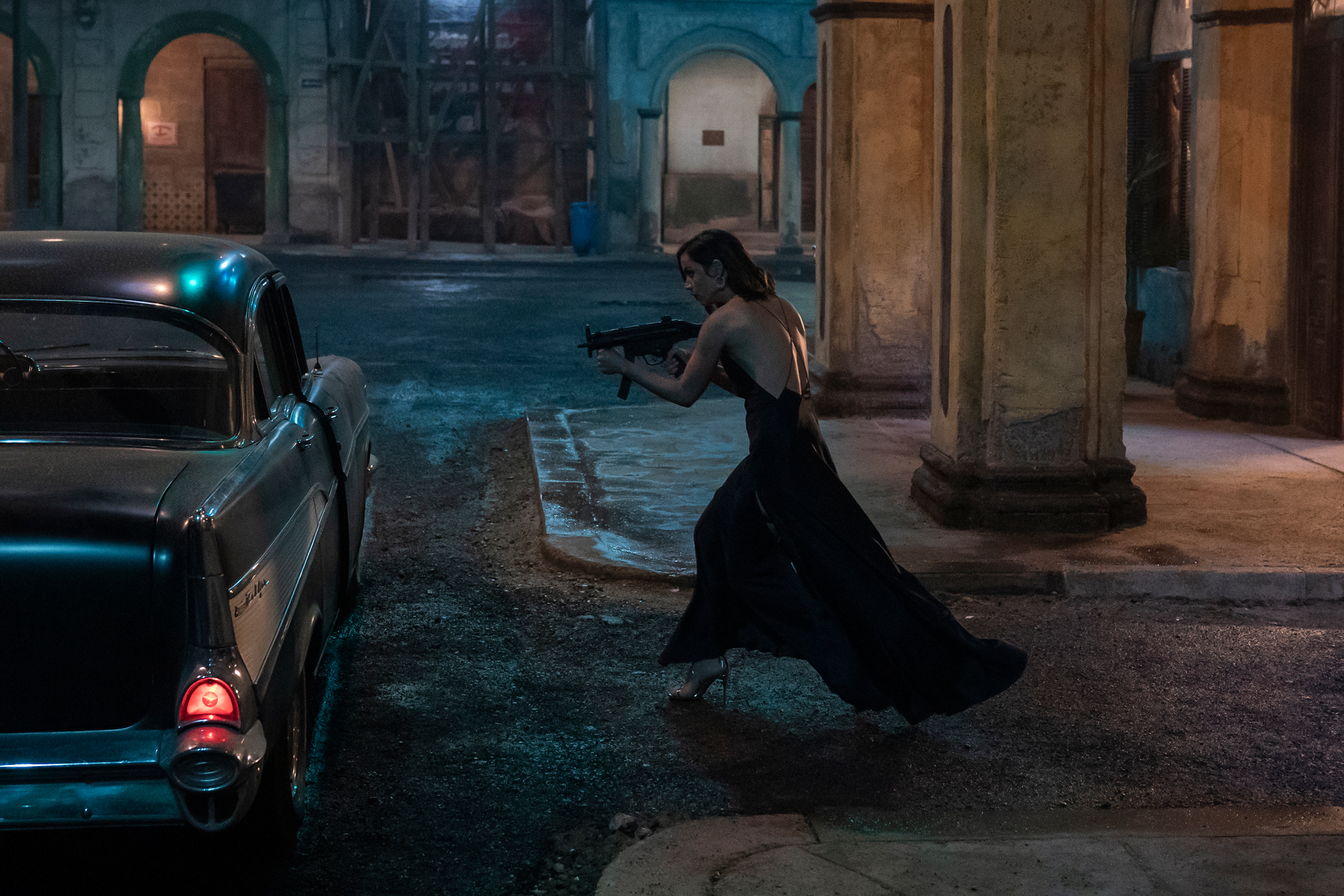 And the script, co-written by Fukunaga, features extensive punch-ups from none other than three-time Emmy/two-time Golden Globe winner Phoebe Waller-Bridge, creator of such complex dramas from the modern female perspective as Fleabag and Killing Eve. Waller-Bridge has refuted claims that she was brought on for the express purpose of adding depth to the female characters and sanding down any misogynist overtones, telling the BBC Broccoli, Wilson and Fukunaga were "already doing that themselves" by the time she came aboard.
"There's a shift going on," de Armas says, "and our producers understand what needs to be changed and they're always thinking ahead. There are these changes happening and there is [more] representation of black women or Latina women in these movies. When I got the phone call, this character didn't exist. They were thinking about it and they wrote it for me and I was like, 'excuse me, what?" de Armas recalls, with Broccoli adding that Craig recommended her after working alongside her on Knives Out. "And then on top of that, you have writers like Phoebe Waller-Bridge, who is on fire right now and is so brilliant, who actually wrote my scenes."
"She has a British wit that is hard to master," Lynch says of Waller-Bridge. "She mastered it a very long time ago and with these being British characters and some characters from around the world in Britain, there's a very front-footed sarcasm or awkwardness that comes with her work." But for those fearing that Phoebe's style and that of Bond's are both too dominant to mesh without one overtaking the other, don't. Lynch assures the dialog is very much typical Bond, just with an added twist. "The characters are very much like many Bond characters, very straightforward. But [then they'll have lines like] 'did they actually say that?' Everyone has a moment where you think, 'gosh, their character's a little bit off-key in this moment' or they're under-energized, or not so confident when you would think that in a world like this, everyone's clean cut. But she brings characters that make you feel excited that they're representing the actual real world." de Armas gushes that through Phoebe's writing, we're about to see the most relatable Bond Girls in maybe ever. "I never thought that I would be a Bond Girl. It was something hard to imagine—it wasn't reachable, that level of perfection, they're all so cold, glamorous. But then when I read it on the page, you could easily tell it was Phoebe that wrote that because she was so not perfect. I was like, this mess going on here, I can do that. If that's a Bond Girl, I've been a Bond Girl for life."
On the subject of Bond Girls, de Armas' Paloma is shrouded in mystery, but Lynch's 00 agent Nomi is being billed as a full-on peer—or as key figures on set referred to her, Bond's equal, a feminine parallel. That status is reflected in everything from her wardrobe and its assertive silhouettes to having her own DBS, the new Superleggera at that. It's enough to seemingly lend credence to the Daily Mail-reported rumor that No Time will end with Lynch assuming the 007 mantle.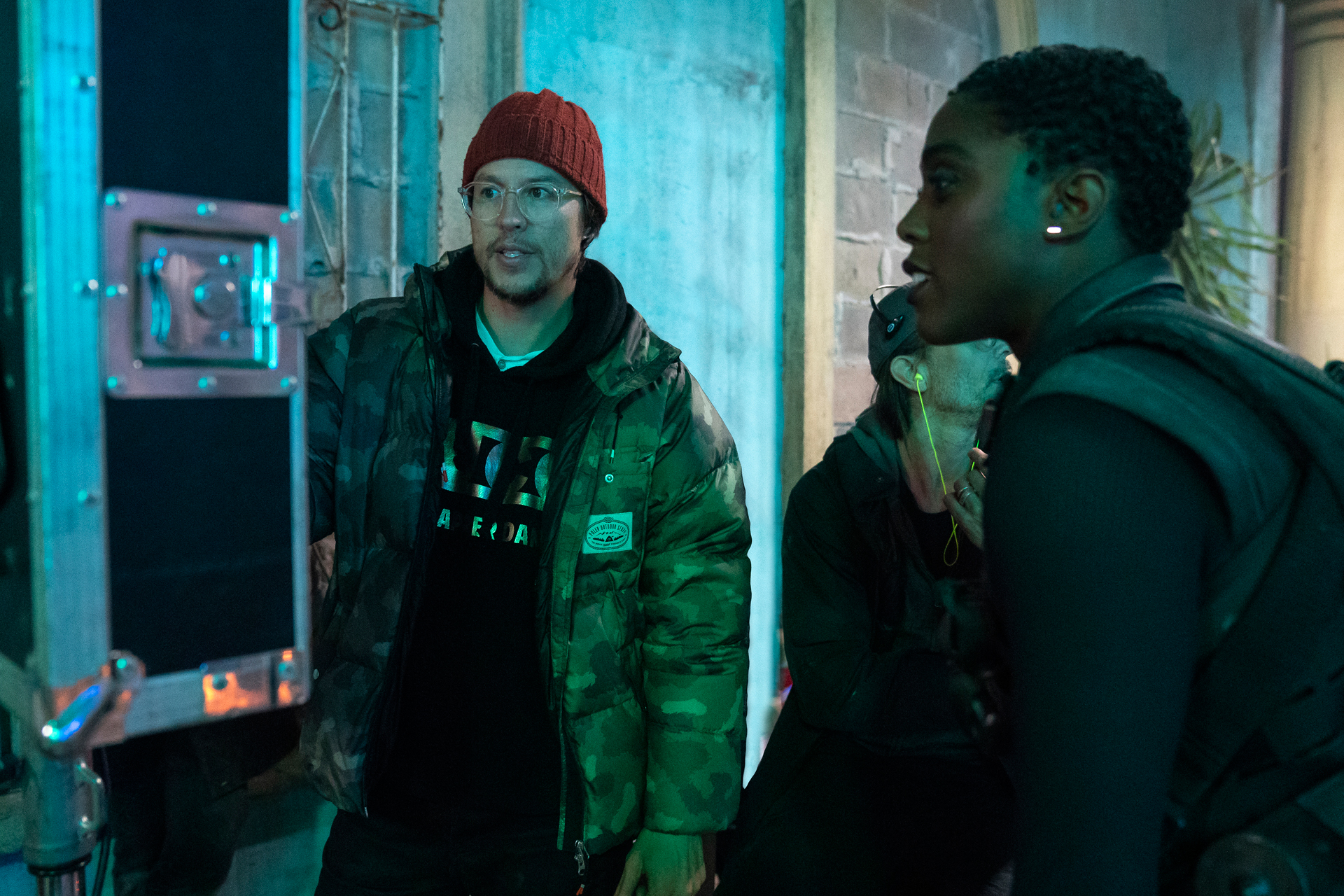 "There's been speculation but it will be interesting to see, when people actually see what it is, what they think," Broccoli teases. "But [Nomi's] a very highly qualified person in the story. She comes from a military background and she's highly qualified and gives Bond a run for his money." Certain corners of the Bond fanbase haven't been able to practice such patience, instead taking the rumors as fact and making Lynch the subject of nasty internet vitriol similar to the experiences of say, John Boyega or Kelly Marie Tran and Star Wars. Or, to the mere supposition of Elba a few years ago. "Even though we're making many big strides in this industry, there are still thought patterns that continue to perpetuate this idea that we're still not ready for something that should have happened or could potentially have happened two years ago," Lynch says, but she's hopeful Nomi's influence on the female audience will prevail. "Being embraced by many women, many black women, many young girls, being hopefully some kind of shining light, some kind of inspiration for people that had never seen something like that before [makes up for that]." 
For what it's worth, the role of Nomi was always gender-specific, but not race-specific. Lynch (who earned her franchise film initiation in last year's Captain Marvel as Maria Rambeau) came to Broccoli's attention when she attended a Debbie Tucker Green play at the Royal Court. "I saw her and I was completely blown away by her performance," Broccoli recalls. "It was just groundbreaking. So when we were casting this role, I brought her in and Michael and everybody flipped for her. She's an exceptional, exceptional actress." 
In a Variety interview released this year, Broccoli's comments about the franchise's future should effectively lay all speculation about Lynch—and about 50% of the possible seventh Bond—to rest: "He can be of any color, but he is male. I believe we should be creating new characters for women—strong female characters. I'm not particularly interested in taking a male character and having a woman play it. I think women are far more interesting than that."
But it all comes back to the James we have right now, and sending him off in a satisfying manner. Figuratively, but also maybe literally? Conflicting reports about Boyle's exit allege he either disagreed with Broccoli and Wilson's notion to kill Bond off, or he pushed the agenda himself and they balked. "He has a very, very profound emotional journey in this movie," Broccoli previews. "I think the story is really an accumulation of the past four films and this one. The arc of his character, particularly the emotional arc of his character, is really kind of completed. We feel it's a very satisfying conclusion to his movies. Hopefully the audiences will too." But regardless of whether No Time to Die joins the ranks of Casino Royale and Skyfall...or Quantum of Solace and SPECTRE, it's a swan song for a version of the character that a generation grew up with. "It is Daniel's last, and that has just given us all that extra bit of push to make it the best ever. I think he is really extraordinary in the movie. He's never been better."