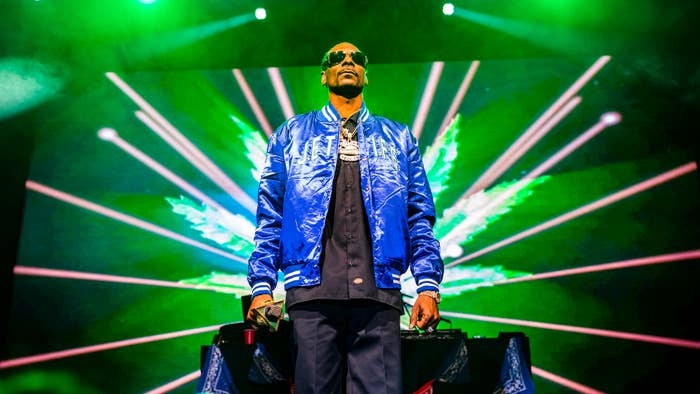 Snoop Dogg's knee-jerk reaction to Gayle King's inquiries about Kobe Bryant rubbed a lot of people the wrong way. As a result, Snoop stopped by Red Table Talk so that Jada Pinkett Smith could tell him how she felt about his remarks.
In a clip of Jada talking to Snoop, she explains that his remarks were triggering to her because he was insulting another black woman.
"When you first came out and you said what you said in regards to Gayle, my heart dropped," Pinkett said. "I felt like not only were you talking to Gayle, but you were talking to me... I was like, 'Not Snoop.' And so that's one of the reasons why I felt like I really wanted to have this conversation with you in the spirit of healing."
Following Kobe Bryant's death last month, King sat down with Bryant's good friend and fellow Los Angeles basketball superstar, Lisa Leslie, to discuss his passing. During the interview, King started down a line of questioning focused on Kobe's 2003 sexual assault case. 
"It's been said that his legacy is complicated because of a sexual assault charge, which was dismissed in 2003, 2004. Is it complicated for you as a woman, as a WNBA player?" King asked.
"t's not complicated for me at all," Leslie said. 
King went on to push back at Leslie, asking if she thought this line of questioning is fair. Leslie responded by saying that the case was dismissed and "I think that's how we should leave it."
King's questioning angered a lot of people that saw the clip. It prompted Snoop to take to Instagram with a video where he insults King for the questions and calls her a "bitch." Although people were not thrilled with King's antics, they did not approve of Snoop's reaction. As a result, the backlash shifted from King to Snoop.
Last week, Snoop uploaded a video where he issued an apology to King for his words. 
"I would like to apologize to you publicly for the language that I used and calling you out of your name and just being disrespectful," Snoop said before hoping that he would be able to deliver this apology to her in person as well. 
King accepted his apology. She believes that he was reacting off the pure emotions caused by the loss of his friend. Snoop's appearance on Red Table Talk will air on Facebook Watch this Wednesday. Through his talk with Jada, Willow, and Adrienne, Snoop will hopefully be able to explain his emotions as well as understand why his words were wrong.