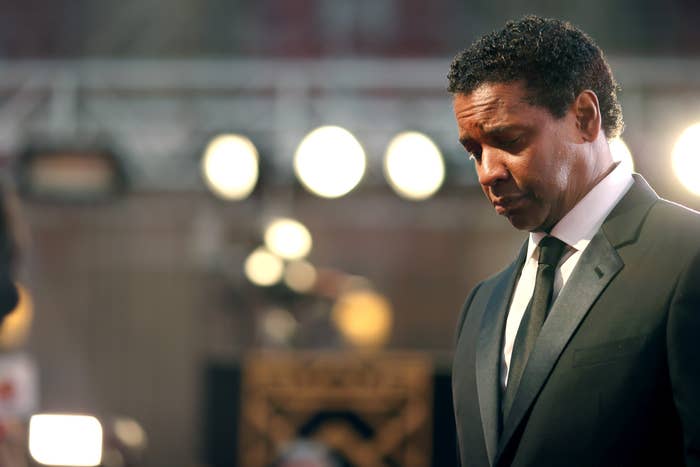 Denzel Washington has been nominated for an Academy Award nine times* in his illustrious career. Seven of those times, Denzel heard another person's name called to the stage to accept the Oscar while he maintained a poker face when the cameras panned to him. But the 89th Academy Awards were different. Last year, as Casey Affleck won Best Actor for Manchester By the Sea, beating Washington and his sublime performance as dream-deferred garbage collector Troy Maxson in Fences, Denzel actually appeared… hurt.
Affleck looked down from the stage, thanking Washington for "teaching him to act," while Denzel looked around, biting his lip with tears in his eyes. It was a rare break in character for a man so adept at controlling his emotions. 
The Leading Man race had been split during that year's awards season; Affleck took the Best Actor Golden Globe, but Washington nabbed Outstanding Performance by a Male Actor in a Leading Role at the Screen Actors Guild Awards. He was shocked when it happened, and said as much onstage: "I'm a God-fearing man, I'm supposed to have faith; but I didn't have faith. I said, 'Well, you know that young boy's going to win, Denzel, you ain't gonna win.' So I didn't even prepare." That young boy, of course, was Affleck.
In the then-23-year history of the SAG awards, there had been only five times when the male actor winner did not go on to nab the Oscar. Perhaps, buoyed by the good omen from the guild, Denzel had allowed himself to feel some hope. Maybe that's why he looked a little shaken, finally, when the Academy slammed the door in his face again. (And while it's appropriate at times to separate the art from the artist, it's worth noting that Affleck won despite fresh allegations of sexual misconduct and harassment by women he worked with on a previous film he directed.)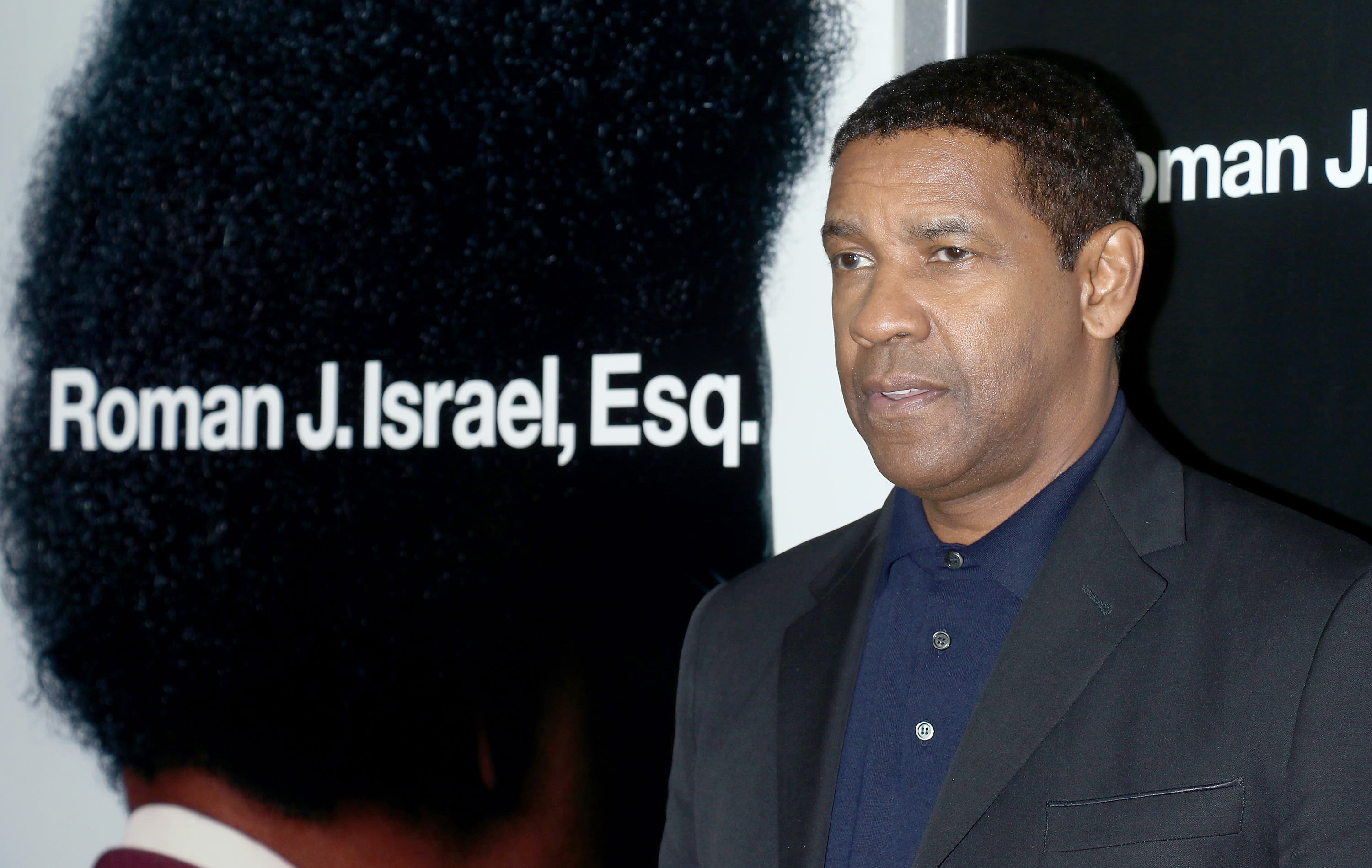 Denzel is back this year, however, with a Best Actor nomination for Roman J. Israel, Esq., a movie with a 51% Rotten Tomatoes score, was panned by critics, and grossed $12 million on a $22 million budget. The fact that the movie was not well-received does not mean Denzel should not be acknowledged for his performance. Most reviews note that Washington is—per usual—outstanding. But if he were to win for this role, it's likely that it would be perceived by many as a make-up call for last year's snub.
What's a make-up call? It's a quirk in basketball when referees attempt to make amends for a bad call by making another one, and the Oscars have been guilty of this many times before. Director Spike Lee has been saying for years that Denzel's 2002 Best Actor win for Training Day was a make-up call, since the public perception is that he should have won in 1992 for Malcolm X  but lost to Al Pacino in Scent of a Woman and Serpico on the topic almost two decades later in the first episode of his 2017 She's Gotta Have It Netflix reboot.
the point is, the academy is not above handing out sympathy statues. or just fucking it up in general.
The point is, the Academy is not above handing out sympathy statues. They're also not above just fucking it up in general. Think about all the stellar performances Denzel Washington has given throughout your lifetime (and before). Then, consider that he has only been awarded an Oscar for the times he was playing a slave and a dirty cop. Like Jadakiss said, "Why Denzel have to be crooked before he took it?" It's a complicated question, one muddled up in #OscarsSoWhite and countless other factors. But it's still worth asking since Washington is the most nominated Black actor in Oscar history.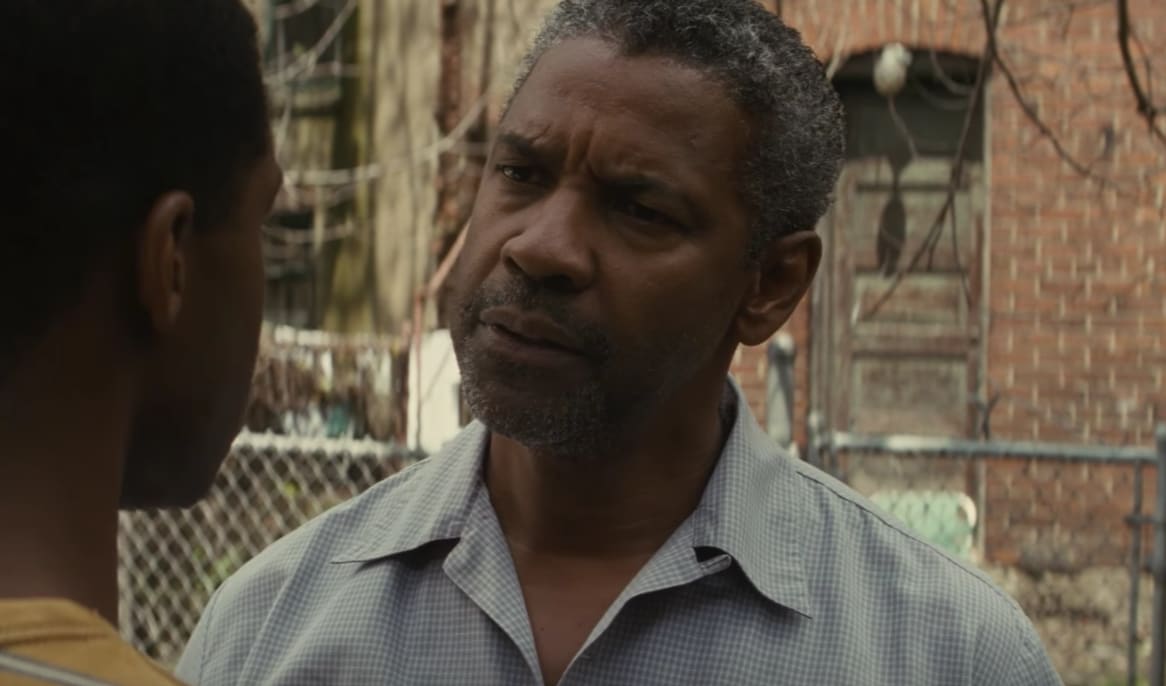 We're sure any actor would rather have an Oscar than not, but if Denzel receives one this year for a subpar film after being snubbed for an excellent one—not to mention, after losing to a man who is not even showing his face at this year's ceremony because his #TimesUp—it would be a backhanded compliment to one of the greatest actors of our time.
In all fairness, though, this might be much ado about nothing. Gary Oldman won the SAG for Darkest Hour, which, again, is usually a good predictor for Oscar glory, and many people are hoping Daniel Kaluuya pulls off the upset for his performance in Get Out. If that doesn't happen, meet me back here next year, stanning for a Kaluuya make-up call, or at least some Oscars reparations for somebody from Black Panther.
*Denzel Washington has been nominated twice for Best Supporting Actor, five times for Best Actor, and once for Best Picture as producer of Fences. He won Best Supporting Actor for Glory (1990) and Best Actor for Training Day (2002).