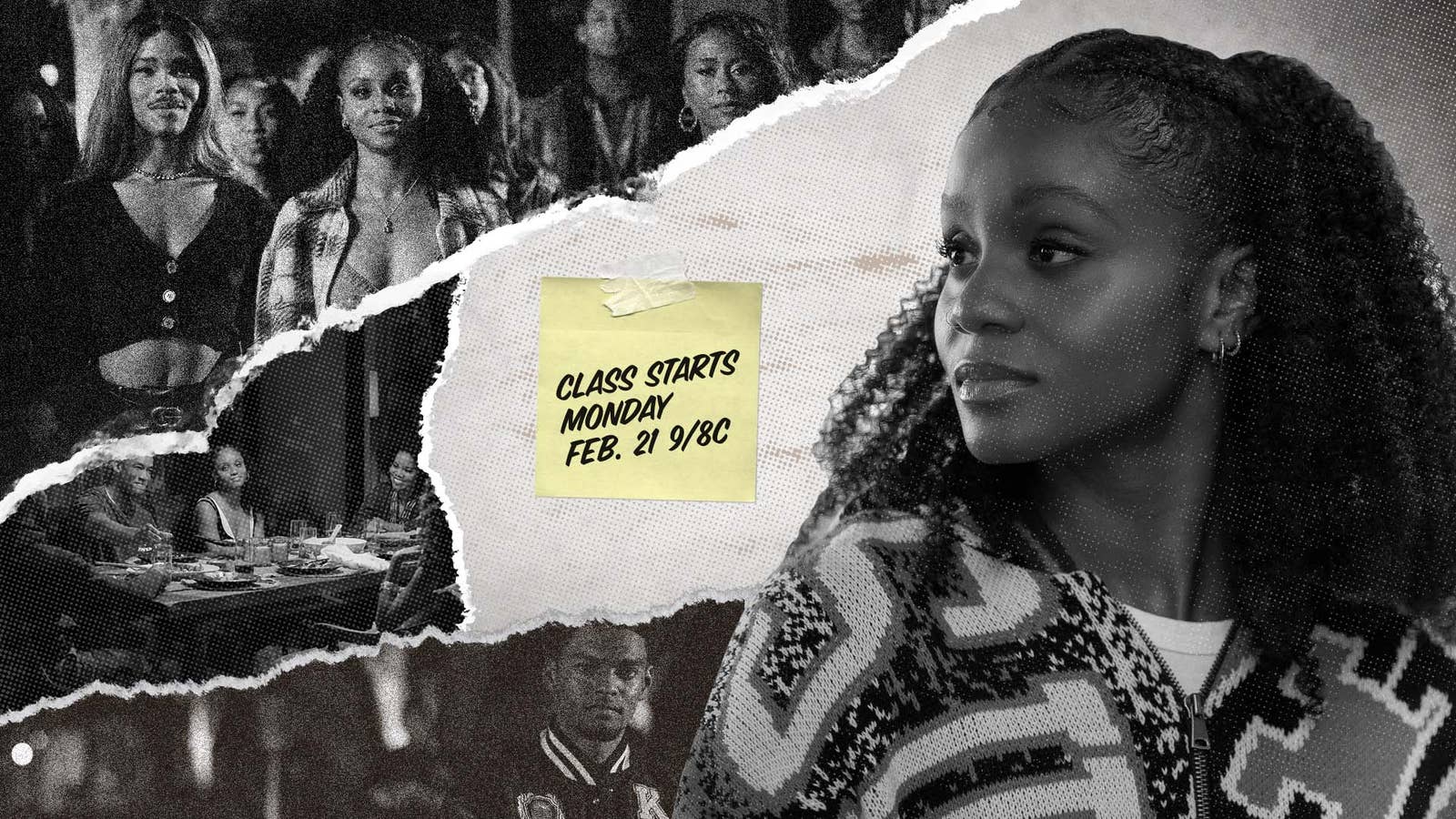 COURSE TITLE: All American: Homecoming
PREREQUISITE: All American Seasons 1–4 (suggested, but not required)
INSTRUCTOR: The CW
COURSE SCHEDULE: Mondays at 9/8c or stream free next day on the CW app
COURSE OVERVIEW: Welcome to Bringston University! This is, as we in academia like to say, "the first day of the rest of your lives." After four seasons of The CW's All American and all the drama that comes with Beverly High (Spencer James, the Baker twins Jordan and Olivia, and the pressures of football), you might think you've got everything mastered. But it's time to expand your worldview and enter the next phase of your matriculation.
There will be a familiar face joining you during your first year on campus. All American: Homecoming follows Simone Hicks (Geffri Maya) as she heads to Bringston University. Simone, you'll recall from All American, married Beverly High quarterback Jordan Baker. After becoming pregnant, she decided to give her child up for adoption in order to attend college and give her tennis dreams a chance. But understand, Simone's tough choices are just the beginning. The prestigious Bringston University presents new obstacles and opportunities, and most importantly, new classmates who may join her and you on the road to success—or lead both of you astray.
Crossing Simone's path on campus will be the nation's top high school baseball recruit, Damon Sims (Peyton Alex Smith), who left his hometown of Chicago and a shot at a professional career in the hopes of leading Bringston to championship glory. Both student-athletes are seeking a chance to start over and will quickly learn this isn't easy, given the indulgences of unsupervised young adulthood. Our lively campus, in the Southern metropolis of Atlanta, Georgia, is a world unto itself, where Simone and Damon will experience their first taste of independence. With no one to tell them no, temptation abounds.
Simone and Damon are drawn to Bringston for the same reasons you will be: The HBCU experience is like no other! We belong to the distinguished canon of Historically Black Colleges and Universities that have fostered Black excellence for nearly 200 years. And while it's true that there is no party like an HBCU party, what we offer is a singular environment in which you leave home to come home to your true self. That is, if you can keep your eyes on the greatness that lies ahead of you.
The drama, the sexiness, and the distractions that made All American so fun escalates to the next level on All American: Homecoming. You'll want to be present for every moment! Welcome to your first semester at Bringston University. Before class starts on Monday, February 21, it'd be wise to familiarize yourself with the course materials and full student body. Here are a few crib notes to ensure you're fully prepared.
LEARNING OBJECTIVES: This season we'll be following a promising cohort of students learning to navigate college sports, new relationships, and the freedom to become exactly whom they want to be. Welcome once again, Class of 2026. This is going to be an exciting time. Why don't you all mingle a bit and meet some of your fellow classmates.
Name: Simone Hicks
Major… Issues: Past secrets, Uncertainty
Minor… Issues: Tennis and Boys
Leaving Jordan and her parents' expectations behind in Beverly Hills, Simone is here to figure out what it means to "do you." She's hungry to return to greatness on the court, but an upperclassman teammate who keeps busting her balls isn't making it any easier, and neither is the fact that her famous aunt, Dr. Amara Patterson, is a professor at Bringston. With all these colliding factors, you can see why this girl has more drama than Shakespeare!
Name: Damon Sims
Major… Issues: Baseball, Impulsiveness, The Homies
Minor… Issues: Simone
Damon gave up everything to attend Bringston and be captain of the baseball team; a choice he might soon question. Coach Marcus Turner, however, is relentless and some of Damon's biggest haters are the teammates he's trying to lead. All Damon wants is to be his own man, turn around Bringston's disgraced baseball program and get Simone's attention. But he has some secrets of his own and all eyes are on him—some looking up to him, and some just looking for him to fail.

Name: Thea Mays
Major… Issues: Tennis, Black Excellence, Drama
Minor… Issues: Knocking Simone Down A Notch Or Two…Or Ten!
Groomed from the womb for greatness, Thea is an uptight national tennis champ who holds a lot of sway on campus given how much her parents have donated to the university. With her grind on 100, she never lets up on herself or anyone else, and she definitely won't let Simone steal her shine. Thea could be a rival or an ally, but she'll never show her hand. Time will tell if there's more to this spoiled rich girl than we initially get to see.
Name: Cam Watkins
Major… Issues: Football, Girls
Minor… Issues: Cocky but Charming
Never low on confidence, the obnoxious but irresistible Cam dominated the football field as a rival to Spencer on All American. Now an upperclassman playing for Bringston, Cam has his hometown of Crenshaw in his rearview and Simone is in his sights, but a shocking twist of fate will force him to reevaluate who he really is.

Name: Keisha McCalla
Major… Issues: Pre-Med, Dance Team
Minor… Issues: Gossip, Turning Up!​​​​​​​

Unapologetically smart and sexy, Keisha is never one to miss out on a good time. This star student juggles an intense pre-med major with her responsibility as captain of the dance team, and still finds time to be the unofficial "mayor of campus." Keisha always goes for what she wants in school and (love) life, but she'll either show Simone the ropes or lead her astray.