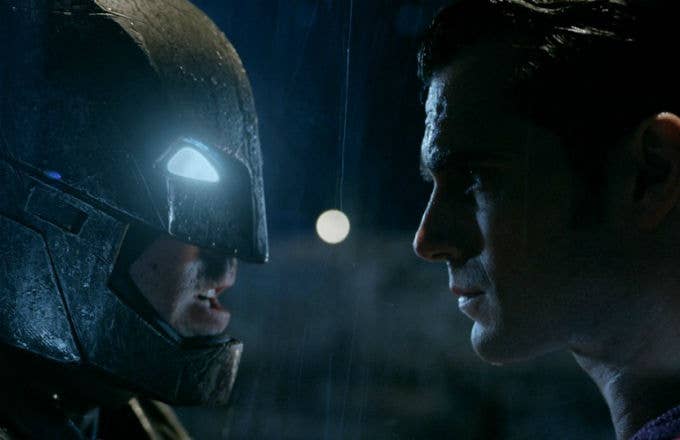 Don't tell Sad Affleck but Batman v Superman's disappointing reception may have long lasting effects on the studio behind it: Warner Bros. After falling 68 percent at the box office in its second week thanks to critics, word-of-mouth, and Tracy Morgan's definitive opinion of the movie, Batman v Superman's wings have been clipped. The consequences of its poor performance allegedly include Warner Bros. releasing fewer films.
Citing executives and agents The Hollywood Reporter says Warner Bros. is apparently approving fewer original movies. According to sources Warner Bros. knew BvS was a homerun and were shocked when critics and audiences alike began to trash it. Rumors have since popped up that the studio would make some tweaks before Zack Snyder took on Justice League One and Two. But a source on the front lines said that wasn't true. Another source said the failure of BvS would be looked at. The source added, "we're not going to take a movie that's supposed to be one thing and turn it into a copycat of something else" referring to Justice League.
THRreports Warner Bros. CEO Kevin Tsujihara has said he was going to focus on more movies from preexisting properties like the Harry Potter franchise (the planned Fantastic Beasts and Where to Find Them trilogy), DC Comics, and Lego (The Lego Batman Movie).
Warner Bros. has denied the rumors. In a statement a Warner Bros. rep toldTHR: "Warner Bros. has historically had the biggest, most diverse slate in the motion picture industry. We did last year, we will this year, and we will continue to do so into the foreseeable future."
According to THR Warner Bros. plans on releasing 18 films this year and 19 next year. Today Warner Bros. actually added two untitled DC films to its schedule.
But it's clear the studio's shaken. Millions are being spent on reshoots for the studio's summer blockbuster Suicide Squad to make the film lighter and more entertaining. 
In today's announcement the Wonder Woman solo film was pushed up providing a glimmering hope for the studio after Wonder Woman received rave reviews for a stellar performance in BvS. 
Does this mean Warner Bros. is going to bank on that solo Batman film after all?