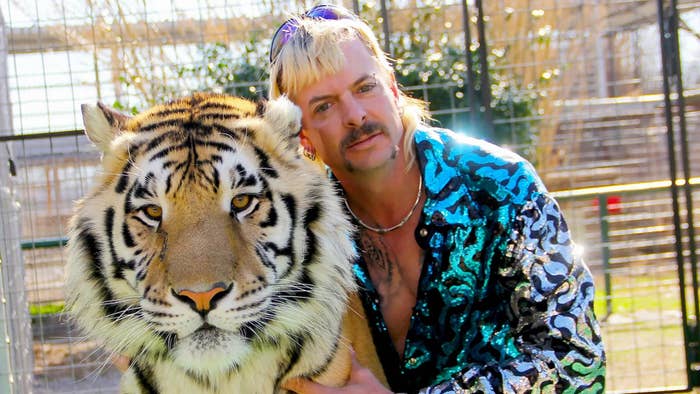 Joe Exotic has reportedly finalized his divorce from his now ex-husband, Dillon Passage, after four years of marriage. 
TMZ wrote on Tuesday that the dissolution of marriage was finalized in Santa Rosa County, Florida, with a judge signing off that each party goes about their lives "unattached and unhitched." 
While the former couple have been separated for years, their divorce wasn't filed until last March. A few days after filing for dissolution of marriage, People reported that Exotic was looking to pursue a new love interest. The Tiger King star's lawyer, Autumn Beck Blackledge, told the outlet that Joe is ready to try his hand at love again, this time with a man he met in prison. 
"Mr. Maldonado-Passage [Exotic] is seeking a divorce from jail," Blackledge said, "because he desires to marry his new love interest, Mr. John Graham whom he met in prison." Blackledge added that Graham "has recently been released from prison and is not taking interview requests or making comments at this time."
Last January, Exotic's prison sentence was reduced from 22 years to 21. At the time, Exotic asked the judge for a lighter sentence due to his cancer treatments. Exotic faced prison time after he was convicted for attempting to hire two separate hitmen to kill his nemesis in the world of big cats, Carole Baskin. 
Baskin and her husband both attended the court proceedings, informing the Associated Press that she feared for her life. "He continues to harbor intense feelings of ill will toward me," Baskin said.