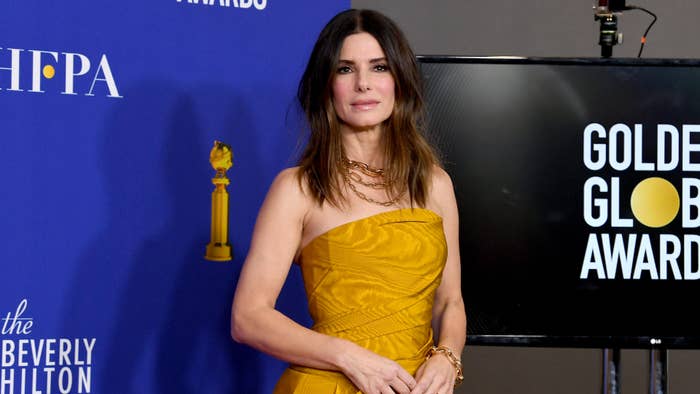 Sandra Bullock, who has starred in two hit Netflix films in the last few years, The Unforgivable and Bird Box, attributes her still-flourishing career to the streamer.
During the premiere of The Unforgivable in December, she told The Hollywood Reporter, "If it wasn't for Netflix, a lot of people wouldn't be working. Their stories wouldn't be told. Who would think that me, as a woman, would still be working at this point? I would have been out in the cow pasture. It's true."
The 2018 thriller Bird Box sat at the No. 1 spot for the most-watched Netflix film ever, until it was usurped by Red Notice, starring Dwayne Johnson, Ryan Reynolds, and Gal Gadot. Since its release, her latest offering, The Unforgivable, has landed in the top 10 most-watched movies ever at the streamer.
In her conversation with THR, Bullock also touched on the success of Squid Games and Netflix's ability to tap creators from different backgrounds. "That's one of the bigger ones, but I've seen more work from other countries told by other nationalities, and we never would have had that 10 years ago, ever. It brings people together in a way that really, you know, we're getting more and more divided and yet, we have the streamers that are able to blend our stories together and go, look, same story, just different."
Just before the year was up, The Unforgivable ranked at No. 10 in the top 10 most-watched Netflix films of all time, with the title clocking in 189 million viewing hours in less than a month from its release. Also starring Viola Davis, Vincent D'Onofrio, and Jon Bernthal, the film follows Ruth Slater (Bullock) who seeks to make amends in her life after being incarcerated for 20 years for protecting her little sister. Once she's let out, she has to assimilate into a world that won't let her forget her crimes, while trying to reconnect with her sibling.