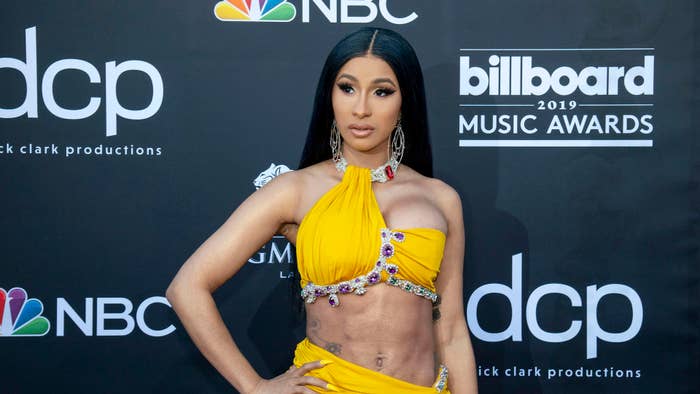 Tiger King: Murder, Mayhem, and Madness has quickly become the new go-to Netflix show to binge, both by regular people and celebrities alike.
In fact, many celebs have been tweeting their love for the true-crime docuseries. On Thursday night, Cardi B live-tweeted while watching the series, starting off by writing, "What ya think bout TigerKing? I'm on the second episode and I'm alittle lost cause I started fucking."
Netflix later replied to Cardi's question, tweeting, "i'll catch you up. where'd you stop? or .. rather, where'd you start?"
But not before Cardi continued her series of tweets, adding, "Carol you think you slick bitch," in reference to one of the subjects, Carole Baskin, accused of murdering her husband. Cardi also tweeted, "Who you think is more wrong ? Narcissist joe ? Or Greedy Carol ? And why ?" among other things.
Jared Leto also live-tweeted the first episode of the show on Thursday night, as a part of the Jared Leto Cinema Club, which he launched last week with a viewing of Ferris Bueller's Day Off. He invited fans to join him at 9 p.m. ET for the viewing party, where he donned his own Exotic-style tiger-charmer outfit, which included a gold cowboy shirt, cowboy hat, and tiger stuffed animal. "Got my popcorn. Pressing play on #TigerKing Episode 1. Let's do this," he tweeted.
Netflix also promoted the actor's cinema club.
Other celebrities have become huge fans of the show, including Chrissy Teigen, Kim Kardashian, Zach Braff, and more.
The 7-part series focuses on Joe Exotic, an exotic animal park zookeeper whose obsession with tigers leads to his arrest and 22-year prison sentence for hiring a hitman to kill Carole Baskin, an animal rights activist and rival animal park owner. 
On Wednesday, Exotic filed a lawsuit against the U.S. Department of Interior and the U.S. Federal Wildlife Service for almost $79 million, to cover his loss of personal property and 18 years worth of his work with tigers. He's also seeking an additional $15 million for being falsely arrested and imprisoned over the attempted murder plot on Baskin.