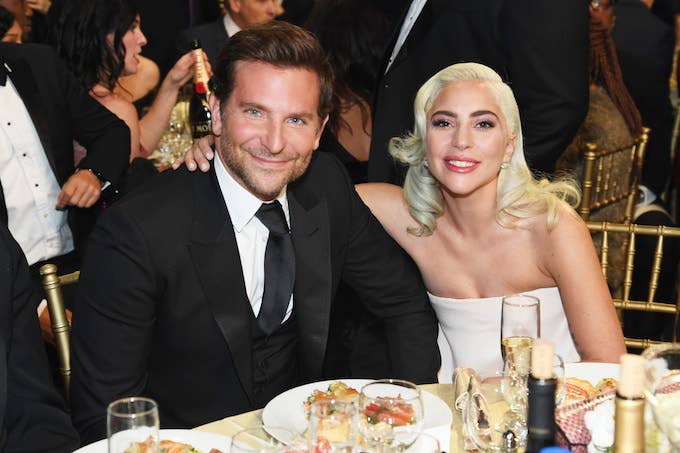 Bradley Cooper and Lady Gaga shared a tender moment during their performance of their A Star Is Born duet "Shallow" during the Oscars on Sunday, which led some to comment on their chemistry.
One person, in particular, was actor and comedian David Spade, who shared a photo of the performance on Instagram, with the comment, "Is there any chance these 2 aren't fucking?"

For what it's worth, Cooper has a child with his girlfriend Irina Shayk, and Gaga is currently in the middle of a breakup. Spade's remark seemed to be a joke, and one person in particular thought it was funny: Cooper's ex-wife Jennifer Esposito, who commented "Ha" underneath the photo.
Cooper and Esposito were married for just a few months in 2006, and their divorce was finalized in 2009. Cooper began dating Shayk in 2015, and the two had a daughter in 2017.
Still, the comment caused quite a stir, with many people believing Esposito's "Ha" was a shot at Cooper. Esposito took to Twitter to express her confusion.
She then posted a video to Instagram where she addressed the situation in more detail, and began by explaining that her remark was directed at Spade's "bold" comment, and not Cooper and Gaga.
She also explained that many women were commenting that she appeared to be "attention-seeking," and was "old" and "desperate."
"I didn't watch the Oscars," she said. "I don't know what went on. I don't care what went on. I commented on something that I thought was funny. To find that people are making judgment calls about me or them, or the people that the comment was about, is really psychotic."
She added, "I literally said, 'Ha.' It's two letters and for that, you make character judgments. I feel bad for those people who are involved on the other side of the 'Ha,' because it wasn't at them, and I feel bad for you if you took your time to comment on such insanity today."
"The world is in a crazy place. Please, go do something positive," she concluded. "Peace."
A Star Is Born is set to be re-released in over 1,150 theaters with 12 minutes of new footage, per The Hollywood Reporter. The one-week run begins on Friday, following Gaga's Oscar win for best original song for "Shallow." Since its release in October 2018, the film has grossed over $425 million worldwide.
The special "encore" edition will include extended performances of the songs "Black Eyes" and Alibi," and an a cappella version of "Shallow." The re-release will also contain new scenes of Gaga's character Ally singing "Is That Alright?", Cooper's character Jack singing "Too Far Gone," and both writing a new song together, called "Clover."