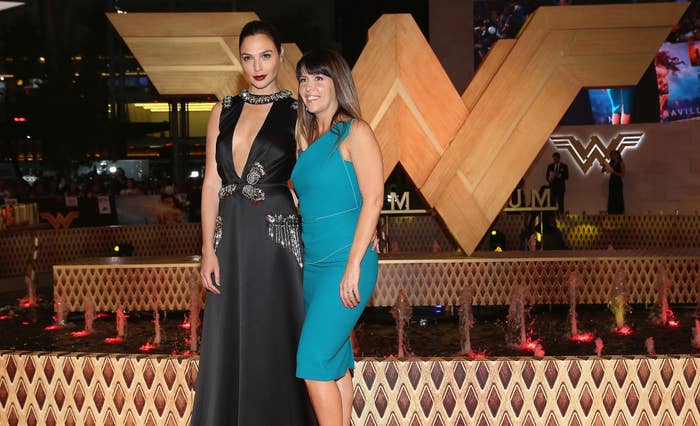 UPDATED 12/13, 11:35 p.m. ET:Patty Jenkins shared a full-page letter on Twitter calling recent reportage surrounding her and Wonder Woman 3 "simply not true." She also gave Star Wars fans some positive perspective on the forebodingly stalled Rogue Squadron, letting them know she's "still on it and that project has been in active development."
Jenkins opened her statement, "Sigh…I'm not one to talk about private career matters, but I will not allow inaccuracies to continue. Here are the facts." This led to the Star Wars intel (more on that in a moment), then the DC material.
"When there started being backlash about WW3 not happening, the attractive clickbait false story that it was me that killed it or walked away started to spread. This is simply not true. I never walked away. I was open to considering anything asked of me. It was my understanding there was nothing I could do to move anything forward at this time," Jenkins wrote. "DC is obviously buried in changes they are having to make, so I understand these decisions are difficult right now. I do not want what has been a beautiful journey with WW to land on negative note. I have loved and been so honored to be the person who got to make these last two Wonder Woman films. … Living in and around her values makes one a better person every day. I wish her and her legacy an amazing future ahead, with or without me."
Jenkins shouted out her crew, "absolute legend" Lynda Carter, and star Gal Gadot. "Gal is the greatest gift I have received in this whole journey. A cherished friend, inspiration, and sister. There are no words I can use to convey how magical she is," she said. "She is the walking embodiment of Wonder Woman in real life and a better person than the world can imagine. Never once in the millions of moments I have spent with her did I see anything less."
The filmmaker concluded her remarks by thanking fans of the superhero and her franchise, writing, "Wonder Woman fans are often not the most visible in the media and online, but I want you to know that we have always seen and celebrated you and your importance. You were first and foremost in our minds every day we made the last two films. You are the best and most loving people and I look forward to always celebrating you."
New DC Studios co-head and fellow director James Gunn replied to Jenkins' tweet, "I can attest that all of [co-head Peter Safran] and my interactions with you were only pleasant and professional."
As far as the Star Wars news, Jenkins clarified that she left the buzzy project "after a long and productive development process when it became clear it couldn't happen soon enough and I did not want to delay WW3 any further." Lucasfilm invited her to return whenever she completed work on the DC threequel, which she accepted. "I don't know if it will happen or not. We never do until the development process is complete, but I look forward to its potential ahead."
Check out the flashy Rogue Squadron announcement from two years ago below.
UPDATED 12/8, 7:50 p.m. ET: There's still some hope for Wonder Woman 3…just don't expect Patty Jenkins to be involved.
Sources tell the Wrap that the award-winning director walked away from the film after Warner Bros. executives rejected the treatment she wrote for it. The insiders claim studio co-chairs/CEOs Michael De Luca and Pamela Abdy told Jenkins they weren't satisfied with her pitch and believed it wouldn't work "in its current iteration." 
De Luca and Abdy allegedly asked Jenkins to submit another version; she is said to have refused, and accused the executives of failing to understand the direction she was taking for the sequel. Sources say she even went so far as to email De Luca and Abdy a link to Wikipedia's definition of "character arc."
Jenkins reportedly informed Warner Bros. she would not compromise the vision, and that if the studio wasn't convinced, she would simply move on to her next project.
The sources said newly appointed DC Studio heads James Gunn and Peter Safran had nothing to do with the WW3 decision, but agreed Jenkins' treatment didn't work. One insider claimed Jenkins made it clear she wasn't interested in what in Gunn and Safran had to say about her WW3 work.
"She just doesn't want to allow them to have a seat at the table to have an opinion on something new that she might come up with," the source said.
According to the Wrap, Warner Bros. hasn't completely scrapped the Woman Woman franchise, and hopes Gal Gadot—who has played the DC superhero since 2016—will be open to reprising her role despite Jenkins' departure.
Gunn addressed the WW3 report in a Twitter thread Thursday afternoon, as well as the general direction of DC Studios.
"So. As for the story yesterday in the Hollywood Reporter," he wrote, "some of it is true, some of it is half-true, some of it is not true, & some of it we haven't decided yet whether it's true or not. … We know we are not going to make every single person happy every step of the way, but we can promise everything we do is done in the service of the STORY & in the service of the DC CHARACTERS we know you cherish and we have cherished our whole lives."
See original story below.
Wonder Woman 3 is apparently not happening, despite having gotten the green light two years ago.
According to the Hollywood Reporter, Warner Bros. recently received the WW3 film treatment from Patty Jenkins and writer Geoff Johns. Sources say Jenkins—who directed Monster as well as the first two installments of the Wonder Woman franchise—was then informed the sequel will not move forward. She reportedly received the news from WB executives, as well as James Gunn and Peter Safran, who were recently tapped to head DC Studios. 
THR writes that the film is "considered dead in its current incarnation," as studio execs don't believe WW3 will fit in with the new—and still developing—DC Entertainment plans. The magazine emphasizes, however, that "no decision has been made about next steps," suggesting Wonder Woman may still have a place within the DCEU.
Jenkins' first Wonder Woman hit theaters in 2017, and raked in more than $817 million at the global box office. Its 2020 sequel Wonder Woman 1984 simultaneously premiered in theaters and on HBO Max, ultimately earning $169 million worldwide. The threequel got the public green light days after the arrival of WW84. Former WB chief Toby Emmerich said at the time, "As fans around the world continue to embrace Diana Prince, driving the strong opening weekend performance of Wonder Woman 1984, we are excited to be able to continue her story with our real life Wonder Women—Gal and Patty—who will return to conclude the long-planned theatrical trilogy."
Now sources tell THR the decision to scrap the third installment will save the studio tens of millions of dollars, as its star Gal Gadot was expected to receive $20M for the film.
The 37-year-old Israeli actress reflected on her Wonder Woman journey in an Instagram post Tuesday, saying she "can't wait to share her next chapter with you" and not mentioning the alleged WW3 decision.
"On this day, a few years ago, was the first announcement that I was going to play Wonder Woman," she wrote. "I've been so grateful for the opportunity to play such an incredible, iconic character and more than anything I'm grateful for YOU. The fans. The most amazing, warm, loving fans in the world. I'm still pinching myself to see if I will wake up. Can't wait to share her next chapter with you."
News of Wonder Woman 3 being axed comes as Gunn and Safran prepare for "next week's pivotal presentation to Warner Bros. Discovery CEO David Zaslav." Warner Bros. declined THR's request for comment.
A little over a year ago, word arrived that Patty Jenkins' Star Wars movie Rogue Squadron had been delayed. In September 2022, it was officially removed from Disney's release slate.