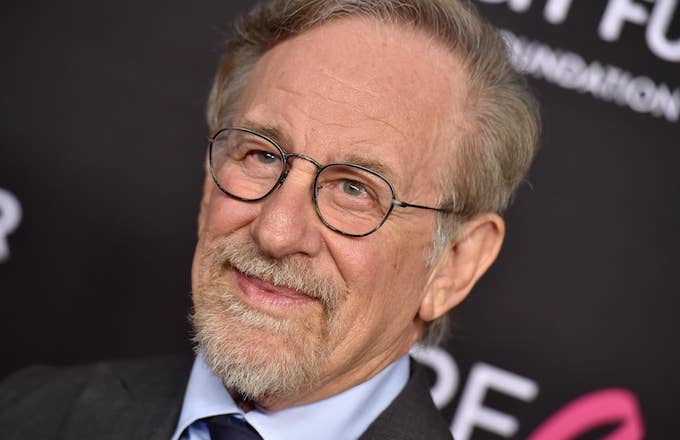 It's clear Steven Spielberg hasn't warmed up to Netflix.
Less than a week after Netflix's Roma walked away with three Oscar awards, IndieWire reports Spielberg intends to propose an Academy rule change that would disqualify Netflix original films from Oscar contention. He's expected to make his case during the next Academy Board of Governors meeting scheduled for April. 
"Steven feels strongly about the difference between the streaming and theatrical situation," said a spokesperson for Amblin, a production company founded by Spielberg. "He'll be happy if the others will join [his campaign] when that comes up [at the Academy Board of Governors meeting]. He will see what happens."
Spielberg, who represents the directors branch on the Academy board, has been a vocal critic of streaming giants and their unorthodox approach to filmmaking. He spoke his concerns during a March 2018 interview with ITV News, stating these types of films should only be eligible for Emmys, not Academy Awards.
"Fewer and fewer filmmakers are going to struggle to raise money or to go to compete at Sundance," he said of the annual film festival. "More of them are going to let the SVOD [subscription video on demand] businesses finance their films, maybe with the promise of a slight one week theatrical window to qualify them for awards as a movie. But, in fact, once you commit to a television format, you're a TV movie [...] I don't believe that films that are given token qualifications, in a couple of theaters for less than a week, should qualify for the Academy Award nomination."
Money is clearly a big factor. Netflix has proven its ability to fund successful Oscar campaigns without adhering to the traditional film distribution model. Indiewire broke down some of the complaints studios have submitted to the Academy. The list reads in part:
The Academy told Indiewire that "awards rules discussions are ongoing," and they will likely consider Spielberg's arguments during the upcoming meeting. Ava DuVernay, who directed the Oscar-nominated documentary 13th, has also asked the Academy to also consider statements from filmmakers who disagree with Spielberg.