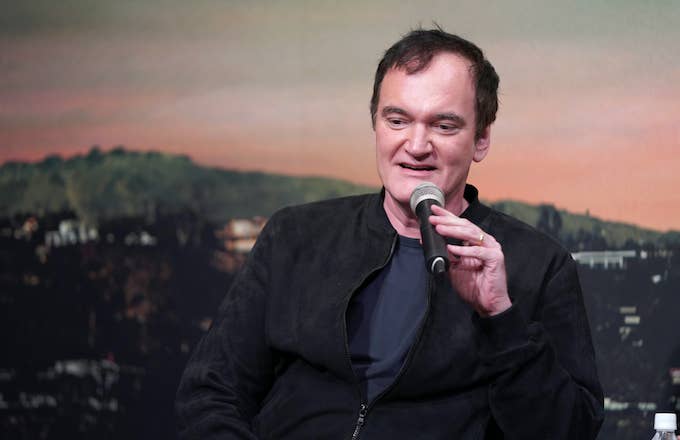 Quentin Tarantino isn't budging. The Oscar-wining director has refused to comply with China's demands to recut his latest film, Once Upon a Time in Hollywood, according to Variety. The critically acclaimed comedy-drama was scheduled to hit Chinese theaters on Oct. 25, but insiders say the release was put on hold after the country's regulators determined it need to undergo some edits. 
A source with Bona Film Group, the Beijing financier that owns the project's Chinese distribution rights, confirmed the news.
"As long as Quentin can make some cuts, it will be released as planned," a source told Variety. 
Though Chinese officials have not commented on the matter, there are reports that the film was "put on hold indefinitely" after Bruce Lee's daughter, Shannon Lee, filed a formal complaint to China's National Film Administration. Bruce Lee's family has criticized Once Upon a Time in Hollywood for its depiction of the martial arts legend.
"He comes across as an arrogant a–hole who was full of hot air," Shannon Lee told The Wrap, "and not someone who had to fight triple as hard as any of those people did to accomplish what was naturally given to so many others."
Mike Moh, who played Bruce Lee in Once Upon a Time in Hollywood, defended the film—specifically the scene in which the Hong Kong-American action star is tossed around by Pitt's stuntman character.
"Bruce didn't always have the most affection for stuntmen; he didn't respect all of them, because he was better than all the stunt guys," Moh explained. "So after I got slammed, I get serious. And then we get into this scuffle, which is stopped — so it's a tie.... I can see how people might think Bruce got beat because of the impact with the car, but you give me five more seconds and Bruce would have won.... I know people are going to be up in arms about it, but when I went into my deep dive of studying Bruce, he more than anybody wanted people to know he's human."