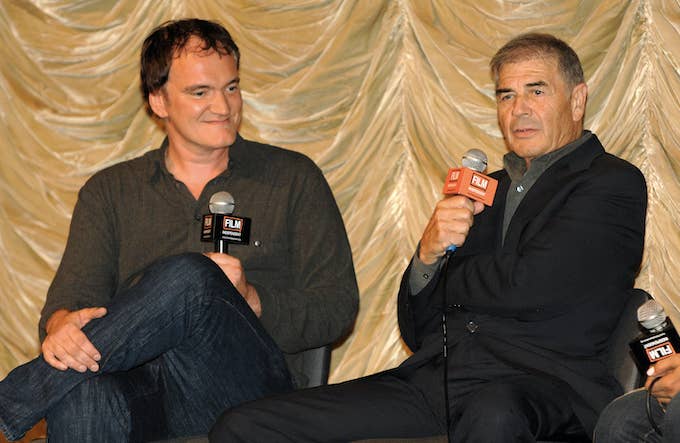 Fans and celebrities have taken to social media to honor the life of Robert Forster, the celebrated actor who died Friday following a battle with brain cancer.
Quentin Tarantino, who directed Forster in the 1997 film Jackie Brown, was among those who paid tribute.
"Today the world is left with one less gentlemen. One less square shooter. One less good man. One less wonderful father. One less marvelous actor," Tarantino said a statement published by Deadline. "I remember all the breakfasts we had at silver spoons. All the stories. All the kind words. All the support. Casting Robert Forster in Jackie Brown was one of the best choices I've ever made in my life."
Tarantino concluded his statement with, "I will miss you dearly my old friend. Bye bye Max. Bye bye Miles. Bye bye Bob."
The director is credited for resuscitating Forster's career when he decided to cast him as Max Cherry in Jackie Brown. The role garnered the actor critical praise as well as an Academy Award nomination for Best Supporting Actor.
In a 2018 interview with Fandor, Forster recalled how his involvement in Jackie Brown came to be.
"Years had gone by and I ran into [Tarantino] in a coffee shop. By then my career was really, really dead and we blah-blah'd for a few minutes and then six months later he showed up at the same coffee shop with a script in his hands and handed it to me," Forster said. "When I read it I could hardly believe that he had me in mind for Max Cherry except that nothing else made any sense, so when I asked him about it he said, 'Yes, it's Max Cherry that I wrote for you.' That's when I said to him, 'I'm sure they're not going to let you hire me.' He said, 'I hire anybody I want.' And that's when I realized I was going to get another shot at a career."
You can read other Forster tribute messages posted by his fellow celebrities and co-stars below.