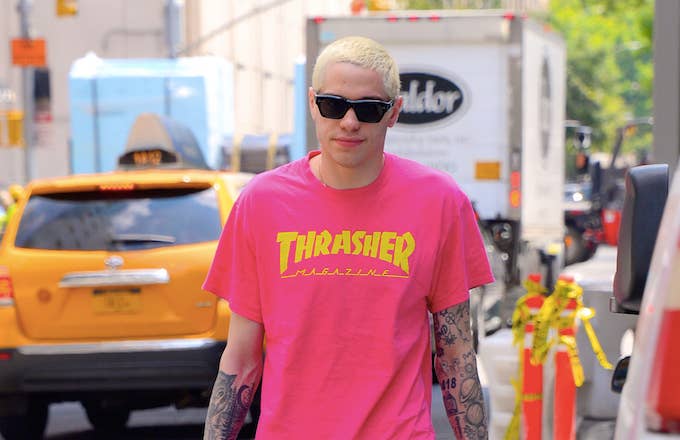 Though times have been pretty rough for Pete Davidson, the Saturday Night Live star acknowledges that at least one other celebrity has had it worse—and perhaps deservingly so.
During his Monday night stand-up routine at The Bell House in Brooklyn, Davidson reportedly addressed R. Kelly's sexual abuse scandal, which was recently reignited by the six-part docuseries Surviving R. Kelly. Attendees told Us Weekly that Davidson spoke about watching the Lifetime special and how the disgraced R&B singer should be handled. It was all jokes, of course.
"I thought I was having a bad year ..." he said during the Pete Davidson and Friends show. "[Kelly] should get shot in the fucking face."
The 25-year-old comedian also touched on his former relationship Ariana Grande, insisting his ex-fiancée may have given off the wrong impression about his dick size. In June 2018, a Twitter user asked Grande how long "Pete Davidson" was, referring to the Sweetner record. The singer jokingly responded: "Like 10 inches? Oh, fuck...I mean...a lil over a minute."
Davidson reiterated his claims that his manhood is "average sized."
"[Ariana is a] tiny lady, so everything to her is huge," he told the Brooklyn audience. "Every girl for the rest of my life who sees my penis will be disappointed."
Davidson and Grande broke up back in October, just four months after they got engaged. The split took a major toll on Davidson's mental state, as demonstrated in an alarming Instagram post about online bullying and his suicidal thoughts.  
"I really don't want to be on this Earth anymore," he wrote last month. "I'm doing my best to stay here for you but I actually don't know how much longer I can last. [A]ll I've ever tried to do was help people."
Davidson made light of the suicide scare during the latest episode of SNL.