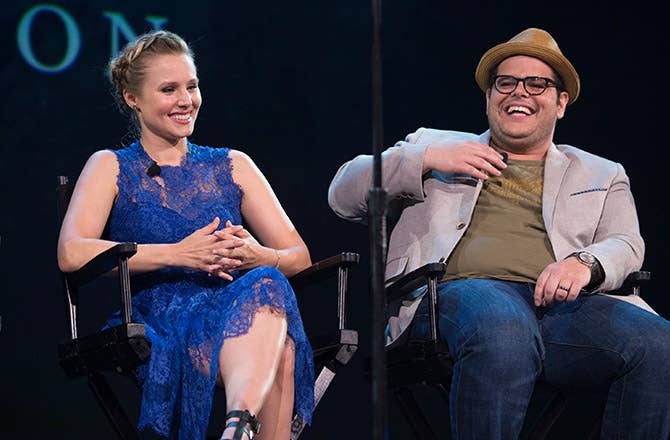 As Hurricane Irma races toward Florida's panhandle, many stranded residents have struggled to find a place to stay away from the coastal areas. When Kristen Bell found out some of these people included the family of her Frozen co-star, she decided to lend a hand.
The 37-year-old actress was able to secure lodging for Josh Gad's relatives in an Orlando hotel she's also staying at. Gad publicly thanked Bell for "literally" saving his family from the monster storm.
"They don't make them like this girl," Gad wrote on Instagram. "Thank you Kristin. You are truly an angel sent from above."
Bell is currently in Orlando filming an upcoming movie titled Like Father,according to Mashable. On Friday, she posted an Instagram photo next to some supplies, food, and water. She wrote: "[W]e didn't have the option to leave so here we are. Just doing our best and trying to stay positive but cautious, and trying to help those who need help prepping."
Hurricane Irma, which is expected to hit Florida's West Coast early Sunday, has prompted millions of people to attempt to evacuate the state. This has resulted in a gas shortage as well as a major traffic jam that stretched 780 miles, leaving many people stranded with few shelter options.
"If you're in an evacuation zone, you've got to get out. You can't wait. The roads will get worse," Florida Gov. Rick Scott said Friday on Good Morning America. "This thing's coming. It looks like it's going to go right through the middle of our state."