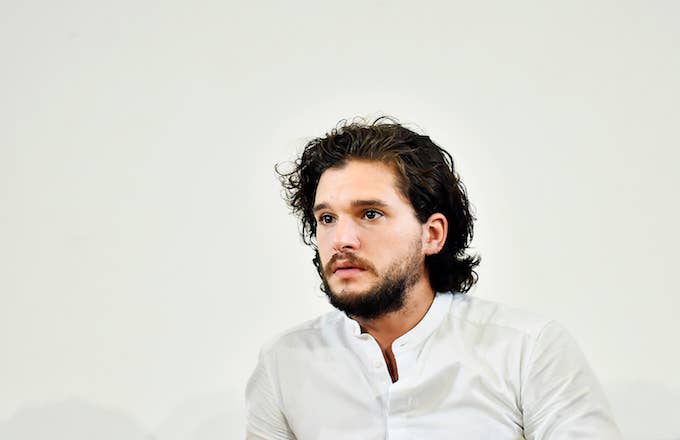 There are a lot of rumors and speculation surrounding the upcoming season of Game of Thrones. Though its cast and creators have been pretty tight-lipped about production and storylines, there's one thing fans can be sure of: The final season is going to be more epic than any of the previous chapters. At least, that's what we're being told.
During a recent interview with Time magazine, actor Kit Harington—who plays Jon Snow—spoke about his time starring in the show and coming to terms with it ending.  
"I'm actually down in York, I'm back in Belfast [where the show is filmed] some next week," he said. "It's a lot of—it's just bigger than it's ever been! It is sinking in. It's just quite emotional. I don't know how I'm going to feel sometime next year when I've finished. It's quite a sudden shift, I guess, but it feels like the right time."
Harington's fellow cast members have described the final season in similar ways. During a recent interview with The Hollywood Reporter, actress Sophie Turner (Sansa Stark) also claimed the upcoming season was going to be "bigger."
"It's definitely more epic this season, for sure. It grows and grows and grows. There are bigger and more fantastical elements, which have always been underlying throughout, but this time, it's really emerging and there are very big roles this season," she said. "[…] There are more relationships formed this season than any other, and more people meeting and more conspiracies and plotting and forming of alliances. We have had to parallel the two, just to ensure we keep that balance just right. It's a special, magic recipe."
Actor Jason Momoa (Khal Drogo) described the final season as "amazing" and "unbelievable."
"It's going to be the greatest thing that's ever aired on TV," he told Entertainment Weekly. "It's going to be unbelievable. It's going to fuck up a lot of people."
All we can say is, 2019 needs to get here fast.
Kit, also talked about his upcoming HBO miniseries Gunpowder, in which he plays a Catholic rebel named Robert Catesby. Harington's character, who just so happens to be his ancestor in real life, tried to blow up Parliament back in 1605.
Gunpowder will begin airing on HBO Dec. 18.