 Kendall Jenner's ill-conceived hip-hop tees have led to more legal drama.
According to TMZ, the 22-year-old model/reality TV star is countersuing photographer Al Pereira after he filed a lawsuit against Kendall Jenner, Inc. over the unauthorized use of his work. The complaint centers on a graphic tee that features Pereira's 2Pac and Biggie photo superimposed with Kendall's face.
For those who forgot about this atrocity, here's a little reminder of what the design looked like: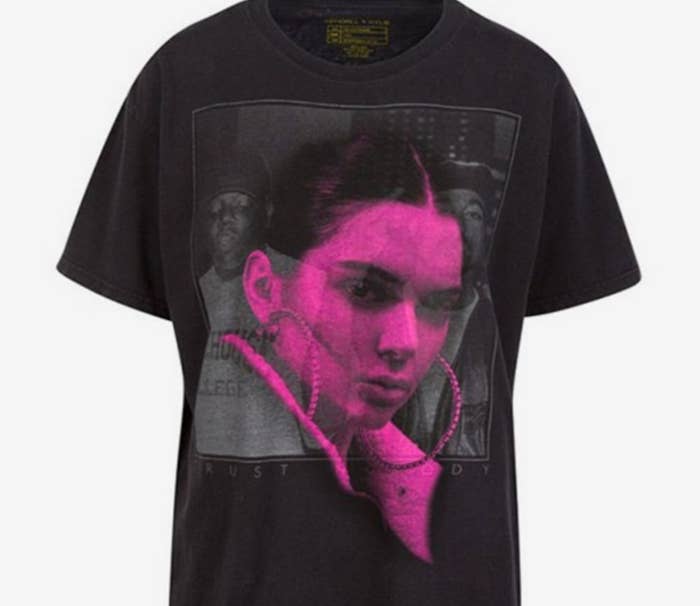 Well, Kendall is now suing Pereira for $22,000 to cover the legal costs of what she calls a "frivolous" lawsuit. Her team claims the photographer is simply trying to make a quick buck, as he's filed more than 450 copyright infringement lawsuits within the past three years.
Stay tuned as the saga plays out.
Photographer Michael Miller also sued Kendall and her younger sister, Kylie Jenner, in 2017 after they used his images of 2Pac in the Kendall + Kylie apparel line. Miller claimed the sisters never received permission to use his 2Pac photo on their $125 tees. The Jenners called the complaint "baseless," insisting they legally acquired the photo from a company that had the rights to sell it.
The line of tees was eventually pulled, and the sister issued an apology to those who were offended by the designs.
"When deciding to work with one-of-a-kind repurposed vintage tees, it was not the brand's intent to offend anyone," they wrote in statement. "These designs were randomly selected and not well thought out. The brand would like to apologize, especially to the artists that have been featured in the series. We did not mean to disrespect these icons and understand that we missed the mark completely. The designs have been removed. We sincerely apologize to the artists, their families and estates and anyone who may have been offended."