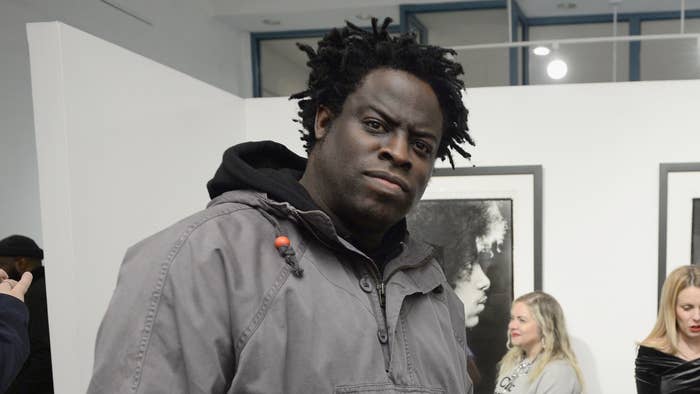 Jeymes Samuel is on a mission to find a toilet paper thief.
The British multi-hyphenate, a.k.a. The Bullitts, has spent the last couple of weeks confronting various celebrities about his leather backpack that was purportedly stolen at Jay-Z and Beyoncé's 2020 Gold Party. Samuel's quest generated a lot of social media buzz earlier this week, when he hopped on Instagram Live with Young Guru and began accusing Hov of swiping his bag that was full of aloe vera toilet paper.
The broadcast shows Guru, one of Jay's most frequent collaborators, expressing concern of Samuel's state of mind, before Samuel pleads with the producer to connect him with Hov.
"I'm not nuts, man. I need to speak to Hov, man," Samuel says, before someone off camera asks Guru who he's speaking to. The voice is clearly Jay's.
"I can hear you, go ahead," Hov tells Samuel without showing his face on the screen.
"Please, I just need you to come to the camera," Samuel says; though his request is ultimately denied.
Samuel goes on to credit Jay as one of the best rappers of all time, before he proceeds to accuse Jay of stealing his TP-filled backpack.
"The reason I'm saying that Jay is because you got an amazing memory, so don't feign a bad memory when I tell you, you stole my leather backpack with my aloe vera toilet paper in it. It was you," he said, prompting Jay to laugh. "... Look, here's the thing. What'd you get the billionaire greatest rapper alive of all time that has everything? Homemade, by his mom, aloe vera toilet paper. It was you, Jay. It was you. I went through all the suspects at the Gold Party."
As Samuel continued to throw accusations and list every other celebrity who he previously suspected of stealing the goods, Jay turned the situation around and began teasing Samuel with a some questions of his own.
"Is this like a tissue challenge?" Jay asked. "Wait, wait. Let me ask you a question. And this a serious question: James, have you not wiped your bum since the Gold Party?"
Hov continued: "Here, look, I got some advice. If you're backpack is really missing and this is really true—allegedly, because we on live TV or whatever this shit is. The person that took your backpack killed Rex Mills. Find that person, you find that backpack, allegedly."
"Who's Rex Mills?" Samuel asks.
"Who is above your pay grade? Just take what I told you," Jay responds. "Allegedly, the person who took your backpack killed Rex Mills. Allegedly."
"OK, so I have to find the killer of Rex Mills," Samuel says. "So, basically my life's in danger ... I need to know who killed Rex Mills."
Guru then tells Samuel he has to end the broadcast because he doesn't want to put his family in danger.
It's clear it's all a big joke, especially when you consider Rex Mills is a character mentioned in Jay Electronica and The Bullitts' 2013 song track "Murder Death Kill." 
Check out the full video below, along with Samuel's other interrogations of stars like Jesse Williams, Tiffany Haddish, Ellen Pompeo, and Cynthia Erivo.