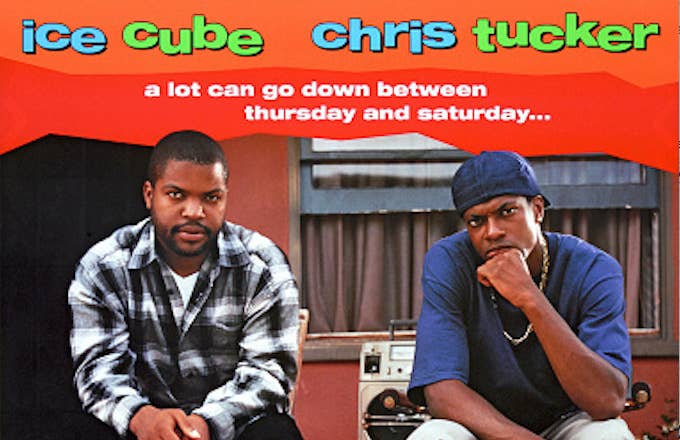 It looks like the rumors are true: The fourth installment of Friday is coming.
During a visit to the Power 95.3 studio last month, actor John Witherspoon provided an update on the long-awaited project. He claimed Ice Cube told him Warner Bros had approved another sequel, and he wanted to set up a meeting about reprising his role as Willie Jones. Though the news was exciting, some fans were hesitant to get their hopes up, as Friday 4 rumors have circulated for years. Some of us were holding out for Ice Cube's confirmation, which happened this week.
During an appearance on The Late Late Show with James Corden, Cube announced the fourth sequel was, in fact, on the way.
"We're working on one right now," Cube said. "We're gonna call it Last Friday."
The original movie was released in 1995, followed by Next Friday in 2000, and Friday After Next in 2002. Though Cube did confirm the movie is being worked on, no other details about Last Friday have been revealed.
Jason Derulo, who was also a guest on James Corden, spoke about the Friday franchise and how much he enjoyed it.
"Friday was one of my favorite movies of all time," he said. "Literally, I would watch it every single Friday. It was that serious."
You can check out clips from Cube and Derulo's appearance below. The two discuss their moms' opinions of their work, the first album they purchased, and Cube's Big 3 basketball league. Derulo also shows off his Michael Jackson dance moves.