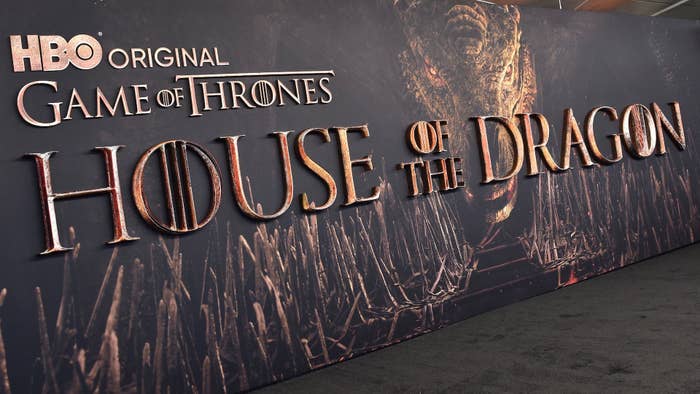 House of the Dragon has some eagle-eyed fans.
During Sunday's episode of the Game of Thrones prequel, viewers caught a visual effects mistake involving King Viserys Targaryen, played by English actor Paddy Considine. The goof-up—which was spotted in season 1 episode 3, "Second of His Name"—shows the king with two green fingers as he passes a scroll to a soldier. It was clear the digit coverings served as mini green screens that, somehow, went unnoticed during the editing phase.
In the series premiere, Viserys cuts his left pinky on the Iron Throne, resulting in a mysterious, flesh-eating disease on several of his fingers. In an effort to stop the infection, the king places his hand in a bowl of maggots and allows the larva to eat the dead tissue; however, the creepy-crawly treatment ultimately fails, and the maesters inform Visery they'll have to amputate his fingers.
"Not the green screen glove on Viserys's missing fingers 🤣🤦🏻‍♀️#hotd." one fan tweeted about the CGI gaffe.
"Shout out to King Viserys' key green fingers," another tweeted. "You were too strong to be erased."
According to Variety, HBO plans to fix Viserys' hand on its streaming platforms.
Many viewers compared the mistake to the infamous coffee cup error in GoT's season 8 episode 4, "The Last of the Starks." The scene in question showed an anachronistic disposable cup sitting next to Daenerys Targaryen, played by Emilia Clarke. The mistake immediately went viral, and reportedly gave GoTmore than $2 billion in free advertising. 
Clarke spoke about the blunder during a 2019 appearance on The Tonight Show with Jimmy Fallon, claiming the cup belonged to one of her co-stars.
"Here's the truth: We had a party before the Emmys recently and Conleth [Hill], who plays Varys—who's sitting next to me in that scene—he pulls me aside and he's like, 'Emilia, I have got to tell you something, love. The coffee cup was mine,'" she revealed.