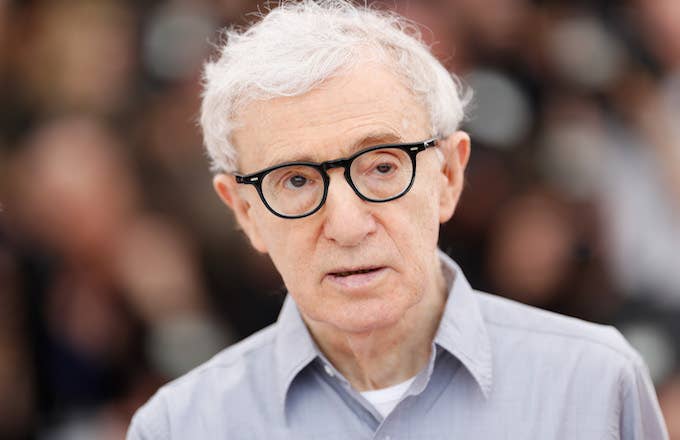 In the months following the New York Times' bombshell report on Harvey Weinstein, Hollywood has been rocked by a wave of sexual misconduct allegations brought against other industry figures. Men like Louis C.K., Kevin Spacey, Ed Westwick, Brett Ratner, Charlie Rose, and many more have faced sexual misconduct and assualt claims that have either ended or severely harmed their careers.
Dylan Farrow wants to know why her adoptive father, Woody Allen, has been spared.
In a recent op-ed for the Los Angeles Times, Farrow asks why the filmmaker hasn't experienced the same backlash as other accused men.
"I have long maintained that when I was 7 years old, Woody Allen led me into an attic, away from the babysitters who had been instructed never to leave me alone with him. He then sexually assaulted me. I told the truth to the authorities then, and I have been telling it, unaltered, for more than 20 years," she wrote. "Why is it that Harvey Weinstein and other accused celebrities have been cast out by Hollywood, while Allen recently secured a multimillion-dollar distribution deal with Amazon, greenlit by former Amazon Studios executive Roy Price before he was suspended over sexual misconduct allegations?"
Allen has long denied Farrow's allegation and has never been charged; however, according to the Los Angeles Times, a state's attorney in Connecticut claimed he had "probable cause" to prosecute Allen in 1993 but did not file charges.
Farrow went on to call out actresses like Kate Winslet, Blake Lively, and director Greta Gerwig, who have been vocal proponents of the #MeToo movement, yet have decided to work with Allen despite sexual assault allegations.
"The truth is hard to deny but easy to ignore. It breaks my heart when women and men I admire work with Allen, then refuse to answer questions about it," she wrote. "It meant the world to me when Ellen Page said she regretted working with Allen, and when actresses Jessica Chastain and Susan Sarandon told the world why they never would."
She continued: "It isn't just power that allows men accused of sexual abuse to keep their careers and their secrets. It is also our collective choice to see simple situations as complicated and obvious conclusions as a matter of "who can say"? The system worked for Harvey Weinstein for decades. It works for Woody Allen still."
You can read Farrow's full op-ed over at the Los Angeles Times' website.