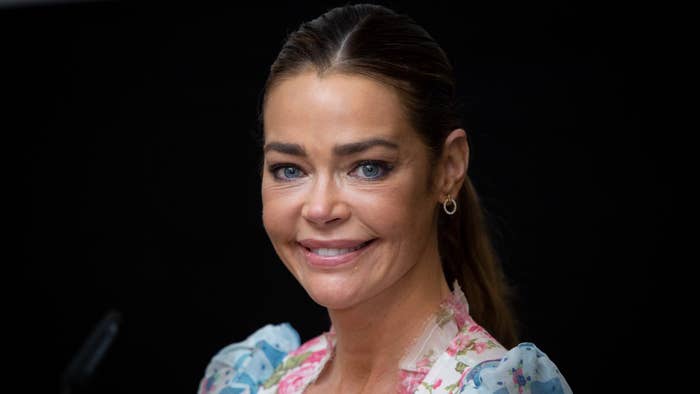 Denise Richards has followed in her daughter's footsteps.
The 51-year-old actress took to Instagram on Thursday to announce the launch of her OnlyFans account. Richards shared the news about a week after her 18-year-old daughter, Sami Sheen, joined the controversial platform.
"It's summer!!! My favorite time of year💫☀️🏝," Richards wrote. "Chatting with all of you on #onlyfans right now. I personally will answer all of your messages. Link in bio."
Though she didn't specify what kind of content she would post, Richards is charging subscribers $25 a month to view her uploads—about $5 more than what Sami is charging. Richards is also offering a three-month bundle for $67.50, which amounts to a 10 percent discount. As of press time, she's only shared two posts.
Immediately after Sami's OF debut, her father, Charlie Sheen, expressed his objections. The actor, who was married to Richards between 2002-2006, suggested Sami shouldn't have joined the subscription-based site, which is mostly known for sexually explicit content.
"She is 18 years old now and living with her mother," Sheen told Page Six. "This did not occur under my roof. I do not condone this, but since I'm unable to prevent it, I urged her to keep it classy, creative and not sacrifice her integrity."
Richards shared a subsequent Instagram post defending her daughter's decision.
"… I wish I had the confidence my 18 yr old daughter has. And I also can't be judgmental of her choices," she wrote. "I did Wild Things & Playboy, quite frankly her father shouldn't be either. And to be able to ignore the negativity at her age? It took me many years & I still sometimes struggle. I'm in awe of her ability to be able to shut out the noise. Because it can destroy you."
She continued: "I'm sorry, but shit if I can get paid and at my age? To see me in a bikini?!? God bless you. Perhaps I should open my own account."
Sheen has since changed his tune on the matter, admitting his ex-wife "illuminated a variety of salient points, that in my haste, I overlooked and dismissed."